Finally, an Energy Issue Everybody (Mostly) Likes
Natural-gas exports could offer a rare chance for agreement between Republicans and the White House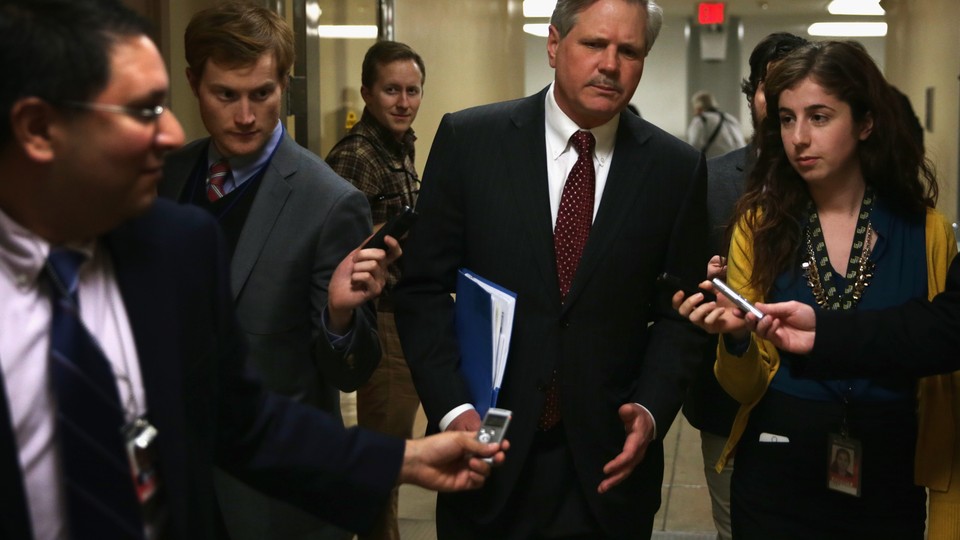 There might be at least one energy priority in Washington that both Republicans and Democrats back.
As they bicker over the Keystone XL oil pipeline, House and Senate lawmakers are taking up measures to encourage more natural-gas exports. The White House has said the bills are unnecessary because they duplicate efforts already underway, but that's not the same as a veto threat.
In fact, Energy Secretary Ernest Moniz has talked with Republicans about how to craft the legislation.
Obama has not been shy about waving his veto pen since Republicans took the reins of Congress in January, including a threat aimed at legislation the Senate is currently considering to approve the Keystone XL oil-sands pipeline. But several Republican lawmakers say the administration has been unusually willing to negotiate over natural-gas exports, opening up a potential avenue for accord.
Speeding the pace of natural-gas exports has gained currency on Capitol Hill amid the American energy boom fueled by fracking. The oil-and-gas industry, flush with vast reserves of natural gas, has complained that the administration is moving too slowly to approve export applications, and Republican lawmakers have taken up the cause. Ongoing diplomatic tension with Russia, and Moscow's threats to cut off natural-gas supplies to Ukraine and other places in Europe, have also spurred interest in the issue.
Wednesday, the House approved, 277-133, legislation that would speed up the clock for the Energy Department to approve applications to export liquefied natural gas to non-free-trade-agreement countries following completion of an environmental review. Forty-one Democrats voted for the measure.
Republican Sen. John Hoeven of North Dakota, a cosponsor of similar legislation set to be taken up in the Senate Energy and Natural Resources Committee on Thursday, said he spoke with Moniz last month about the bill, which would set a 45-day deadline for the Energy Department to approve or reject export applications. The House bill calls for a slightly faster turnaround time by setting a 30-day deadline.
"The language that's in the ... bill, that was the language I negotiated with Moniz; he was OK with it," Hoeven said. "I think we have a good chance to advance it, that's why we're going to it next."
An early test of Senate support for exports hit a snag on Wednesday when an amendment from Republican Sen.Ted Cruz of Texas—a likely 2016 presidential hopeful—failed by a 53-45 vote. Sen. Heidi Heitkamp of North Dakota was the lone Democrat to vote for the amendment.
The Cruz amendment, however, went beyond the language of the House and Senate policy proposals, calling for DOE to expedite exports of liquefied natural gas to all World Trade Organization nations, in the same way that exports are currently expedited to free-trade nations.
And given that the Keystone bill has already attracted a veto threat, the measure had not been likely to wind up as main vehicle for a potential White House deal even if it had passed.
For that, Republicans are looking to the Hoeven-backed bill.
The bill's primary sponsor, Sen. John Barrasso, R-Wyo., said Wednesday that he is optimistic that the legislation will win White House blessing, adding that he has "met with the Energy secretary" to talk about the issue and is "hopeful we can continue talking." New Mexico Democrat Martin Heinrich is also a primary sponsor.
A spokesperson for Hoeven said that Hoeven's office has "had good communication with the administration" on the subject of gas exports, noting that the dialogue has so far been "better than with topics like Keystone."
The White House has been coy, however. A White House official said Wednesday that the administration does not "believe that legislation is necessary," given that "the Department of Energy has already taken steps to modernize the LNG export approval process." But the official confirmed that lines of communication are open between the administration and Congress.
For now, Republicans remain optimistic. Republican Rep. Bill Johnson of Ohio, the sponsor of the House-passed bill, said Wednesday that he has "spoken with Secretary Moniz about this issue directly multiple times," adding: "I believe he gets it."
Johnson added that he doesn't anticipate there would be any difficulty in ironing out a final version that both the House and Senate could accept.
Of course, efforts to speed exports have not gone over well in all corners of Washington, and environmentalists are already putting pressure on the president to reject any legislative attempt to quicken the pace.
"President Obama said in his State of the Union address that climate change was the greatest threat to future generations. If he thinks that's true, he needs to live up to his promises and restrict natural-gas exports," said Kate DeAngelis, climate and energy campaigner at Friends of the Earth on Wednesday.
And while Republicans are hopeful, even the most ardent optimists acknowledge that the administration might not green-light the legislation.
"I'm very optimistic, and so far I haven't seen any roadblocks, but who knows what might happen," Rep. Johnson said.
This story has been updated with additional information from the White House.