Elizabeth Warren vs. Big Pharma
The progressive icon says drug companies should be footing more of the bill for NIH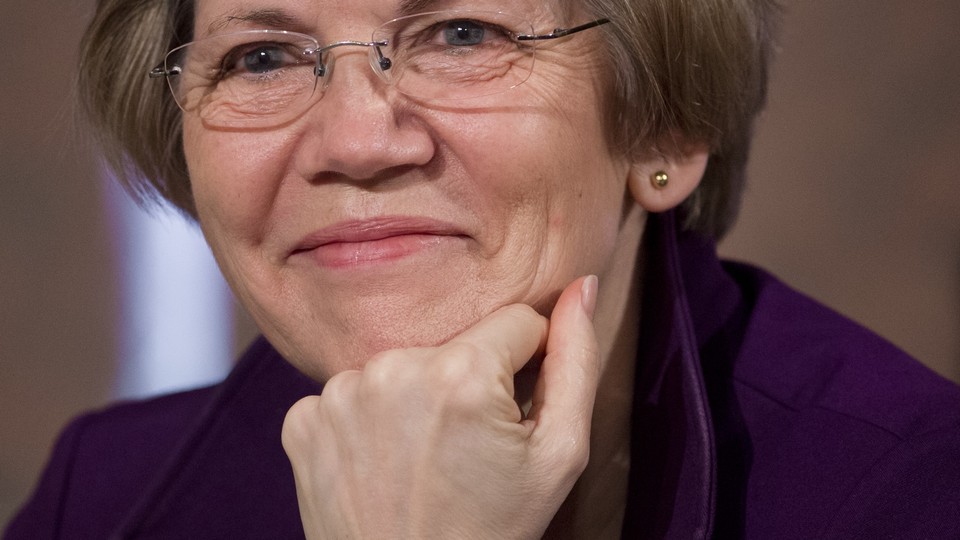 Elizabeth Warren took on the pharmaceutical industry Thursday, as she proposed requiring drugmakers to foot more of the bill for federally funded research.
Warren said the large drug companies have grown "wealthy beyond imagination" through blockbuster drugs that depended on government-funded research—and by committing fraud.
"Over the last 10 years, some of our wealthiest drug companies—those that capitalize on government research to generate billions of dollars in revenues through the sale of blockbuster drugs—have found another way to boost profits," Warren said, according to prepared text of her speech at an event sponsored by the health care advocacy group Families USA. "They've been caught defrauding Medicare and Medicaid, withholding critical safety information about their drugs, marketing their drugs for uses that aren't approved, and giving doctors kickbacks for writing prescriptions for their drugs."
Democrats have largely laid off the pharmaceutical industry since the legislative debate over the Affordable Care Act, when drugmakers agreed to support the bill as long as it didn't include certain policies. And Warren—whose home state is home to several large drug companies—praised the industry's scientific advances.
But, she said, drug companies paid roughly $13 billion in settlements with the federal government between 2007 and 2012. "That doesn't happen without serious wrongdoing."
"It seems that the biggest drug companies are increasingly playing by a different set of rules than everyone else," Warren said. "The government has kicked thousands of small and medium-sized physician practices out of the Medicare program for fraud, but not one of these major drug companies has ever been kicked out. The government convicts hundreds of people of health care fraud every year, but not one of these major drug company cases has even gone to trial."
Warren said she plans to introduce a bill next week that would require pharmaceutical companies to fund more of the basic research conducted by the National Institutes of Health. Many blockbuster drugs do stem, at least in part, from NIH research.
Under Warren's proposal, "the biggest and most successful drug companies" would have to contribute to the NIH's budget whenever they settle criminal accusations with the federal government. In addition to the fines that companies already pay, they would have to contribute 1 percent of their annual profits to the NIH for five years.
"It's like a swear jar: Whenever a huge drug company that is generating enormous profits as a result of federal research investments gets caught breaking the law—and wants off the hook—it has to put some money in the jar to help fund the next generation of medical research," Warren said.
If such a policy had been in place over the past five years, NIH would have seen a budget bump of about $6 billion—or 20 percent—per year, Warren said.
"We celebrate the accomplishments of our pharmaceutical industry, because these blockbuster drugs let people live longer, healthier lives. But we are also mindful that these companies did not do it alone," she said.