Who Deserves Credit for Lower Prices at the Pump?
When the cost of gasoline soared, American politicians rushed to assign blame. But as prices fall, they've been oddly silent.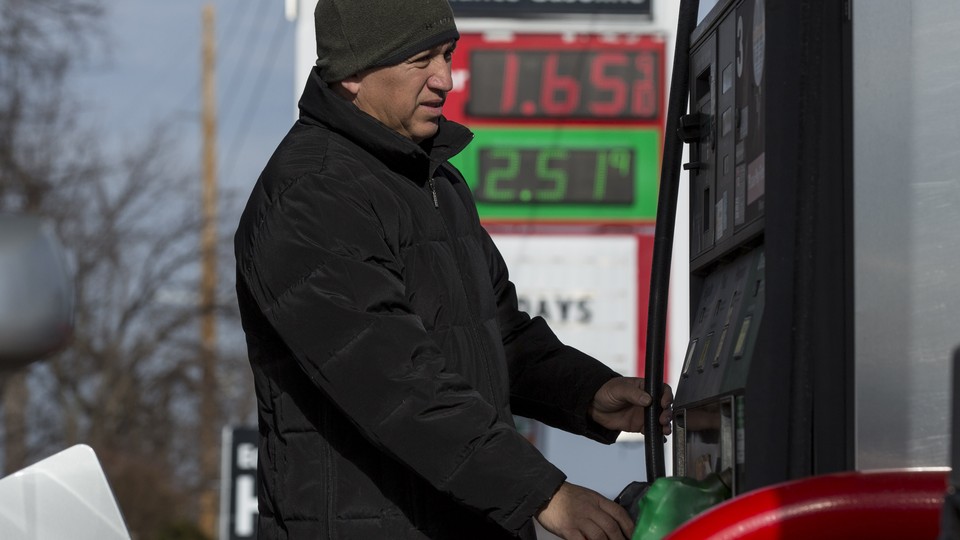 Washington can agree on one thing: People love low gas prices.
But as prices continue to plunge even below the $2 level in some places, politicians are not jumping on the opportunity to take credit for the good news in the same way Republicans, for instance, criticized the White House when prices were twice as high.
President Obama didn't pop his jersey in the State of the Union Tuesday, when he pointed out that America was "number one in oil and gas" and that "thanks to lower gas prices and higher fuel standards, the typical family this year should save $750 at the pump." While he did push through tough fuel-economy standards that have reduced drivers' fuel use, his speech didn't take credit for any policies that directly lowered pump prices.
A blog post from House Speaker John Boehner's office last week noted that Republicans had said increased production would mean lower prices, but didn't claim any responsibility. Basically, the policies Republicans love and support have gotten prices down, but the GOP itself didn't do it.
In fact, Energy Secretary Ernest Moniz cautioned against depending on the staying power of gas prices. In an appearance at the Washington Auto Show Thursday, Moniz said we should "certainly enjoy this price of gasoline now, but let's not count on it being the new normal."
The problem: Oil and gasoline prices are so volatile that before you can call a press conference at your local Exxon, costs may be back on the rise.
"It's really dangerous to tell voters that you can control gas prices, because you can't," said Ryan Fitzpatrick, an analyst with Third Way.
It's a far cry from the messaging when gas prices were nearing or above $4 per gallon and Republicans were lining up to blame the White House and call for everything from increased drilling to a gas-tax holiday just to keep prices down. Lawmakers on both sides of the aisle had press conferences at local gasoline stations to blame the other side. The House Natural Resources Committee even compiled a year-by-year timeline of "roadblocks" that were keeping prices high.
Now, gas prices are averaging just a shade more than $2 a gallon, a six-year low according to AAA.
Not that either side can take too much credit anyway—as U.S. lawmakers often remind people, oil is a world commodity.
The president ultimately has little influence over gas prices. The only power Obama really has is to raise or lower domestic production on public land, but even that is nary a blip in the complex global oil marketplace. It's shale development on private land that has largely helped production boom at home.
The other side of the equation—global demand—also is out of the White House's hands. When OPEC refuses to cut production even in light of flagging demand, there's an oversupply that keeps prices down, but it has little to do with any U.S. action.
Likewise, even though Republicans have vociferously supported the private sector, there's little that they did to directly contribute to the industry's growth. Although the House passed a flurry of bills on energy production—many of them under the header of lowering gas prices—none cleared the Democratic-controlled Senate in the last Congress.
Meanwhile, government and industry predictions say prices will go back up. The Energy Information Administration projects gas prices will average just $2.33 a gallon in 2015 and $2.72 the following year, but numbers that low were unthinkable a month ago.
Industry predictions are all over the map. BP CEO Bob Dudley said prices will stay low for up to three years, while OPEC Secretary General Abdalla El-Badri said prices are likely to stay where they are, but will rebound in time. Former Shell Oil president John Hofmeister told USA Today that $4/gallon prices were likely to return in the election year of 2016, but could go even higher.
"Over the next several years, as demand growth approaches 100 million barrels a day and the industry production falls short, yes, I believe later this decade we'll see $5 a gallon and possible shortages of fuel in some parts of the world," Hofmeister said.
There are also potential downsides of the price slide. Several major oil companies have been cutting rigs and drilling sites, and with them jobs. This week, for example, Baker Hughes announced it would cut 7,000 jobs and Halliburton said it would make cuts in line with its competitors.
That's why so much messaging has been centered around the potential benefits of low prices. The EIA has estimated that drivers would save $750 this year thanks to fuel costs, and both parties have been quick to talk up that number as the equivalent of a tax cut.
But what of the cottage industry of messaging around gas prices? The House Natural Resources Committee, which had no shortage of statements on the $4 gallons in recent years, will step up work to focus on production on federal lands, with greater oversight of federal land-management policies.
Frank Maisano, an energy and communications specialist with the law firm Bracewell & Giuliani, said he was pleased to see the president talk up the oil and gas industry rather than talking about gas prices themselves.
"Let's recognize the success of the oil and gas industry and let's recognize there are significant benefits to the economy, but let's also understand that there's an infrastructure that's been in place and supported job growth for quite a while," he said. "But I'm sure gas prices will go up again; we may be back on the merry-go-round in the political game."