Democrats Facing 2016 Debate Dilemma
The party is starting discussions about 2016 primary debates, but it's challenging to do without knowing what Hillary Clinton's opposition will look like.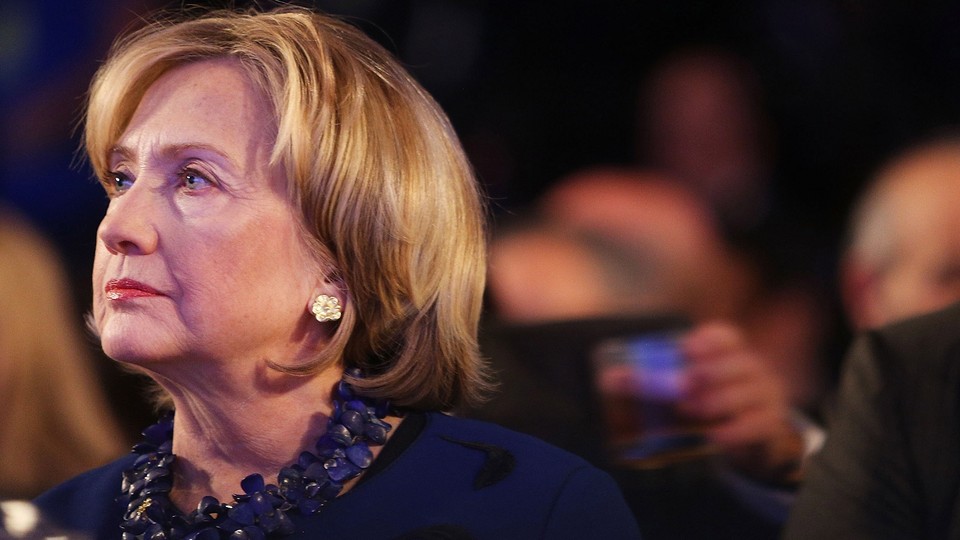 Democrats are facing a growing logistical dilemma as their planning for the next presidential election gets underway: They need to start organizing a process for presidential primary debates, but there aren't any candidates to invite. And with Hillary Clinton likely to clear the field of serious competition, she may want to avoid debating her opposition altogether.
National Democrats have begun the process of planning for primary debates, but they stress that everything is in the very early stages. Top Democratic National Committee aides are in touch with interested TV networks and potential cosponsoring groups to discuss dates and formats, as well as with representatives of all prospective 2016 Democratic candidates.
But how many debates, where and when they're held, and what they look like depend entirely on which Democrats end up getting into the race—and if Clinton faces second-tier opposition, there's a chance there won't be any debates. Unlike with Republicans, who have long known the likelihood of a big field and could plan their debates accordingly, the Democrats' process has always been more uncertain.
Initial conversations about the next year's debate schedule have taken place, but party officials acknowledge the details won't be ironed out until it's clear who's running and who isn't.
"We've met with [the DNC], I know others have as well—but they just don't know what the field is going to look like," said one TV network source. "There's a scenario where Hillary is the only kind of serious credible candidate, in which case they might want zero debates or very, very few."
A few things are certain: There will be fewer Democratic debates than in 2008 and they'll start considerably later in the cycle. Obama and Clinton debated 27 times during the 2008 primary, a staggering number that party officials have no desire to repeat. And instead of a spring start for those debates—the first one of the 2008 cycle was held in late April 2007—networks and the DNC anticipate the earliest a debate could start is the fall.
But if the field is small and Clinton is far ahead in polling, insiders expect her to have a lot of sway over the debate process and schedule—which may mean a much trimmer debate schedule than in years past.
"In a prospective Clinton candidacy "¦ there's a very strong chance she'll start off with a very strong lead," said veteran Democratic strategist Chris Lehane. "That would give her a little bit of a stronger hand to play in terms of both determining how many debates are actually proposed and which ones she actually agrees to."
Hillary Clinton's candidacy looks to be a near-certainty at this point, but what's less clear is which of her potential opponents will actually decide to run. Vice President Joe Biden, Maryland Gov. Martin O'Malley, former Sen. Jim Webb of Virginia, and Sen. Bernie Sanders of Vermont have all expressed interest in the race; progressive supporters of Elizabeth Warren are hoping to pull the first-term senator from Massachusetts into the race as well, but thus far she's shown no interest.
Republicans announced a tentative debate schedule earlier this month for the 2016 primary, beginning with an August event in Ohio.
Depending on how the field shapes up, Clinton could be in a tough spot either way when it comes to debates. On one hand, if she faces a field with minimal opposition—with only one lesser-known candidate, such as Sanders or Webb—her campaign, and the TV networks, might be less interested in organizing that face-off than they would with a bigger field.
Observers likened 2016 to the race between Al Gore and former Sen. Bill Bradley in the 2000 Democratic primary: Gore, as the sitting vice president, was the favorite for the nomination, but Bradley put up a legitimate challenge and even outraised Gore at points along the way. The two faced off in a total of nine debates between October 1999 and March 2000.
But Lehane, who worked for Gore that year, said that Clinton, in 2016, could have the option not to debate if she didn't want to—a luxury neither Gore nor Bradley had in 2000. That primary "wasn't a situation where Al Gore was at 80 percent [in the polls] and Bill Bradley was in single digits and Gore could just ignore debates," he said.
Still, many Democrats feel that not debating could be just as dangerous. The challenging debates between Obama and Clinton in 2007 and 2008 made them both better candidates, according to several top Democratic officials. Many Democrats feel that Clinton, whose presidential bid began eight years ago, could use the practice to sharpen her skills ahead of the general election. Holding no debates would be a public relations challenge for the Democratic Party, too. They're media events, and they help bring visibility to the party's eventual nominee. Without debates, Republicans would get all the highly publicized, televised face-offs to themselves.
"Barack Obama and Hillary Clinton (as well as Joe Biden, Chris Dodd, Bill Richardson, John Edwards, and more) had at least two dozen debates in 2008. From that clash, Barack Obama emerged stronger, tougher, smarter— and the Democratic Party quickly united around him," longtime Democratic strategist and Clinton ally Paul Begala said in an e-mail.
"So while I am for Hillary, big-time "¦ I think some good, challenging debates would be good for her and good for the party," he said.