Democrats Always Talk About Latino Voters, So Why Are They Snubbing Their Most Prominent Latino Leader?
Antonio Villaraigosa has the resume and name recognition for a strong California Senate run, but national party leaders are looking right past him.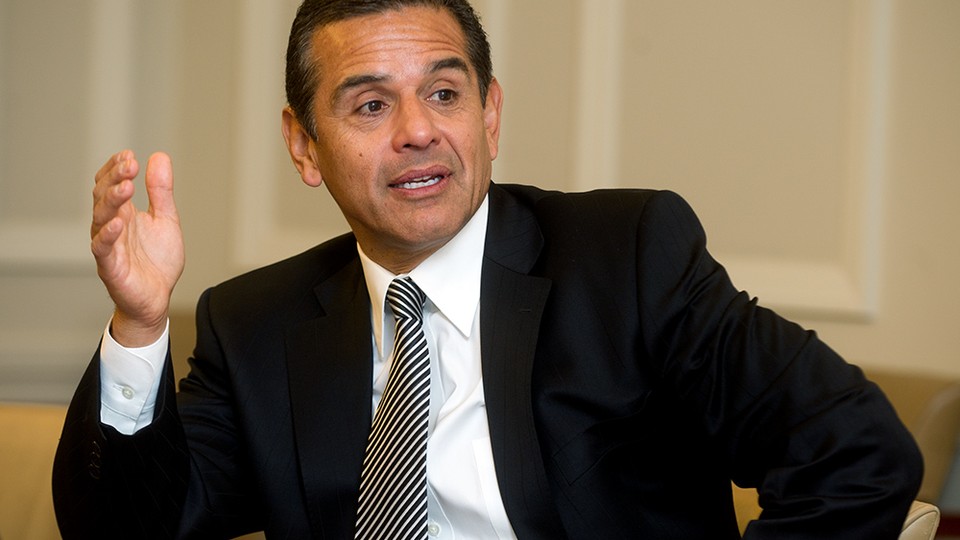 In Texas, no matter the year, no matter how promising the political environment is for Democrats, there's a constant refrain that the state's diversifying demographics will make it competitive. Whether it's an abortion-rights-defending state senator (Wendy Davis, in 2014), moderate Houston mayor (Bill White, 2010), African-American Dallas mayor (Ron Kirk, 2002), or charismatic Latino businessman (Tony Sanchez, 2002), there's long been hype about mobilizing Hispanic voters to make the state more Democratic—but nothing has come of it.
But in California, where one of the country's most prominent Latino leaders is considering a run for the Senate, there's very little excitement about doing the same to help former Los Angeles Mayor Antonio Villaraigosa fill the seat being vacated by Sen. Barbara Boxer.
In the haste to coronate California Attorney General Kamala Harris as Boxer's inevitable successor, Democrats are overlooking her strongest potential opponent in Villaraigosa, who would make history as the first Hispanic Democratic governor or senator in a state where Latinos are now the largest ethnic group. He's seriously considering entering the race, boasts strong support among Hispanics, and has the highest name identification of all the candidates in the field.
So it's awfully ironic that much of the early coverage is so dismissive of his prospects. Instead of the hype that traditionally comes with trendsetting candidates, the response to Villaraigosa's likely candidacy has been met with a yawn. He's been treated like an afterthought, mentioned alongside longer-shots like billionaire political novice Tom Steyer. Much of the coverage is using the same arguments Republicans employ to downplay Democratic prospects in diversifying states like Texas, Georgia, and Arizona: Latinos don't show up to vote. And Democratic leaders are conspicuously unenthused about his candidacy, even though the party badly lags behind Republicans in electing Hispanics to top statewide office. (Republicans boast four Latino senators and governors; Democrats only have Sen. Robert Menendez of New Jersey.)
The discrepancy can be explained by the exuberant excitement over Harris, the hot prospect in Democratic politics since she was narrowly elected California's attorney general in 2010. The gap between enthusiasm and results began then. In a heavily Democratic state, she barely won her first election, prevailing by only 0.8 percent of the vote, but was already hyped as a future Democratic star. It's as much a response to her biography as her agenda; she's multiracial, charismatic, and sports an accomplished resume.
Her ascendancy to the top of the Democratic recruitment list is a reflection on how much the Democratic Party prioritizes identity politics over tangible achievements. The Los Angeles Times editorial board, in endorsing her for reelection, said she was "a work in progress, with much potential yet unfilled." She came into office opposing the death penalty and championing sentencing reform, but she's been cautious in implementing the agenda. Her biggest accomplishment has been investigating banks engaging in unethical behavior over mortgages. But while she's earned decent marks as AG, without her compelling biography, her resume wouldn't suggest she's a top Democratic recruit. Indeed, if her name were Katherine Harris, it's unlikely she'd receive all the attention. One Democratic communications strategist involved with her nascent campaign told me that she could be a plausible future president, but struggled to list specific accomplishments as attorney general in the last four years. ("To be honest, I just started learning specifics about her," the source said.)
Meanwhile, Villaraigosa isn't getting the level of attention that, say, the Castro brothers in Texas do. Part of that is because of his age (he's 61), and part because he's been out of office for nearly two years. But that underscores how important a 2016 run would be—by 2018, he'll be even older and five years removed from public office for the governor's and Senate races. And while he faces serious hurdles running against Harris, he's far more likely to have a strong impact next year than in 2018, a midterm year when Hispanics will be much less likely to show up to vote.
Consider: Villaraigosa is one of the best-known politicians in the state, according to an October 2014 Los Angeles Times survey. His net favorability isn't quite as good as Harris's, but he holds better name identification (77 percent have heard of him) and deep support (52 percent favorable, 18 percent unfavorable) within the Hispanic community. Even with their low turnout levels, Hispanics make up 17 percent of likely voters, nearly three times the number of African-American likely voters. He could compete with Harris in fundraising, boasting close connections to deep-pocketed Hollywood donors and maintaining ties to big labor—with the notable exception of the teachers' unions. And if Republicans don't clear the field for a favorite (which is likely), or if Steyer and other credible Democrats pass on a bid, there's a decent chance he'd be on the ballot against Harris in November. If he makes it to the November ballot, he would likely be better-positioned than Harris to win over Republicans and moderates than his outspokenly liberal counterparts.
"He's not being overlooked, but underestimated. He's been underestimated for most of his political career, and he tends to win," said Dan Schnur, a veteran California GOP strategist who ran unsuccessfully for secretary of state in 2014 as an independent. "Depending on how the rest of the field comes together, it's likely he's the only formidable Latino candidate in the race. It's possible he's the only Southern California candidate in the race. And while he's progressive on most issues, he's put in good time on education reform [and] public-employee pensions in ways that could give him bipartisan appeal." As another Democratic strategist put it: "Villaraigosa wins with the three L's: Latinos, labor, and Los Angeles."
There's no doubt that if he ran, Villaraigosa would start out as an underdog. As the Los Angeles Times notes, Harris has strong appeal with women and progressives and her geographic base is in the Bay Area—all groups that turn out at (much) higher levels than Hispanics. Villaraigosa's base of Los Angeles County consistently tallies the lowest turnout levels of any county in the state. Harris has gotten a head start on congressional endorsements from allies with progressive pull—Sens. Elizabeth Warren, Cory Booker, Kirsten Gillibrand. Villaraigosa will have to answer for an embarrassing personal scandal as mayor, after he cheated on his wife with a Telemundo anchor—a story that got major play in the Spanish-language press.
But if Democrats are serious about turning the growing Latino vote into a more reliable voting bloc, it will need to start in California. And if Democratic leaders push Villaraigosa aside, it would be another example of a party that delivers rhetorically for Hispanic voters, but fails to come through when it comes to putting one in higher office. The party's inability to nominate a Hispanic candidate for one of its top positions is a glaring oversight in a state where Latino influence is most prominent. Villaraigosa, more than most other statewide candidates, has the unique ability to mobilize Latino voters—especially in a presidential year when Hispanic turnout will be front-and-center on Hillary Clinton's mind. To coronate another candidate would not just be a blow to one of the party's most prominent Hispanic leaders, but to the larger Democratic effort of locking in long-term Latino support.