Democrats' 2016 Senate Hopes Turn on Three Candidates
In Wisconsin, North Carolina, and New Hampshire, Dems know the candidates they want. Not getting them could spell trouble for their chances of retaking the Senate.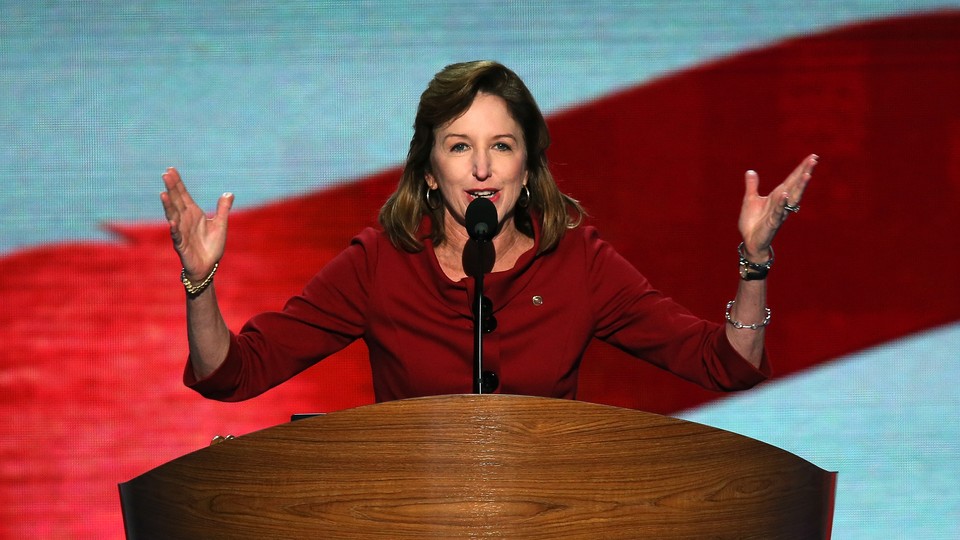 Democrats sound confident that they can retake the Senate in just two short years. But to do that, they need top-flight recruits; and in three of 2016's most important battleground states, their wish list starts and stops with a single candidate.
In North Carolina, Democrats are publicly and privately pleading with outgoing Sen. Kay Hagan to run again. In Wisconsin, party insiders are buzzing at the prospects of former Sen. Russell Feingold returning to action. And in New Hampshire, Democratic leaders are declaring that Gov. Maggie Hassan is their first-choice nominee for the Senate.
In the minds of most Democratic strategists, these three are the strongest candidates the party can feasibly muster to run against entrenched Republican incumbents. And the speculation about their possible campaigns has effectively shut down other potential Democratic contenders from seriously positioning themselves for a run—a reflection of the trio's strength as candidates and the scarcity of viable alternatives after back-to-back midterm blowouts whittled away the party's bench.
Democrats need to win, at minimum, four seats to retake the Senate in 2017—five if Republicans win the presidency. The path of least resistance likely will include victories in four blue states carried by President Obama in 2008 and 2012, a list that includes Illinois, New Hampshire, Pennsylvania, and Wisconsin. Lose any of those races, and the party will have to flip seats in North Carolina, which Obama won in 2008 but lost in 2012, or Florida, where the party's chances would improve dramatically if Sen. Marco Rubio vacates his seat for a presidential campaign.
Otherwise, Democrats will have to compete on more difficult terrain in Ohio and Iowa, where Republican incumbents Rob Portman and Chuck Grassley will be formidable opponents. The Dems will also need to hold two potentially vulnerable seats in Colorado and Nevada, held by Michael Bennet and Harry Reid.
That leaves Democrats with little room for error. And it explains the laser-like focus on Hagan, Feingold, and Hassan.
"Until we know what Gov. Hassan decides to do, it sort of freezes things," said Kathy Sullivan, a Democratic National Committeewoman from New Hampshire who was a cochair of Hassan's gubernatorial campaign. "She is the best person we have to run for Senate against Kelly Ayotte."
It's not unusual for parties to wait pensively for A-list recruits to make up their minds, but for this go-round, Democrats have more reason than usual to be anxious. Two consecutive midterm drubbings have gutted the number of Democratic officeholders capable of mounting credible statewide campaigns, leaving the party, up and down the 2016 Senate map, focused on recruiting a small handful of potential candidates.
"The last several years, especially the midterms, have really done damage to the Democratic bench," said Morgan Jackson, a Raleigh-based Democratic strategist. "You can say that about a lot of places around the country."
Jackson emphasized that even without Hagan, Democrats will have options to take on Republican Sen. Richard Burr. Parties don't need to recruit big names to win important races; just last year, Republican Joni Ernst won her battleground race in Iowa despite entering as a little-known state senator.
But not every state senator possesses Ernst's talent, and Democrats have few obvious potential recruits who can withstand the scrutiny of a high-pressured race and raise the tens of millions of dollars necessary to win. In North Carolina, the state's House delegation—a frequent source of Senate candidates anywhere—will have just three Democrats out of a possible 13, a consequence of gerrymandering and the party's poor performances in recent midterms.
That's why—with former Charlotte Mayor Anthony Foxx considered highly unlikely to run—Democrats are already turning to Hagan. "She's got to be your first stop if you're Harry Reid, Chuck Schumer, Democrats in the state," said Jackson.
Democrats expect Hagan to indicate whether she'll run again by the spring; in New Hampshire, Sullivan said she expects to know more about Hassan's intentions after the newly reelected governor finishes the legislative session in the early summer. (Her office declined late last year to rule out a run for the Senate.)
In Wisconsin, Feingold might move sooner. Of the three recruits, the progressive favorite is considered the most likely to run. Doing so would mean a rematch against the man who defeated him in the conservative wave of 2010, Republican Sen. Ron Johnson.
"In 2012—for both the recall and the Senate race—Russ Feingold made it very clear he had no intention to run," said Paul Maslin, a Democratic pollster who worked on Feingold's campaign in 2010. "He is not doing that this time. Russ would be the overwhelming favorite to win a primary and by far our best candidate against Ron Johnson."
Wisconsin Democrats do have an obvious alternative should Feingold opt against a run—Rep. Ron Kind, a centrist Democrat from the state's southwest corner, who would have the benefit of giving the party a fresh face against Johnson. But as is the case with Hagan and Hassan, Feingold has essentially frozen the field before a Democratic primary could even begin.
"All eyes are on him," said Patrick Guarasci, Wisconsin-based Democratic strategist. "It's his ball."