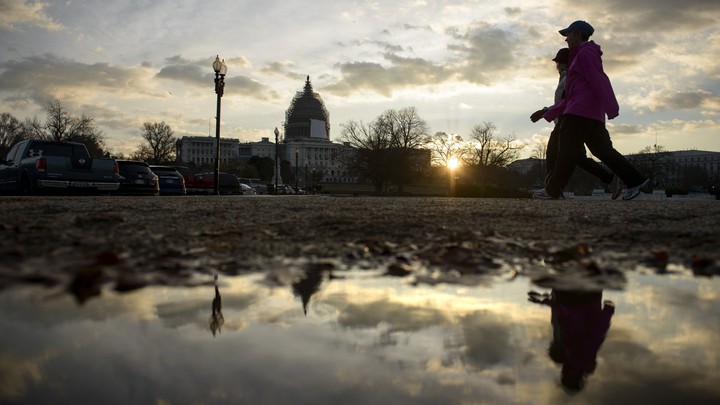 If you live in Washington, you might be one of the very tiny handful of applicants to the city has finally given permission to carry around a concealed firearm. But that doesn't mean you can stroll onto the grounds of the U.S. Capitol packing heat—unless you're part of another very small group of people.
Even if you have one of the District's new concealed carry pistol permits—only eight had been issued as of Wednesday—you can't carry a licensed gun in or around the Capitol unless you're a lawmaker, a staffer acting on behalf of his or her boss, or a  member of law enforcement. The laws D.C. enacted don't change the federal and local rules for the Capitol grounds, said Lt. Kimberly Schneider, U.S. Capitol Police spokeswoman.
And Gwendolyn Crump, spokeswoman for the D.C. Metropolitan Police Department, said the same.
"At the request of the U.S. Capitol Police, a person issued a concealed-carry license by the District is prohibited from carrying the pistol on U.S. Capitol grounds," Crump wrote in an email.
Stepping onto the Capitol grounds is like entering a new city—with its own set of laws. That's certainly the case for the District's new permits to carry concealed firearms, which stemmed from a federal judge's ruling in July that the city's prohibition on publicly carrying handguns was unconstitutional.
This prompted the D.C. City Council to craft emergency laws, which were later more permanently adopted while the city appeals the ruling. But in the meantime, D.C. residents and nonresidents can apply for concealed carry licenses, laws which were modeled after states with stringent gun regulations—such as Maryland, New Jersey, and New York. The city requires applicants to "explain their need" for a permit by demonstrating "either a good reason to fear injury to themselves or their property, or any other proper reason."
Last week, the Metropolitan Police Department issued its first licenses. As of Wednesday, eight licenses had been approved and 11 denied out of the 69 total applications received (three of which the applicants later canceled), Crump wrote in an email, confirming news that WAMU radio first reported. But that doesn't mean those eight people, and the recipients to follow, can tote their firearms everywhere in the city. Federal and local statutes restrict firearms in and around the Capitol, including the House and Senate office buildings and the Library of Congress.
Yet there are also Capitol Police Board regulations from 1967 that Schneider said still apply. They permit lawmakers and staffers acting on behalf of their boss to carry "unloaded and securely wrapped" firearms on Capitol Hill grounds and to keep it in the office.
Restrictions exist, though. The House and Senate chambers, their adjacent lobbies and cloakrooms, the galleries, the Senate's Marble Room, and the Rayburn Room of the House are all off limits. Members aren't required to alert Capitol Police that they're bringing a handgun into the building, but in practice, it's fairly common for a lawmaker to let the sergeant at arms know.
In the past, staffers have been arrested for bringing guns into the Capitol. This past summer, a new press secretary for Rep. Tom Marino, R-Pa., brought an unlicensed and unloaded Smith & Wesson 9 mm handgun and magazine into the Cannon House Office Building. Ryan Shucard, 26, reportedly said he didn't mean to bring the gun to the Capitol, and he has since pleaded guilty to possessing an unregistered firearm and unlawful possession of ammunition in a plea agreement. In 2007, an aide to then-Sen. Jim Webb was caught carrying a briefcase with a loaded gun into a Senate building; the aide said he'd forgotten the gun was there.
It remains unclear if any members of Congress or their staff members can legally walk around the city with a concealed gun. According to Crump, District law prohibits the police department from sharing any personal information about the eight successful applicants—including whether they work on the Hill.
We want to hear what you think about this article. Submit a letter to the editor or write to letters@theatlantic.com.
Rachal Roubein is a staff correspondent for National Journal covering Congress