Cuomo Blames Northeast Snowstorm on "˜Changing Climate'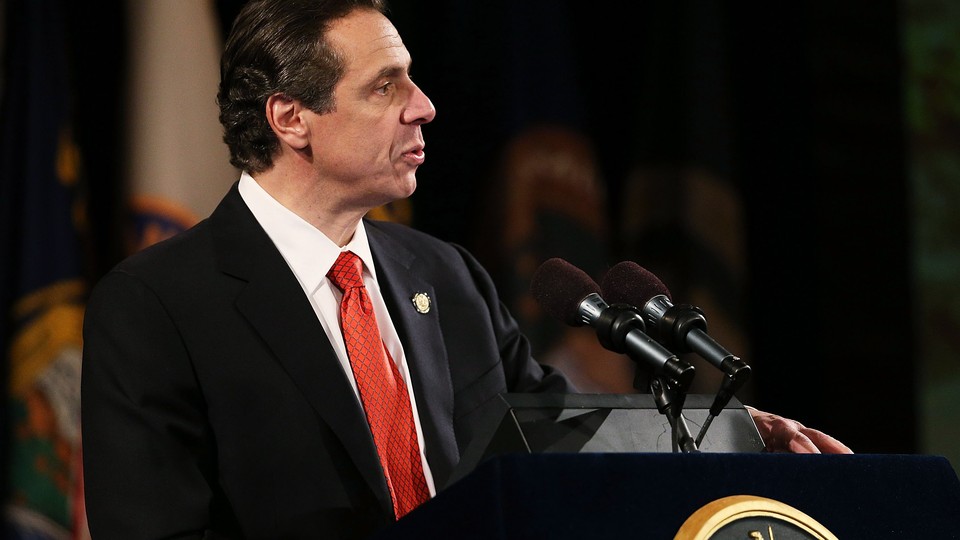 New York Gov. Andrew Cuomo said on Monday that "the changing climate" is responsible for extreme weather events like the snowstorm set to hit the northeastern U.S. this week.
"You're getting a repeat pattern of these extreme weather situations, whether it's Hurricane Sandy or seven feet of snow, and that's part of the changing climate, I believe, that has brought this new extreme weather pattern, and it's something we have to adjust to," the Democrat said during a storm-focused press conference. "It's something that is very costly. It's also something that is very dangerous."
The northeast is currently bracing for a massive snowstorm that has already sparked heavy snowfall in New York City with additional accumulation expected into Tuesday. "Mother Nature has decided once again to come visit us in an extreme way," Cuomo said.
Scientists caution that it is impossible to pin any single storm on global warming, and the science is far from settled when it comes to determining how a rise in Earth's temperatures will impact snowstorms.
"There are many different kinds of storms and you can't make a general statement about how climate change will affect all of them," said Dr. Anthony Del Genio, a NASA scientist. "Winter storms like the one we are seeing right now are one of the most difficult types of storms to predict."
That's because while a majority of climate scientists say that human activity such as the burning of fossil fuels has significantly contributed to global warming, there is not yet an equivalent consensus among scientists about which types of extreme weather events a warming planet might trigger in years to come.
"The research is just not complete yet. More work needs to be done," Del Genio said.
Cuomo has not shied away from linking extreme weather events—including a massive snowstorm in Buffalo last fall—to weather volatility brought about by climate change.
But the governor has been quick to sidestep any discussion of the causes.
"I don't want to get into a political debate at this time about climate change causes," Cuomo said in November. "Forget the causes. Is it global warming? Is it reliance on fossil fuels? Forget the causes. What is inarguable is the result."