Closing the Achievement Gap, One School at a Time
There are plenty of ways to get more minority students in advanced high school courses. But the first step is to recognize the problem.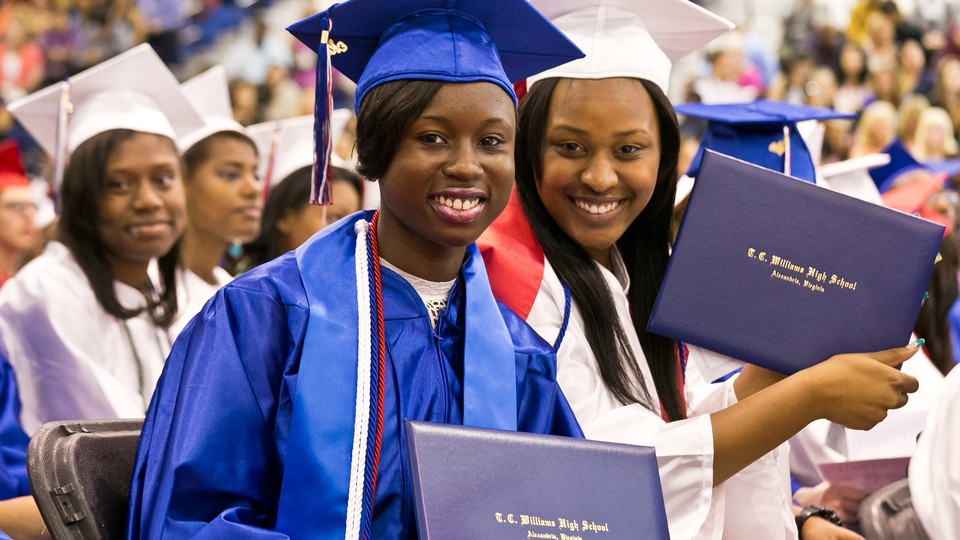 Advanced high school courses can help students challenge themselves academically and prepare for college-level work. But nationwide, white students are more likely to attend high schools that offer advanced courses and are overrepresented in such courses when they are offered, according to the Education Department.
Unequal access to and participation in advanced high school courses are among the mix of factors that lead to the broader achievement gap. So around the country, high schools and school districts are looking for ways to expand access and close that gap. Here are some of the most promising approaches that Next America has found.
Redesigning Freshman Year: Evanston Township High School, a diverse high school in Evanston, Ill., used to place freshman in honors science and humanities courses based on scores on an eighth-grade test. The students who entered high school on the honors "track" were usually more white, and affluent, than the overall student body.
Administrators felt that this sorting mechanism was shutting some students out of honors unfairly, and was widening the school's achievement gap. In 2010, the district eliminated the honors track for ninth-grade humanities, creating the first of several mixed-level classes that allow freshmen to earn honors credit through hard work.
The redesign has been part of the school's efforts to prepare students for Advanced Placement courses, and encourage them to enroll. A student club has helped bring a sense of inclusion and community to the AP program. Last spring, 70 percent of graduating seniors had taken at least one AP exam, including many more low-income African-American and Hispanic students than in the past. Although AP enrollment has grown, exam scores remain about as high as they were a decade ago.
Read National Journal's in-depth profile of Evanston Township High School here.
An Automatic Enrollment Policy: Although most students in the Federal Way Public School district in Federal Way, Wash., are nonwhite, for many years that diversity wasn't reflected in advanced courses. "It sort of became an institutional belief that 'those classes aren't for me,' " says Vince Blauser, executive director of secondary education for the district. "So we set out to change that in policy-driven ways."
Federal Way started to automatically enroll middle and high school students with high test scores into honors, Advanced Placement, International Baccalaureate, or Cambridge Preparatory Academy courses in 2010. To withdraw, students would have to speak with a counselor and their teachers. "There was an enormous amount of pushback" from the community, Blauser says; school board meetings got ugly.
But the policy shift worked. Minority enrollment in college-preparatory classes jumped 200 percent in the first year. The district spent federal Race to the Top grant money on professional development for teachers and support services for students. Today, a higher share of low-income and minority students take and pass AP exams.
Changing State Law: Inspired by Federal Way's success, in 2013 Washington state passed a law encouraging districts to enroll all students who meet state standards in more-rigorous courses. "I think every kid's capable of doing this level of work," state Sen. Steve Litzow, a Republican and sponsor of the bill, told KUOW News while the measure was under consideration.
The law also established an academic acceleration incentive program—subject to legislative appropriations—that would set aside money for teacher training, curriculum development, exam fees, and any other costs that districts would incur by adopting a policy like Federal Way's.
Creating Social Support Structures: Fifteen years ago, Wakefield High School in Arlington, Va., started a student group that the staff hoped would increase the number of black and Hispanic boys in accelerated and AP classes. "When we talked to the boys, what we heard was that they really didn't see themselves in the classes," says Principal Chris Willmore.
Boys whose grades average a C or higher at the start of ninth or tenth grade are now invited to join Wakefield's Cohort for Minority Males. Participants get extra academic support, help planning for college, and a chance to bond with each other and with staff members. Cohorts meet every week for lunch. Students get free pizza if they show up wearing a tie. A local philanthropist helps pay for the program, which includes college tours.
So far, 239 cohort members have graduated from Wakefield, and 87 percent of them have gone on to college. The cohort program has been part of a wider push to prepare students for AP classes: Over the past decade, AP enrollment at the school has jumped 73 percent.
"Much of what we do comes from talking to our students," Wilmore says. A few years after the cohort program began, minority girls started asking for a similar group that would help them apply to college. So Wakefield started United Minority Girls, a group that junior girls can join for help with everything from standardized test preparation to financial-aid forms, and for support from classmates going through the same process.
Letting Students Take Classes Online: In Iowa, nearly three of every four schools qualify as rural. Many of those small high schools lack the money, staff, and students needed to support a wide offering of AP courses. Even larger, more urban, schools may choose to focus on partnerships with community colleges, or on helping low-performing students meet basic state testing standards, rather than on an AP or IB program.
So in 2001, the University of Iowa introduced a program that allows Iowa high school students to take AP courses online for free. It's administered through a center that focuses on gifted-and-talented education and is trying to establish a college-going culture in the state.
To participate, schools have to designate a teacher to serve as the student's mentor and give the student time during the school day to work on the online course. Last year, 87 percent of students who took an online course completed it. Almost all students who complete the online course go on to pass the associated AP test.
Read National Journal's in-depth profile of Iowa's online AP program here.
Targeting Elementary School: To get more students ready for advanced math in high school, Howard County, Md., is focusing on third grade. Most public school students who take Advanced Placement calculus classes in the district are white or Asian, and few come from low-income families. Harvard researchers looked at the district's data and found that disparities in advanced math achievement go all the way back to elementary school.
"There's a remarkable finding here, which is that actually the achievement gap in Howard County with regard to math doesn't really seem to grow over time," says Harvard professor Christopher Avery, a lead author of the study. Students who earn high scores on elementary school math tests tend to go on to take advanced high school math, no matter what their background. The problem is, the students who earn those high scores are disproportionately white, Asian, or well-off.
The district has redesigned its six most diverse elementary schools to try to boost achievement in both math and reading. It's also taking a hard look at its math course progression, to make sure that small administrative decisions don't inadvertently keep students off an accelerated math track.
Read National Journal's in-depth profile of Howard County's approach to math here.
Using Dual-Language Programs to Engage English Language Learners: The International Baccalaureate diploma is a two-year, college-preparatory curriculum offered worldwide. It doesn't prioritize English; it just requires that students show competency in two languages.
This means the program can be used to support bilingual learners. "You can offer rigorous courses to immigrant kids in their native language, while they master English," says Patricia Gandara, codirector of the Civil Rights Project at the University of California (Los Angeles).
In a chapter of a recent book edited by Gandara, two researchers—Ursula Aldana of the University of California (San Francisco), and Anysia Mayer of California State University (Stanislaus)—write about eight public high schools that use IB to support non-native English speakers. The schools all have mostly Latino students, and at least 30 percent of their IB program graduates qualify for free or reduced-price lunch. They found that across the schools, educators viewed bilingualism as an asset. "As much as people see second-language students as struggling; to be able to meet those high expectations in other ways, the richness of their language is part of what makes them ideal IB students," one principal told them.
Making Classes Project-Based: University of Washington professor Walter Parker believes that AP courses could be better taught. Traditionally, he says, AP courses have been taught as a "lecture-based test-prep course." The relentless pace of AP courses has long been a concern among educators, and the College Board is in the process of redesigning several courses to make them less rushed.
Parker and some colleagues are experimenting with teaching AP courses almost entirely through hands-on projects. In their version of AP government, students reenact the Constitutional Convention and simulate a presidential election. In physics and environmental science, students spend less time listening and more time performing hands-on experiments. The project-based classes are currently being piloted in three cities.
Students call the approach "fun" and "relevant," and they're performing just as well if not better than their peers in traditional AP classes, Parker says. He's hopeful that the new model could boost learning for low-income and minority students. Even so, he has noticed that in lower-income districts, not all students will choose to take the final AP exam. Some students, he says, will say they're not taking the exam because they're not going to college.
Correction: This article originally located the Federal Way Public School District in Tacoma, Wash. It is of course in Federal Way, Wash.
Next America's Education coverage is made possible in part by a grant from the New Venture Fund.