Close Quarters
Washington's a small town. Rosslyn's even smaller.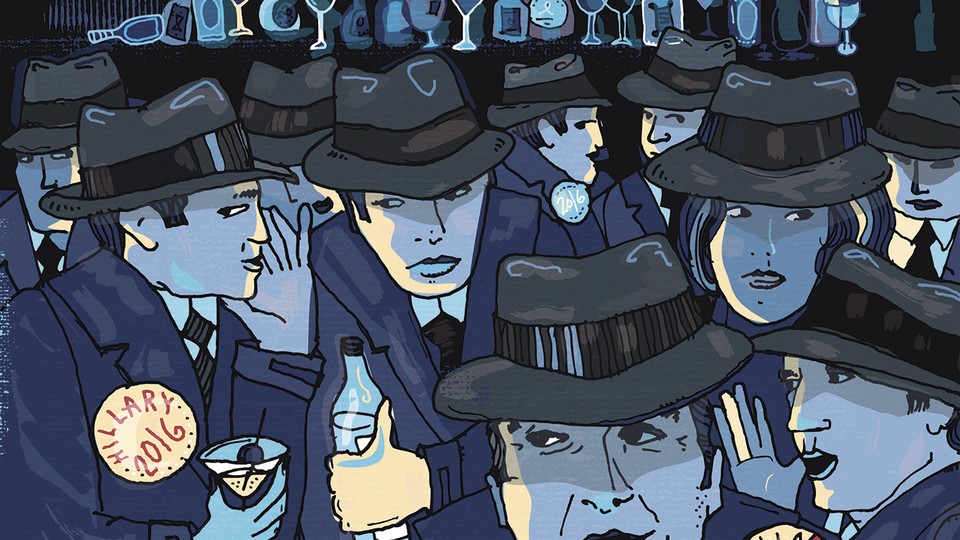 One night last March, Tim Miller, executive director of the GOP opposition research firm America Rising, was departing what he described as a "rowdy" staff happy hour at Rosslyn's Asian-fusion restaurant, Café Asia. ("It's Rising Café Asia Happy Hour time," he'd tweeted earlier that evening, with a YouTube link to a cartoon man dancing to club music.) Nestled on the ground floor of an office building on Wilson Boulevard between the Italian restaurant Piola (home of "Lucky Gnocchi Day!") and Enterprise Rent-A-Car, Café Asia happens to be one of the few happy-hour spots in Rosslyn.
Seth Bringman and Sean England, two communications staffers for the super PAC Ready for Hillary, were snacking on half-price spicy Chinese ravioli and drinking Sapporos with friends a few tables over. They hadn't met Miller before, but they knew who he was—so when he walked by their table on his way out, Bringman figured they should introduce themselves. "Tim! Seth Bringman, nice to meet you," Bringman said.
"I guess it was then I realized that they were right around the corner," Miller recalls.
Rosslyn isn't exactly the most hopping part of the D.C. metropolitan area. It's small, has scant dining options, and becomes a ghost town outside of normal business hours. (Sen. Kirsten Gillibrand of New York got some flak last year for referring to Arlington writ large as a "soulless suburb" in her book, but when it comes to Rosslyn, that certainly isn't far off the mark.)
At the moment, however, Rosslyn is the hub of 2016 activity surrounding Hillary Clinton. Ready for Hillary (a super PAC that is working to boost the idea of a Clinton campaign) and America Rising (a GOP firm that has led the charge against her) moved into the same neighborhood in 2013 and have spent more than a year working just six blocks apart. (Ready for Hillary has 25 staffers based in Rosslyn; America Rising has 50.) And both groups are just a few blocks from Politico, which has a team of reporters devoted to covering 2016.
It's a weird cultural quirk of Washington that political opponents often find themselves in close quarters. But the quarters seem especially close in Rosslyn, where everyone is going to the same half-dozen eateries to grab a quick lunch or using Café Asia or Piola for meetings with clients or reporters.
"When our respective staffs get off the Metro each morning, they turn right [on Wilson Boulevard], and we go left," Bringman told me. "We don't share each other's politics, but we do share happy-hour spots, apparently." (Indeed: between January and late November of last year Ready for Hillary spent $1,936 at Café Asia, per Federal Election Commission reports.) Says Miller: "Our only interaction is at the various chain dining establishments in Rosslyn."
I worked for Politico for three years, so I know the terrain well. I used to frequent Rosslyn's Panera Bread, Chipotle, Roti Mediterranean Grill, and Brown Bag. More than once, I ran into Miller outside the Rising offices on my walk home. While reporting this piece, I returned to the Starbucks on North Lynn Street; even after almost eight months away, the barista recognized me immediately and remembered my regular order.
"You have to be careful about what you talk about in public, especially if your work focuses on sensitive things like heavy opposition research," says Liz Mair, a Republican digital strategist who lives and works in Rosslyn. "It's very, very easy to be sitting with your back to the salad bar in the cafeteria in 1100 Wilson and never even clock that someone from Politico is right behind you, adding croutons to their plate and getting dirt you really don't want them to have right then, because your entire conversation is audible."
Back in 2013, Terry McAuliffe's gubernatorial campaign was headquartered in the same office complex that Ready for Hillary now occupies. The location—across the street from Politico and local TV station WJLA (which covered the Virginia governor's race)—led McAuliffe aides to warn staffers at meetings that they needed to keep quiet at the Starbucks or Chipotle for fear of accidentally giving a reporter an unintended scoop.
"Being in Virginia shouldn't lull reporters or operatives into a false sense of security," Brennan Bilberry, who served as McAuliffe's communications director, told me recently. "You're more likely in Rosslyn than most of D.C. to have your lunch conversation overheard by someone you'd prefer wouldn't."
Still, both America Rising and Ready for Hillary say that interactions between their staffers are rarer than you'd expect. One reason may be that there is a Starbucks a few blocks up Wilson Boulevard that is closer to America Rising than the North Lynn Street Starbucks, which is around the corner from Ready for Hillary. And although Rosslyn certainly has a more intense concentration of Hillary-related activity than downtown D.C. does, there are plenty of nonpolitical people to dilute the mix. "Running into America Rising's Tim Miller in line at Brown Bag was always a pleasant surprise, but more often, you just end up bumping elbows with a bunch of Deloitte consultants while trying to get a drink at the Continental," a former Politico reporter told me when I asked for Rosslyn recollections.
In April, The Washington Free Beacon, the conservative news site that sent reporters to dig up dirt on Clinton at her husband's presidential library in Little Rock, will become the newest political operation to move into Rosslyn, setting up shop in the same building as Politico. But its employees may be arriving too late to bump into their ideological nemeses at Café Asia. That's because Ready for Hillary will ramp down its efforts and largely cease to exist once Clinton announces a campaign, as she's expected to do. Though Clinton's 2008 headquarters were in Arlington's Ballston neighborhood, just four Metro stops away, her 2016 effort will reportedly be based just outside of New York City.
For the time being, though, the epicenter of the country's great Hillary debate remains a small, charm-deficient enclave across the river from D.C. "I'm very headphones in, head down when I'm walking around Rosslyn," Miller told me. Given who his neighbors are, that's probably a good idea.