Clinton Ally Defending Her From Keystone Attacks
The Democratic research firm Correct The Record is touting her record on energy.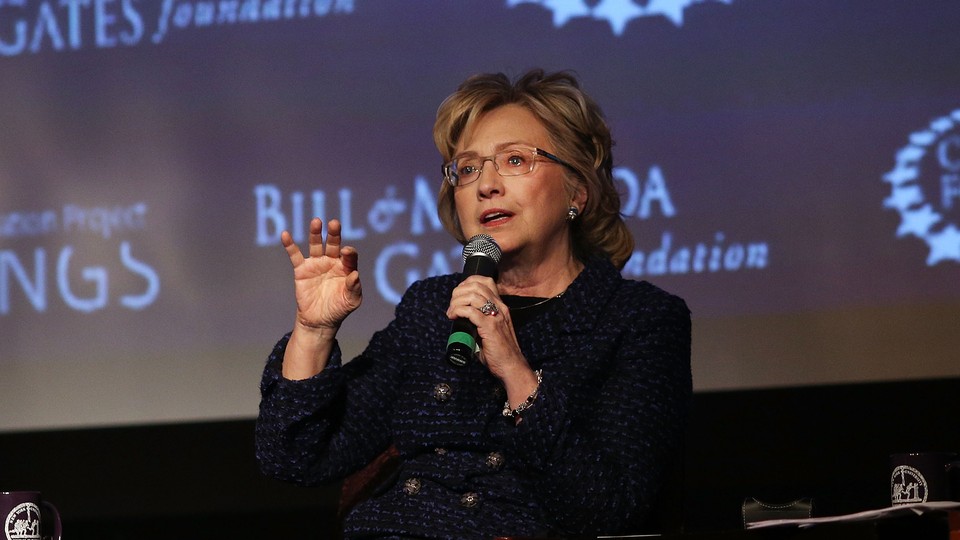 Hillary Clinton has long avoided addressing whether she supports the construction of the Keystone XL pipeline—a project that earns rare bipartisan support in the Senate but is opposed by the Obama administration. Her latest dodge came in Canada, where she gave two paid speeches Wednesday and offered no comment on the subject.
But she's now getting an assist from a leading Democratic opposition-research firm in defending her record on energy. Correct the Record, an arm of American Bridge which is closely allied with Clinton's campaign, will release a new report today boosting the former Secretary of State's record on other energy issues, a move that comes as the new Republican-controlled Senate debates a Keystone vote.
The report lists nine areas where Clinton was involved in energy-related efforts, including "fighting for clean energy" in the Senate and "prioritizing cleaner energy worldwide."
Speaking at a "Global Perspectives" event in Winnipeg Wednesday, Clinton again declined to state her position on the pipeline, a move that dominated much of the coverage following the speech. "We have differences, and you won't get me to talk about Keystone, because I have steadily made it clear that I'm not going to express an opinion," she said. "It is in our process, and that's where it belongs." (She's previously said it would be inappropriate for her to offer a position either way, given her tenure at State and the State Department's ongoing formal review process.)
The report, titled, "Hillary Clinton: Smart Energy Innovation," doesn't mention Keystone, but focuses on Clinton's efforts on other aspects of energy policy from her tenure in the Senate and as secretary of State.
"Hillary Clinton's record on energy policy and the environment demonstrates that she acutely recognizes the challenges and realities we face," Correct the Record spokeswoman Adrienne Watson said. "She has fought to advance clean, alternative energy solutions to create jobs, boost our economy, and preserve the environment for future generations."
While in the Senate, Correct the Record notes, Clinton cosponsored legislation such as the Clean Power Act and the Diesel Emissions Reduction Act to encourage better technologies for power plants and vehicles. She also cosponsored the Electric Reliability Act to help modernize America's power grid.
At State, Clinton helped coordinate a regional partnership with other countries in the Americas to promote clean-energy development and reduce greenhouse-gas emissions. The report also notes her role in launching the U.S.-Africa Clean Energy Finance Initiative, as well as her efforts to bring China to the table to cooperate on energy and environmental goals.
Correct the Record has put out similar reports to bolster Clinton's record on other issues: The group began with one on the economy last spring and have hit on the former secretary of State's record on issues such as foreign policy, minimum-wage raises, and education. As the sole group defending Clinton ahead of her expected 2016 campaign, Correct the Record has worked to get out ahead of Clinton critics on issues as they arise.
Keystone, in particular, is a politically fraught issue for her, because taking a stance either way would disappoint different segments of the Democratic electorate. By saying she supports construction of the pipeline, which would run from Canada to the Gulf Coast, Clinton would put herself at odds with the White House, which has vowed a veto should Republicans pass legislation approving it. And among key Democratic constituencies, environmental groups oppose the pipeline, while labor leaders have said it would help create jobs.
Asked about Clinton's lack of a position on Keystone, Watson echoed Clinton's own rationale for not commenting on the issue.
"Secretary Clinton has repeatedly stated that, as the former secretary of State who oversaw the department charged with completing the environmental assessment of the Keystone project, it would be inappropriate to comment and risk influencing the process until this assessment is complete."