Chris Christie's 'Renewal'
The New Jersey governor delivered a statehouse speech littered with presidential campaign previews.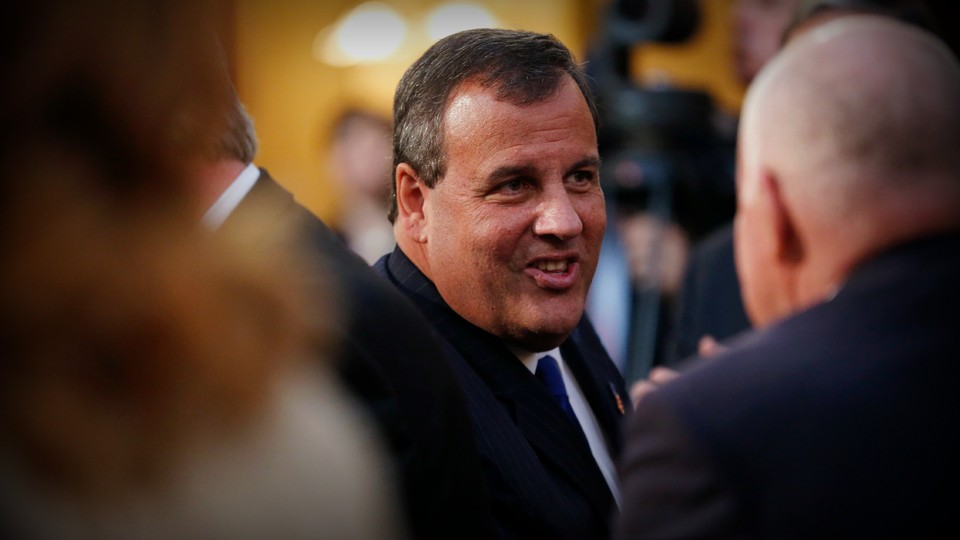 If anyone had lingering doubts about Chris Christie's ambitions beyond the New Jersey governor's office, he put those to rest earlier this month with his all-too-literal embrace of the Dallas Cowboys. So when he delivered his annual State of the State address on Tuesday, it was no surprise that the speech from the likely 2016 presidential contender sounded a lot like a State of the Union.
In keeping with Christie's reputation for blunt talk, he wasn't subtle about his message. Replace some of the references to "New Jersey" with "America," and you have a ready-made stump speech. His address centered on the familiar theme of "renewal," and the second-term Republican spoke of exporting the solutions from his Democratic state to Washington. "I believe in a New Jersey renewal that can help lead to an American renewal," Christie said. He diagnosed the U.S. as "a nation beset by anxiety," and when he began a riff that seems sure to become part of his presidential speech, he did so with a verbal wink to his audience of state legislators: "As I traveled the country over the last year—you may have heard about that," Christie said to chuckles. He proceeded to recite a travelogue that took him from Chicago to suburban Maryland, to Kansas and Colorado and Arkansas, and finally to Vero Beach in the quadrennial swing state of Florida, where he recalled the words of an 82-year-old retiree who gripped his hands and said, "What's happened to our country? We used to control events. Now events control us."
Christie's 2016 bet is that voters who view President Obama as overly cerebral and equivocating, or even weak, will find his brand of just-get-it-done decisiveness refreshing. He used the speech to fill in the details of how that style can lead to results, citing New Jersey's economic recovery, a bipartisan pension reform, and his work with the Democratic mayor of Camden to turn around a city plagued by violent crime and corrupt government. (Not surprisingly, he omitted references to the more troubling aspects of his tenure, like the federal investigation into the Bridgegate scandal, multiple state credit downgrades, or his failure to prevent the collapse of Atlantic City's famous casinos.)
But knowing that to capture the White House he must first win over Republican primary voters, Christie also offered nods to conservatives. "I will veto any more income tax increases that come before me," he said, reiterating a frequent pledge. Christie never mentioned abortion, but when he spoke about his support for drug treatment programs to combat addition, he tied it to a broader principle. "No life," he said, slowing down for emphasis, "is disposable at any stage of life."
Christie showed he had plenty of material for a national stump speech, but that won't be his biggest challenge. A year or two ago, he looked like he might be the clear establishment favorite to take on Tea Party stars like Ted Cruz and Rand Paul for the Republican nomination. With the entries of Jeb Bush and, surprisingly, Mitt Romney into the 2016 fold, however, establishment-friendly Republican governors are no longer in short supply.