Chickenhawk Chronicles, No. 12: Careerism and Competence
"Upon redeployment from combat, our squadron was greeted by a new commander who proceeded to tell us that none of us were going to get promoted if we didn't get our masters degrees finished." Veterans discuss the internal tragedies of the military.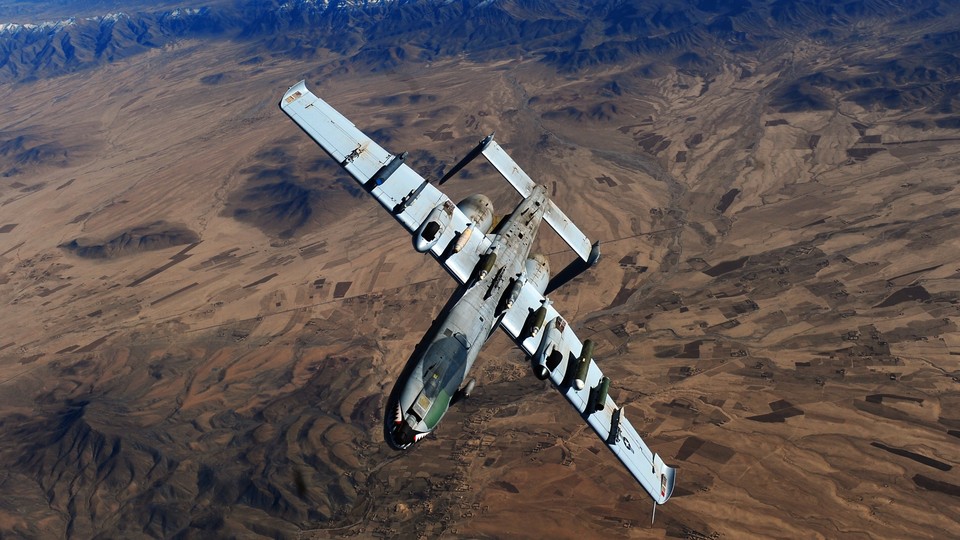 Background: My piece on "The Tragedy of the American Military" is here, and for previous reader responses see No. 1, No. 2,No. 3, No. 4, No. 5, No. 6, No. 7, No. 8, No. 9, No. 10, and No. 11. Today's theme for No. 12 is the question of competence and careerism in the professional military.
My article argued that our military failures through the "long wars" were mainly failures of grand strategy, of the nation as a whole. But one consequence of America's chickenhawk view of the military—we love the troops, but we'd rather not think about them—was an incentive and promotion system within the military less tied to win-or-lose measures of success than in some other eras. From the Civil War onwards, generals or admirals were sometimes removed from command for mistakes on the battlefield, not just for what we now (sadly) call Gen. Petraeus-style cases of personal indiscipline. That has not happened in our recent wars. Today, three shorter reader messages on the question of competence, and then one quite long and powerful report from an Air Force veteran that I hope you will read all the way to the end.
1) The Lake Woebegone Effect, or all our leaders are above average. The fancier term for a world in which everyone is special is the Dunning-Kruger Effect. Many readers wrote in to mention it, for instance:
In their paper, "Unskilled and Unaware of It: How Difficulties in Recognizing One's Own Incompetence Lead to Inflated Self-Assessments," professors Justin Kruger and David Dunning write that, "People tend to hold an overly favorable view of their abilities in many social and intellectual domains."

They suggest, "overestimation occurs, in part, because people who are unskilled in these domains suffer a dual burden: Not only do these people reach erroneous conclusions and make unfortunates choices, but their incompetence robs them of the metacognitive ability to realize it."
This, the reader went on to argue, could explain a view of a military in which all members were heroes and all leaders were outstanding on every measure.
2) "The culpability of the general officer corps." An Army veteran argues that senior officers should have resigned rather than undertake campaigns they knew would fail.
I am a reserve Army captain, having left active duty last year. I spent a year in Afghanistan (2011-2012). I left the active Army for several reasons, but foremost among them was an inability to lead soldiers into strategically incoherent wars.

I'd like to focus on one point that I do not think has been adequately or candidly discussed—the culpability of the American general officer corps.

You discuss the lionization of the military in general and of its leaders in particular, and touch on modern Presidents' aversion to confronting their generals. I would go farther, and lay both the failure in Afghanistan and the spectacular blunder into Iraq squarely upon the general officer corps.

Beginning in my cadet days, I was taught that officers were duty-bound to refrain from overly political recommendations. I believe this overdeveloped ethos has contributed to the strategic blunders we have endured over the past 15 years. Specifically, the general officer corps had an obligation not only to state honestly what it would take to invade Iraq (see Gen. Shinseki) but to articulate, whether it was asked to or not, whether this was a reasonable idea. I think the invasion of Iraq, and the concomitant failure in Afghanistan, foreseeably weakened American security. I think the chiefs had an obligation to resign before they executed orders they reasonably knew would be to the detriment of American security.

LTG McMaster, a lesser-known but key Army leader, wrote a book about the phenomenon as it related to Vietnam—'Dereliction of Duty.' Unfortunately, I think McMaster's thesis applies to our wars today. [JF note: Yes, McMaster is lesser-known to the public but very prominent in defense-reform debates. I have written about and recommended this book before.] The general officer corps' facilitation of incompetent politicians' bad ideas is a dereliction of their duty to the American public. Generals are always subordinate to the civilian leadership, but they should resign before executing strategically incoherent wars. I would emphatically put Afghanistan, Iraq, and the current campaign against ISIS in this category.
3) "I have been shocked by the scandals recently." From an American who lives in Asia:
I am a Navy veteran (LT USN), resigned in 1989. I completely agree with many of the sentiments expressed in article, although I am not a professional in defence or military matters any more.

What really hit home for me was: "military's career structure "corrupts those who serve it; it is the system that forces out the best and rewards only the sycophants."

Thats why I resigned many years ago.

I have been shocked by the scandals recently, that seems to have sunk under the radar - Glenn Defense Marine Asia scandal in Asia was particularly shocking to me, as the 7th Fleet staff fleet scheduling officer was corrupted to schedule ships into ports to please his contractor.

I also attended [a Navy event in a major Pacific Rim city] a couple of years ago where Rolex watches, donated by defense contractors, were raffled off to military personnel. I felt shame for that to happen in front of our allies from other southeast Asia nations.
* * *
4) Now, the account by Z.K. Rosson, a former A-10 and MQ-9 pilot. I am setting it off separately because of its length and detail, and because he has agreed to be quoted by name. I hope you will read this all the way through.
By Z.K. Rosson
As a 2002 West Point graduate, who spent 12 years in the Air Force flying A-10s and MQ-9s, I saw firsthand a lot of the issues you describe in your article. I think you are spot on with your assessment that the general public's lack of desire to hold military leaders accountable has been a major factor in our 14 years of failed combat.

Your quote from William S. Lind as he condemned the "utter silence in the American officer corps" was especially powerful. I also believe Congressman Moulton was correct when he said that the military has "become populated, especially at the highest ranks, by careerists, people who have gotten where they are by checking all the boxes and not taking risks."

I'll give you a couple examples from my time in the service as support to the points you made in the article.

In 2009, I was deployed to Afghanistan flying the A-10. Back then, we referred to our missions as "TIC-hopping." We would take off with our pre-planned tasking in hand, only to be immediately re-rolled to one "troops-in-contact" situation after another.
While the amount of fire fights that our ground forces were still engaging in after five years of conflict speaks volumes to our lack of progress, the amount of personal satisfaction I got from being there for them is difficult to put into words.  Many times, we didn't even need to employ our weapons, as a simple low pass over the enemy position was often all that was needed to save the day. I would return from those missions knowing I was getting to fight and walk amongst the best fighter pilots on the planet.
Unfortunately, upon redeployment from combat, our squadron was greeted by a new commander who proceeded to tell us that none of us were going to get promoted if we didn't get our masters degrees finished. He said we should feel proud of our contribution to the fight, but should realize that the Air Force doesn't care about that stuff. He said we needed to get busy checking boxes, and fast, if anybody wanted to be a commander someday.
After the proudest experience of my life, I went on to lose all faith in my branch of service.

Fast forward to 2012, and the box-checking careerist mentality that I had first become aware of in 2009, had grown like cancer into an unmanageable sickness. I was now flying the MQ-9 [Reaper] (transferred from the old redheaded stepchild--the A-10--to the new one--the "drone"). I was back in Afghanistan launching MQ-9s and handing them off to crews back in the states. We ended up with more people deployed than we needed, so I was able to launch and land a few missions, then spend the remaining hours of my days flying close air support missions.
Our volunteer mission quickly became highly regarded at the lower and intermediate levels because we were able to provide highly-needed kinetic support to ground troops in southern Afghanistan, while freeing up a lot of Kandahar-based F-16s to move to higher priority areas in northern Afghanistan. Our single mission improved "CAS status" throughout all of Afghanistan.
The war-fighters all loved us, but that didn't stop our self-serving group commander from shutting us down. On one mission, we were able to take out six insurgents planting an IED and preparing an ambush against coalition forces. We found out shorty after the strike that we had taken out the only IED-maker in that particular AO. Intel analysts assessed that it would take at least a month before insurgents would be able to go back to planting IEDs in that area, because it would take at least that long to get another skilled bomb-maker in from Pakistan.
We had effectively provided a month of "freedom-of-movement" for our ground troops in one engagement. That didn't stop our self-serving careerist group commander from removing us from the fight, though. After he saw our engagement video he stated that he was only tracking two metrics: hours and numbers of aircraft flying "base-defense" sorties overhead Kandahar, which is the only thing he said his boss cared about. We were to stop flying CAS missions immediately and begin scanning for rockets being set-up around Kandahar. It only mattered that his metrics went up and made him look good to his boss.

I returned from that deployment more cynical than ever. It only got worse, though, as I attempted to put two of my NCOs in for quarterly awards and was told that "nobody looks at the job related bullets--you need to make sure their volunteer bullets look good to win the award." This was in a wing that performed a 24/7/365 combat mission.

The Air Force (probably the other services as well) is completely inundated with a careerist/self-serving culture in both the officer and enlisted corps. I was once told that the key to success in the Air Force is to check all the right boxes without being the "tall blade of grass."
Though many at the field-grade level and below will tell you this, nobody in the flag ranks will admit this because they are direct benefactors and creators of the current culture. A careerist culture is incapable of critical thought. Therefore, I believe the military services are incapable of fixing this problem on their own. It requires public involvement, debate, and ACCOUNTABILITY. American citizens cannot shirk this responsibility just because they haven't seen combat themselves. I applaud [the Atlantic and me] for bringing this issue to the forefront. Though, I wonder if Kim Kardashian would have been a better messenger to keep this in the public sphere (but that is just the cynicism in me). [JF note: Of course!]

So I don't run afoul of Mr. Lind, I will continue to speak out within my sphere of influence, including at my blog: http://www.zkrosson.com/blog. This is but a small pebble against a mountain to be sure, but I will do my best to do my part.
This is JF again, to add a final point. In all our previous wars, popular culture and mainstream journalism were full of accounts of the sort of careerist-vs-competence choices that Z.K. Rosson describes. This was a theme of Catch-22, of South Pacific, of The Caine Mutiny and From Here to Eternity, of The Bridges at Toko-Ri by James Michener, of The Hunters by James Salter, of that perennial military favorite Once an Eagle by Anton Myrer, even of Apocalypse Now. But current public culture seems almost afraid of this "some of them were good, some were not" assessment of military leadership in the recent wars. The closest we come is the more familiar terrain of bureaucratic scheming in Homeland and, to a degree, Zero Dark Thirty.
Next in the series: a person with an idea about shaking up military culture.