Chamber of Commerce: We Could Play in Democratic Primaries in 2016
Chamber President Tom Donohue said Wednesday that his group may expand its reach beyond GOP primaries next year.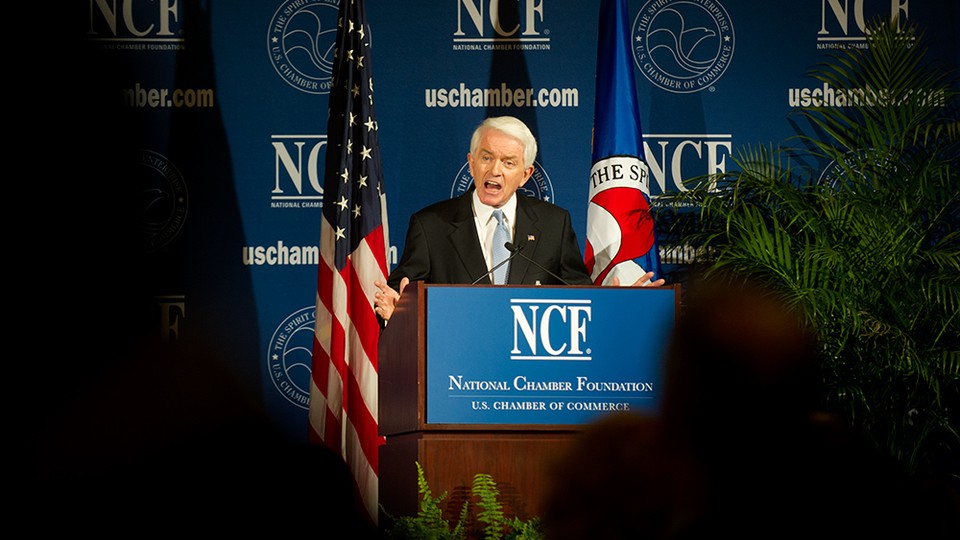 The U.S. Chamber of Commerce was one of the biggest spenders in Republican primaries in 2014, and it might broaden its horizons even further in two years. According to its president, the business group could get involved in Democratic primaries in 2016.
Chamber President and CEO Tom Donohue said at a press conference Wednesday that his political team will focus its energy in 2016 on electing candidates it thinks bring "competence and experience" to the legislating process, regardless of party affiliation.
"There could even be primaries on the Democratic side that we'd be interested in," said Donohue. "We believe candidates matter more than anything else; we're looking for people who want to govern."
Donohue's comments come as one of the country's biggest Senate races is shaping up in California, a contest that could, potentially, feature two Democrats on the ballot in November. Sen. Barbara Boxer's retirement announcement last week spurred a wave of interest from ambitious Democrats eager for a shot at California's first open Senate race since 1992.
Because of the state's new "top-two" or "jungle" primary, the top two vote-getters—regardless of party affiliation—move on to the general election. One high-profile Democratic contender, state Attorney General Kamala Harris, has already announced a campaign, and environmentalist billionaire Tom Steyer is expected to make a decision by the end of the week. Steyer is a staunch opponent of one of the chamber's highest-priority legislative goals: the Keystone XL Pipeline.
The number of "Chamber Democrats" has dwindled in recent years as wave elections wiped out Democrats from moderate and conservative areas and the party moved further from the chamber politically. The U.S. Chamber of Commerce hasn't endorsed a Democrat in a Senate race since 2010 and handed out only a handful of endorsements of House Democrats in the last election. Meanwhile, it became the biggest outside player in Republican primaries in 2014, helping to shepherd Republican Senate candidates such as North Carolina's Thom Tillis through their primaries and protecting incumbents such as Sens. Thad Cochran and Pat Roberts from tea-party-fueled challenges.
Democrats had only one competitive Senate primary in 2014, in Hawaii, but a different slate of states up in 2016, combined with a host of potential retirements, could set up a number of blue-on-blue primary races this cycle. At least a half dozen senators remain on retirement watch ahead of 2016—including Democratic Sens. Barbara Mikulski, Patrick Leahy, and Harry Reid.
Donohue said it was impossible to predict how much the chamber would spend on the 2016 elections, but he said the group would likely be able to spend what it needed.
Speaking at the chamber's 2015 State of American Business event, Donohue lauded his group's role in the 2014 midterms, and he said he hoped to continue building on the "governing center" they helped create.
"A governing center suggests you can be a committed conservative, a passionate progressive, or even one of a shrinking number of moderates and still work together," said Donohue.