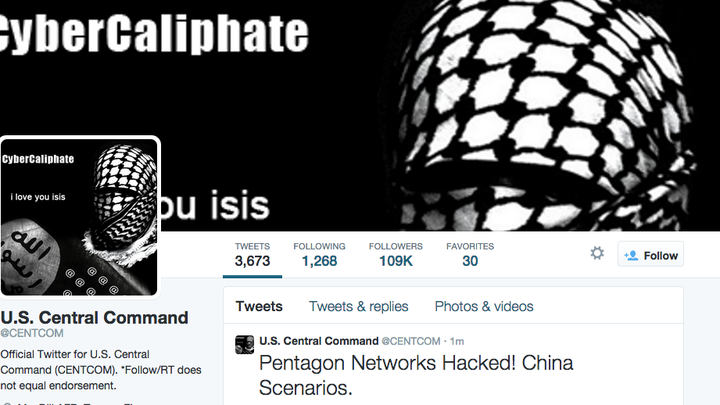 Updated January 12, 1:52 p.m.
The Twitter and YouTube accounts of U.S. Central Command were apparently hacked on Monday just as President Obama was delivering a speech on new cyber-security proposals. Just after noon, individuals claiming to represent the Islamic State warned U.S. soldiers, "We are coming. Watch your back." The hackers posted documents that purported to show the email addresses and phone numbers for high-ranking U.S. military officers stationed overseas, as well as "Pentagon" documents labeled "scenarios" for China and North Korea.
It wasn't clear if any of the documents were actually classified or sensitive, but it was, at the least, an embarrassing lapse for the military at a time when the president is trying to boost the nation's cyber defenses. Obama's proposals to the Federal Trade Commission on Monday were aimed at consumers, including a bill requiring that companies disclose a breach to customers within 30 days.
Josh Earnest, the White House press secretary, told reporters about an hour after the breach: "This is something that were obviously looking into and something that we're taking seriously." But he quickly added that there was "a pretty significant difference between a large data breach and the hacking of a Twitter account."
Based in Tampa, Central Command is the post overseeing U.S. military operations in the Middle East, including the new war against the Islamic State. The avatars for both the YouTube and Twitter CentCom accounts were changed to images of an ISIS fighter with the words, "Cyber Caliphate" and "I love you isis." Calls to CentCom were not returned immediately, but it acknowledged that its account was "compromised" and that it was "taking appropriate measures to address the matter," according to The Washington Post. The eight tweets remained on the Twitter account for at least a half hour before they were taken down and the account was suspended. The YouTube page was also taken down, replaced with a note saying it had been "terminated due to repeated or severe violations" of the site's community guidelines.
We want to hear what you think about this article. Submit a letter to the editor or write to letters@theatlantic.com.
Russell Berman
is a staff writer at
The Atlantic
, where he covers politics.