CBO Predicts Slower Obamacare Growth
The budget office says enrollment will take longer than previously expected.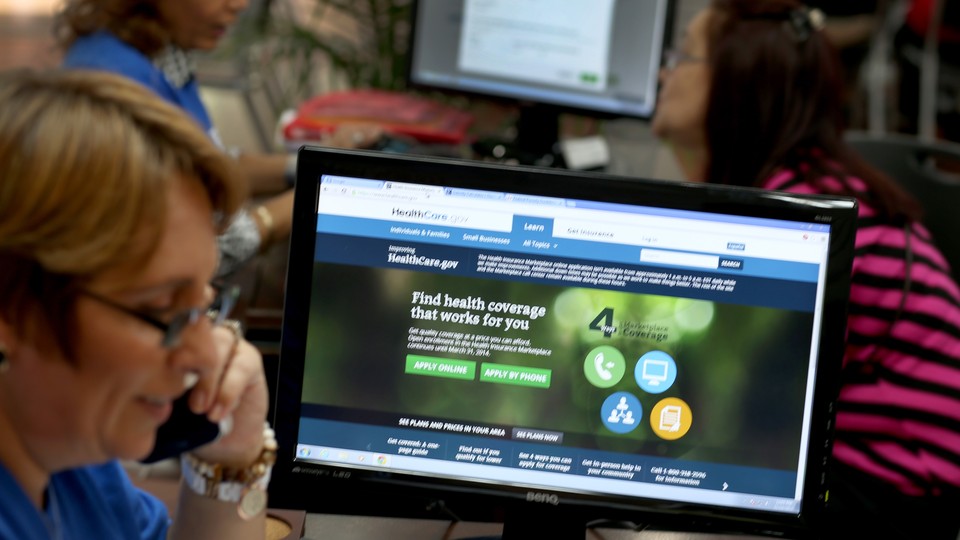 Obamacare enrollment won't be quite as fast—or as expensive—as previously expected, the Congressional Budget Office said Monday.
All told, Obamacare reduced the number of uninsured Americans by about 12 million last year and will cut the uninsured rate by 19 million people this year, CBO said. And the budget office still expects the law to cover about 24 million people who otherwise would have been uninsured.
But the budget office said enrollment in Obamacare's insurance exchanges will take longer than expected to ramp up. CBO said it now expects the exchanges to cover roughly 12 million people this year, down from 13 million in its last estimates. It also reduced its enrollment projections for 2016.
The budget office said it "still [expects] enrollment to grow rapidly over the next two years in response to increased outreach by state health agencies and others and to increased awareness of the individual mandate; however, that growth is now anticipated to occur a little more gradually than it was previously."
Why? Sign-ups toward the end of 2014 were lower than expected, and the number of people who selected coverage but then dropped it was higher than expected.
Even CBO's lower estimate is still higher than the administration's target. The Health and Human Services Department previously dropped its 2015 targets, saying it was aiming to cover 9 to 10 million people this year. Sign-ups are on pace to surpass that target.
In the long run, CBO's estimates are basically unchanged. The budget office expects the exchanges to ultimately cover 24 million people. That's 1 million fewer than CBO's last estimate, but the budget office said the difference stems from more children getting coverage through Medicaid.
That slowdown will also affect the law's costs. The estimated cost of subsidies for people who buy insurance in the exchanges is now $68 billion—or 7 percent—lower than CBO's last projections. But federal spending on Medicaid will likely be about $59 billion—7 percent—higher than CBO previously expected, according to Monday's update.