Can The Health Care Industry Save Obamacare?
Hospitals and insurance companies are coming to the law's defense before the Supreme Court.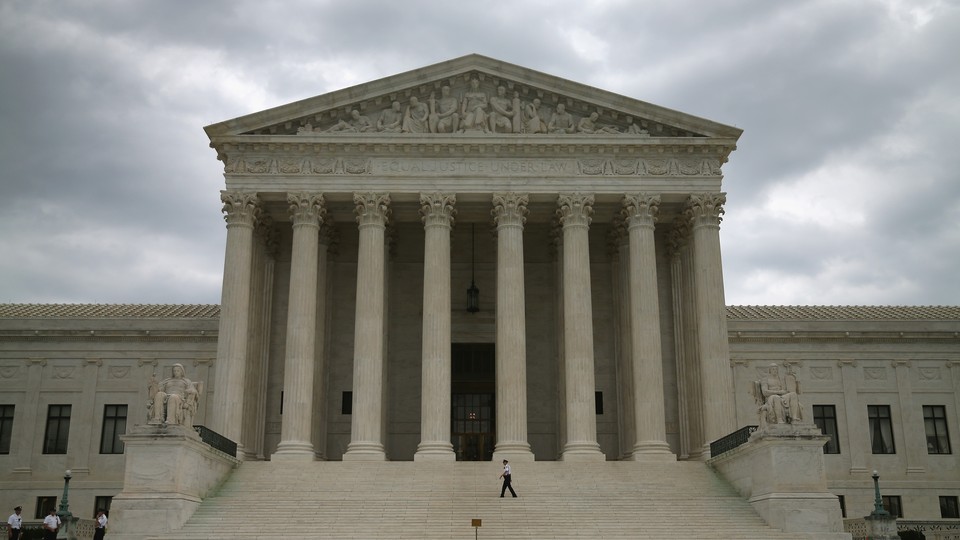 Health insurance companies and hospitals mounted an aggressive defense of Obamacare's insurance subsidies Wednesday, warning the Supreme Court that eliminating the payments would be "grossly inequitable" to millions of Americans.
Both industries have a lot on the line as the court prepares to hear oral arguments in a lawsuit that aims to cut off the Affordable Care Act's premium subsidies in most of the country.
In an amicus brief filed Wednesday, health insurers said a ruling against the subsidies would have widespread and severe ripple effects, potentially throwing states' entire insurance markets into chaos.
Stopping the flow of subsidies "would create severely dysfunctional insurance markets" in 34 states, America's Health Insurance Plans, the industry's leading trade organization, said in its amicus brief. "It would leave consumers in those States with a more unstable market and far higher costs than if the ACA had not been enacted."
The case before the Supreme Court, King v. Burwell, argues that Obamacare's subsidies—which help the vast majority of enrollees cover part of their premiums—should only be available in states that established their own insurance exchanges. People who live in the states that did not set up their own marketplaces should not be receiving financial assistance, the challengers argue.
AHIP, though, said the state and federal exchanges work the same as a practical issue. The subsidies and the law's individual mandate are part of an interconnected series of policies designed to stabilize insurance markets, AHIP said—irrespective of who runs the exchange in any particular market.
"There is no practical reason to distinguish between state- and federally-operated exchanges in this regard," the brief says. It makes no difference to the market reforms whether the exchange is state- or federally operated. Likewise from the perspective of consumers, State- and federally-operated exchanges perform the same basic functions."
According to independent estimates, 8 to 10 million people would likely lose their coverage if the Court invalidates subsidies in the federally run exchanges. And most of the payments insurers were planning to receive this year—about $32 billion, according to the Congressional Budget Office—would disappear as well.
But the consequences would spill well beyond consumers who personally lost their subsidies, AHIP argued. The industry organization warned of an insurance "death spiral" if the Court rules against Obamacare: Only the only sickest people would be willing to buy insurance even without financial assistance or a mandate to do so, AHIP argued, which would cause premiums to increase, which would push out more people until only the sickest of the sick remained and insurance became totally unaffordable, if it would be available at all.
"These significant adverse consequences are fundamentally inconsistent with the goals of the ACA, which was intended to achieve nationwide reform and make stable, functioning insurance markets available to all Americans," AHIP wrote.
Hospitals made a similar argument in their amicus brief Wednesday. Neal Katyal, a former acting solicitor general who is representing several large hospital organizations, pointed to the experience of states that tried some of Obamacare's market reforms—such as guaranteeing coverage to sick people—without also providing subsidies or enacting an individual mandate.
Those state-level experiments were all failures. And, Katyal argued, Congress knew that—meaning there's no way it would have intentionally set states up for the same result now.
"It's really kind of crazy to think that Congress would have enacted a scheme like that" by making subsidies available only in certain states while the rest of the law applied nationwide, Katyal told reporters Wednesday.
He noted that Obamacare included cuts in Medicare and Medicaid payments to hospitals, including reductions in the payments they receive to offset the cost of treating uninsured patients. Congress reduced those payments in part because more patients would have insurance and be able to pay their bills. But, Katyal noted, if the Supreme Court invalidates Obamacare's subsidies, those customers would vanish—yet the other payment cuts would remain.
The result would be "a widespread and massive disruption "¦ to the entire health care system nationwide," he said.