Can Republicans Get Along?
Before they can take on the president, GOP lawmakers from the House and Senate have to find common ground with each other.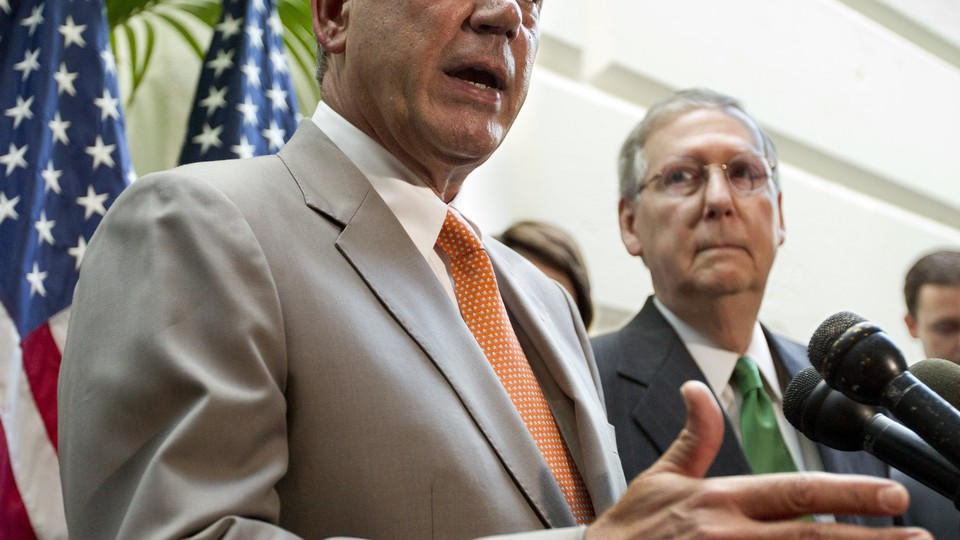 HERSHEY, Pa.—For the past four years, Republicans in the House and Senate have tangled over a strategy for confronting President Obama. Sometimes it would be Tea Party upstarts like Ted Cruz who foiled John Boehner's plans, while other times it would be the dysfunction of Boehner's own caucus that would strip Senate Republicans of their leverage.
So as House and Senate Republicans gathered here for three days in the country's cocoa mecca, they wanted to see if they could find a way to work together a little more sweetly.
That lawmakers from both chambers are even in the same place is significant. It's the first time in 10 years that the two caucuses have held a joint retreat, an indication of how little House and Senate lawmakers interact despite sharing a party label and a place of work. "There's almost no overlap," Senator Bob Corker of Tennessee lamented to reporters Thursday morning as he emphasized the importance of the three-day confab.
"It's really productive and important that we are starting out the new Congress together," crowed Representative Cathy McMorris Rodgers, the fourth-ranking House Republican who is organizing the retreat.
But are they really?
Nothing illustrates the unity challenge more clearly than the GOP's first major governing test: how to confront Obama on immigration policy without shutting down the Department of Homeland Security. Hours before leaving for Pennsylvania, House Republicans passed a funding bill for the department that blocks money for all of the unilateral actions the president has taken to shield immigrants, both children and adults, from deportation. Even with a 54-seat GOP majority, the legislation is a non-starter in the Senate, where Republicans would need at least six Democrats to overcome a filibuster (and far more to get to override a likely presidential veto).
Standing alongside McMorris Rodgers was her Senate counterpart, John Thune of South Dakota, who is chairman of the Republican conference. When Thune was asked about the House homeland security bill's prospects in the Senate, he actually laughed. "Well, the magic number in the Senate is 60," he replied. Though he said Senate Republicans also want to challenge the president on immigration, Thune couldn't even guarantee that the House proposal would receive a vote, and he didn't dismiss the possibility that Congress would ultimately send Obama a spending bill without any immigration restrictions, which would represent a total defeat for Republicans. "We're going to try to pass it," is all Majority Leader Mitch McConnell would promise when he spoke a couple of hours later.
In addition to immigration, lawmakers met to hash out strategy on the budget and healthcare. They heard jokes from Jay Leno on Wednesday night (his standard post-Tonight Show routine, plus a few congressional cracks added in, according to one lawmaker), and Tony Blair also gave a presentation, all of which are closed to the press.
For the leadership, another goal of the conference is to set expectations among newer lawmakers both for what is possible to achieve politically and, on an even more basic level, how Congress works. It's not quite Schoolhouse Rock, but it might not be that far off. Senators and House leaders spoke of using the retreat to teach younger members just how long it can take to pass a bill through the Senate, even one with bipartisan support. Take the Keystone pipeline legislation, which party leaders had planned for months to make the first significant bill their new majority would pass. McConnell has told House members it will take another two or three weeks for the Senate to finish the bill because of amendments and procedural hurdles from Democrats. "We did it in, I don't know, maybe an hour?" McMorris Rodgers said. (The House passed their version just three days after the session began.)
Behind the closed doors of the planning sessions, party leaders impressed upon their rank-and-file the importance of patience. Representative Steve Scalise, the House GOP whip, gave a history of the 1996 welfare-reform fight between congressional Republicans and President Clinton, which took a year-and-a-half and multiple vetoes before both sides could claim a landmark victory. The point for the freshmen? Don't expect anything to happen quickly, no matter what you may have promised on the campaign trail. Republican leaders are eyeing trade, cyber-security, tax reform, and maybe infrastructure as areas where they can actually work with President Obama. But any actual laws might take months, if not longer, to enact. Can the fast-acting House be patient, a reporter asked Representative Jason Chaffetz of Utah. "No, of course not," replied Chaffetz, semi-seriously. Patience, he said, is not in the House's DNA.
There lies the tension for the new Republican Congress. Conceivably, they now have the power to blunt, if not stop, the president in a way they never had before—if only they can agree on how to use it.