Kamala Harris and the New Democratic Hope
The California attorney general announced Tuesday that she's running for Barbara Boxer's U.S. Senate seat.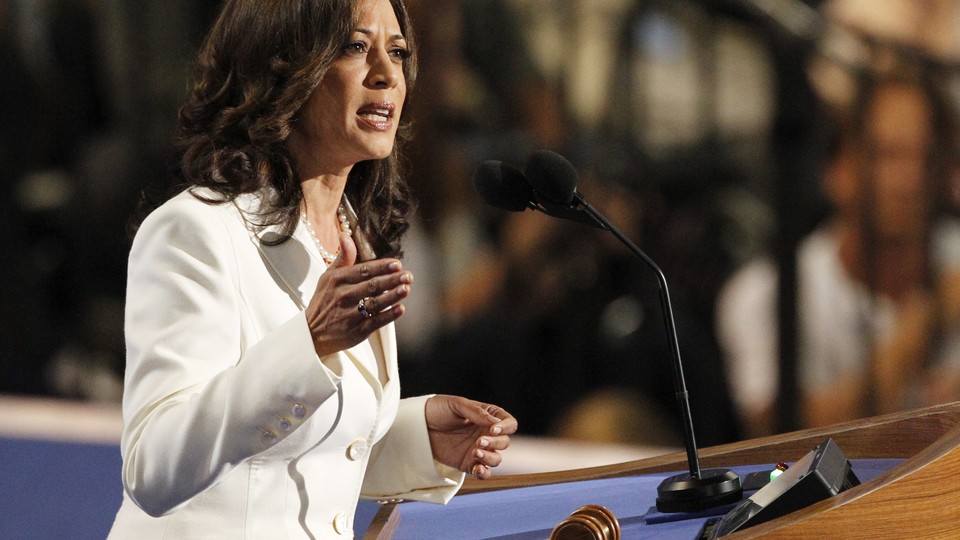 The last time California had a male or Republican senator, George H.W. Bush was president, Boyz II Men was dominating the charts, and Czechoslovakia was still a country. And a young lawyer named Kamala Harris had barely begun her career as a district attorney in Oakland.
Today, Harris is the Golden State's attorney general—and she announced Tuesday that she'll run for retiring Senator Barbara Boxer's seat. The announcement makes her the frontrunner, and could keep the streak going.
Harris is the kind of candidate both parties dream of: young (for a politician, at least; she's 50), charismatic, multiethnic, accomplished. In 2013, President Obama came under fire for calling her "the best-looking attorney general in the country," for which he later apologized. Born to an Indian physician mother and a Jamaican-American father who was a professor of economics at Stanford, she was elected attorney general in 2010, after spending most of her career as a prosecutor. That made her California's first black, first female, and first Asian-American AG.
That's a big change from the days when Richard Nixon and Ronald Reagan dominated the state, but it also makes her one of the highest-profile apostles of Barack Obama's model of Democratic politics: high-achieving, diverse meritocrats who run on personal background and serve without drama. Perhaps unsurprisingly, she was one of the politicians tabbed to speak at the 2012 Democratic National Convention, and she was floated as a potential successor to Attorney General Eric Holder.
In fact, Harris has been tabbed as a "rising star" in the Democratic Party for so long that it's almost become a running joke. The problem has little to do with any shortcomings of Harris—or other Democratic up-and-comers in California—and everything to do with the phalanx of entrenched Dems of an older generation: Jerry Brown, 76, now beginning his fourth and final term as governor; Boxer, 74, who entered the Senate in 1992; Senator Dianne Feinstein, 81, who was also elected to the chamber in 1992; and Representative Nancy Pelosi, 74. Representatives Henry Waxman, 75, and George Miller, 69, decided to retire last year. With that group starting to head for the exits, the younger group finally has a chance.
But Harris's entry into the race has not been without drama—and she may not have a cakewalk to the nomination. Politico has a great report about the behind-the-scenes maneuvering between her and Lieutenant Governor Gavin Newsom, 47 and another member of her class. Newsom announced Monday afternoon that he would not run for Senate, and reports of Harris's impending entry surfaced just a few hours after that. California Democrats started scrambling for position Friday, after Boxer announced her retirement. But both Harris and Newsom have been interested in the gubernatorial job as well—for an ambitious young politician, a governor's job offers more autonomy and an executive launching pad should the White House be attractive, and Brown is term-limited. By jumping out of the Senate race quickly, Politico reports, Newsom seems to call dibs on the governor's race and push Harris toward the Senate. (Newsom legendarily hates his current job, where he's had a distant relationship with Brown and been marginalized. He's asked what the point of the post even is. The former San Francisco mayor doesn't really like Sacramento, either.)
While Newsom might have been Harris's most obvious Democratic rival, he's not the only one. Former Los Angeles Mayor Antonio Villaraigosa has an eye on the race. So does billionaire Tom Steyer, who shot to prominence with his massive (and massively underwhelming) spending spree on behalf of candidates concerned about climate change. Steyer, a hard-charging former hedge-funder who likes to be in charge and has never run for political office, doesn't seem like a natural fit for the race or the seat. The Democratic Senatorial Campaign Committee issued a supportive statement but stopped short of endorsing Harris: "With strong candidates like Kamala Harris Democrats remain confident that we'll hold this seat and continue Barbara Boxer's long history of fighting for California."
Republicans like to believe they might have a shot at the seat, but, as Dave Weigel explains, that would require several prominent Democrats to run against each other in the state's jungle primary—and even then it probably wouldn't work. Even beyond California's reputation as a liberal bastion, the state GOP is in disarray; Neel Kashkari, its theoretically strong candidate against Brown in November, got whomped by the incumbent, who successfully pursued a strategy of ignoring him for most of the campaign. Carly Fiorina, a former Hewlett-Packard CEO who lost badly to Boxer in 2010, could run again too—though she currently seems more interested in a quixotic bid for the Republican presidential nomination, and is headed to New Hampshire in February.
Like Boxer, Harris would likely be a solid liberal voice in the Senate. She's been outspoken in her support for gun control, is pro-choice, and opposes the death penalty. She's also used her office to investigate banks for mortgage malfeasance in the housing bubble.
But even without a vast ideological shift, Harris would usher in an important generational shift for her state. And she'd be a bright spot for her party, which is struggling with a shallow bench and foreshortened electoral prospects after the midterm elections.