Border Bill Brings More Headaches for Embattled GOP
Immigration dominates this week's House agenda, while the Senate finishes a long Keystone debate.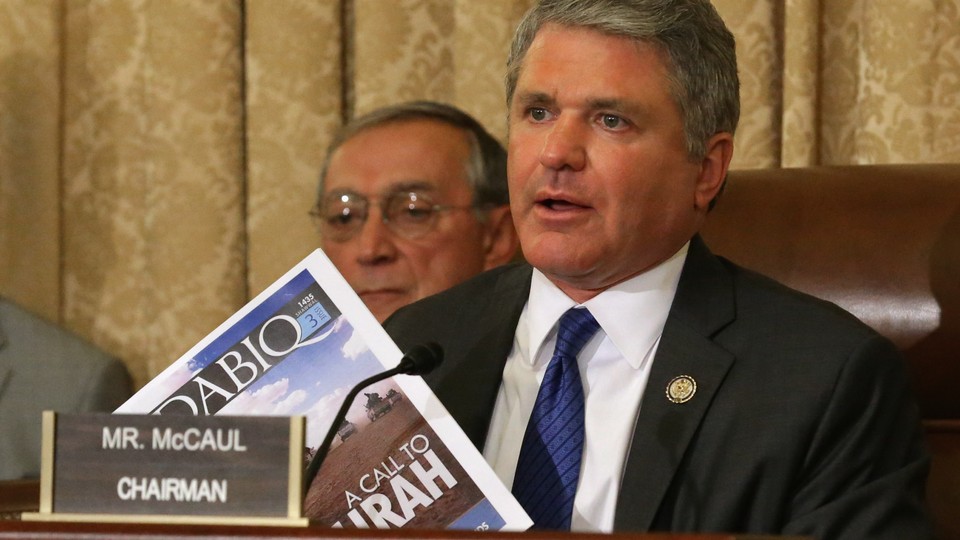 House Republicans have weathered three tough weeks to start the 114th Congress, and this week won't be any easier, as GOP leaders try to tamp down conservative opposition to a border security bill meant to be the core of the party's immigration reform plan.
Republican leaders are billing the legislation—which Homeland Security Committee Chairman Mike McCaul called the "toughest border security bill ever—as the gateway to their long-promised, step-by-step immigration rewrite. But Homeland Security Secretary Jeh Johnson called it "extreme to the point of being unworkable," meaning Democratic support will be hard to come by, and that may confront Republicans with a dilemma in which they don't have enough votes in their own party to pass it.
The controversial immigration bill comes just days after GOP leaders pulled an antiabortion bill from the House floor amid complaints from women and moderates. The party has also had to endure a an earlier immigration vote that saw more than two dozen GOP defections, and a divisive reelection vote for Speaker John Boehner.
Passing the McCaul bill through a House Republican Conference that has long espoused a secure-the-border-first approach to immigration reform will not be intuitively easy, either. Sen. Jeff Sessions, a leading voice in the far right on immigration issues, has been rallying opposition, and that may translate into problems with House conservatives.
"No enforcement plan can be successful that does not block the president from continuing to release illegal immigrants into the United States and provide them with immigration benefits," Sessions said in a statement. "A 'border security' plan that does not include these elements may end up as nothing more than a slush fund used by the administration to resettle illegal immigrants in the U.S. interior."
In response to those concerns, McCaul and Judiciary Committee Chairman Bob Goodlatte issued a rare joint statement Thursday noting that interior issues, such as electronic verification of employment eligibility, are under Judiciary's jurisdiction and will be dealt with in turn.
"We join our colleagues to secure our borders and ensure our immigration laws are not unilaterally ignored by President Obama and future presidents," they said. "We will continue working on these issues, and the Judiciary Committee will work on legislation to deliver results on interior enforcement."
Such objections have Republicans and Democrats alike privately musing that this is the exact reason leaders had sought to rework the immigration system in a comprehensive manner. But the problems for leaders do not end there.
Some conservatives have openly questioned whether the bill is merely the first step toward uncertain and unpalatable immigration changes. There is a also growing sentiment on the right that the border bill is a ruse meant to smooth passage of a DHS funding bill that has yet to see Senate action. The worry is that GOP leaders will tack it on to the funding bill instead of measures targeting Obama's relaxed immigration-enforcement policies, which are not able to pass the Senate—although leadership sources emphatically deny that is the plan. Also troublingly, support for the border-security bill has been waning among the same single-issue groups whose approval leaders touted as reason to support the DHS funding bill in the first place.
The border bill would require DHS to have the southwest border under "operational control" in five years. If the department fails at that objective, the legislation dictates that political appointees at the agency cannot travel in government vehicles, be reimbursed for nonessential travel, or receive pay increases or bonuses.
For their part, Senate GOP leaders are endorsing the House's border legislation. Sens. John Cornyn of Texas, the chamber's No. 2 Republican, has introduced a border-security bill identical to the House measure with Jeff Flake of Arizona and Ron Johnson of Wisconsin. Flake has supported broader immigration legislation in the past, including a path to citizenship for undocumented immigrants. This year, however, he has said repeatedly that President Obama opened the door for a piece-by-piece approach to immigration when he created an executive-branch program to defer deportations. The border-security bill is a good first step, he says.
In the Senate, leaders in both parties are well aware that the February deadline is approaching for funding DHS, but it's anyone's guess how they will handle it. Minority Leader Harry Reid has asked for "clean" bill that would continue funding for the agency through September without additional provisions. But first, Senate Republicans want to try to pass the House bill, which would stop Obama's deferred-deportation programs for unauthorized immigrants. That effort is almost certain to fail, and it will take up valuable floor time. It is unclear whether the border-security bill will also be part of that debate.
Competing priorities have Republican leaders in a quandary about what will happen once the current debate authorizing the Keystone XL pipeline is over. In theory, the Senate's next votes will be on putting additional sanctions on Iran if the ongoing nuclear-disarmament talks stall. Banking Committee Chairman Richard Shelby says he expects his panel to vote on an Iran sanctions bill this week after a hearing on the issue slated for Tuesday, gift-wrapping the bill for the floor. Given the first three weeks of chaotic debate on the Senate's top priority, authorizing the Keystone XL pipeline, it's hard to imagine an Iran sanctions debate being much shorter. That would leave the Senate very little time to finish a DHS bill.
Senators are struggling with Majority Leader Mitch McConnell's open-amendment process, which has had a few hiccups since Congress convened. The Senate has voted on dozens of amendments, including several addressing a high-priority Democratic issue of climate change. But Democratic leaders say they have a lot more on tap. Left unfettered, the Keystone debate could go on for the rest of the year. Realizing this, McConnell moved to cut off debate minutes before midnight last on Thursday, with Democrats howling in protest, putting the bill on a path to final passage this week.
Energy
The two chambers are taking up different energy bills designed to speed exports of liquefied natural gas by reforming the Energy Department's permitting process for export terminals. The House is set to vote on a bill from Republican Bill Johnson of Ohio that would set a 30-day deadline for a permitting decision after the administration completes an environmental review of an export facility.
Meanwhile, the Senate Energy and Natural Resources Committee will hold a hearing on a bipartisan bill from Wyoming Republican John Barrasso and New Mexico Democrat Martin Heinrich that sets a 45-day timeline after environmental review, with plans to advance the bill in the coming months.
Defense
Ahead of the administration's budget release early next month, the Senate Armed Services Committee will discuss the impact of sequestration on defense spending at a hearing Wednesday. Gen. Ray Odierno, the Army's chief of staff, Admiral Jonathan Greenert, chief of naval operations, Gen. Mark Walsh, the Air Force's chief of staff, and Gen. Joseph Dunford, the Marine Corps commandant, are expected to testify.
Pentagon leaders have been vocal about their concerns that sequestration will lead to a less-ready military force, requiring them to shed programs and personnel. One area in which Congress and the Defense Department agree they could save money is the Pentagon's procurement process.
The committee also begins a series of hearings on global challenges to national security this week, with former Secretaries of State Henry Kissinger, George Schultz, and Madeleine Albright slated to testify on Thursday. Former Army, Marine Corps, and Naval officers will testify on Tuesday.
Veterans
After grilling Veterans Affairs Department officials last week on the growing number of benefits decisions being appealed, members of the House Veterans' Affairs Committee are looking into the "quality and cost of VA health care" on Wednesday. The VA's health care system suffered a massive scandal last year after allegations of fake wait lists and veterans' deaths first surfaced at a Phoenix clinic.
Members of the committee's Economic Opportunity Subcommittee will also examine the transition assistance program, known as TAP, which soldiers participate in when they leave the military. Veterans advocates have repeatedly raised concerns that service members are not adequately prepared to find a job in the civilian workforce. Unemployment for post-9/11 veterans was at 6.9 percent in December, compared with national unemployment of 5.6 percent.
Technology
The House Energy and Commerce Committee's Commerce, Manufacturing, and Trade Subcommittee will hold a hearing on Tuesday morning to consider data-breach legislation. In the wake of the attacks on Target, Home Depot, and Sony Pictures, President Obama has urged Congress to require companies to disclose breaches of personal information within 30 days. Businesses and Republicans have been supportive of the proposal because it would preempt the patchwork of state notification laws.
The Federal Communications Commission will meet on Thursday to consider requiring cellular carriers to provide more accurate location information to 911 call centers.
Health
The House Energy and Commerce Committee's Health Subcommittee will hold a hearing on Tuesday called "Examining Public Health Legislation to Help Patients and Local Communities." The committee will review a series of bills related to domestic public health.
The Senate Health, Education, Labor, and Pensions committee will hold a hearing Wednesday on employer wellness programs. The Affordable Care Act allows companies to offer employees higher financial incentives to join wellness programs and achieve specific health goals, and employers are increasingly penalizing workers who decide not to participate.
White House
President Obama starts the week with a big parade in India before he returns home to huddle with congressional Democrats to plan party strategy. The parade marks Republic Day and is the symbolic high point of the president's time there. After seeing the Taj Mahal, he returns to Washington early Wednesday. Later that day, he will participate in the ceremonial send-off for Defense Secretary Chuck Hagel. On Thursday, he will go to Philadelphia to meet with House Democrats gathered there.
---
Clare Foran, Jason Plautz, Sophie Novack, Jordain Carney, Brendan Sasso, Rachel Roubein, and George E. Condon Jr. contributed to this article