Boehner to Sue Obama, Again
The speaker is planning to hold a House vote authorizing a suit against the president over his executive orders on immigration.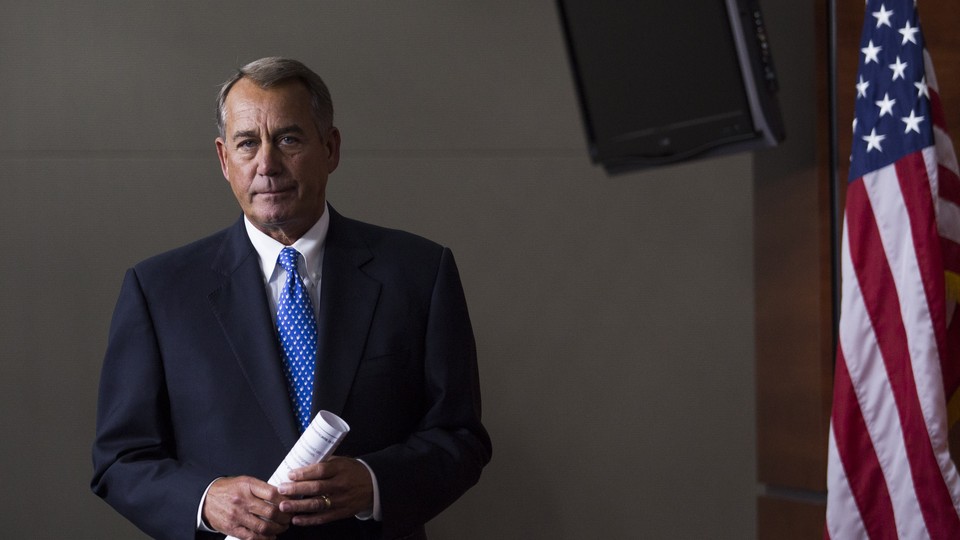 Speaker John Boehner is finalizing a plan to sue President Obama again, this time over the administration's decision to grant work visas to millions of undocumented immigrants.
Boehner told his conference at a closed-door meeting Tuesday morning that he has a team exploring the best options to challenge last year's executive action, under which the Homeland Security Department will begin granting legal working status to millions of immigrants, according to sources in the room.
"Our team has been working on litigation. We are finalizing a plan to authorize litigation on this issue—one we believe gives us the best chance of success," he said, according to a source in the room.
The move toward a lawsuit comes as the GOP's legislative options to target the president's policies are waning. The House passed a bill funding DHS that contained provisions rolling back Obama's executive action and other administrative relaxations of immigration enforcement, including deferred action for childhood arrivals, otherwise known as Dreamers. But the bill faces an uncertain future in the Senate, where the immigration-related measures are thought not to have the requisite Democratic support to exceed the 60-vote filibuster threshold.
If the bill comes back to the House with less-stringent measures targeting the White House's immigration policy — or, indeed, none at all — it is unclear that it can pass the chamber. So challenging the president in venue other than the Capitol could assuage GOP House members who have said unequivocally that they do not want to move any other immigration measures until the president's actions are dealt with.
It is unclear whether a congressional lawsuit would also challenge the deferred action for childhood arrivals policy, which has already put off deportation for more than a half- million undocumented immigrants. The House would have to vote on a resolution authorizing legal action, and that could come in the form of its own lawsuit, or in the form of joining an existing suit challenging Obama's actions.
Boehner's comments come a day after GOP leaders decided to pull a border-security measure from House consideration. Leadership aides said the snowy weather and a short legislative week were to blame, but the measure faced problems of its own, namely from some conservatives who think it does not go far enough to shore up interior enforcement.
At a press conference Tuesday, Boehner acknowledged that outstanding issues need to be dealt with, ones that are beyond the Homeland Security Committee's jurisdiction.
"We're going to have to walk through all of this with our members," he said, "and when we're ready to move, we will."
A new group of about 30 House conservatives named the House Freedom Caucus met Monday night, and the near-unanimous sentiment in the private meeting was that any border-security bill should not be moved without a companion bill that shores up enforcement within the nation's borders. Others still said that no immigration bills should be rushed to the floor until there is some finality on whether the pending DHS bill can block Obama's actions, meaning a bill would not come until March. Funding for DHS runs out Feb. 27.
"There's a growing body of people that are sick and tired of the, 'Trust me, we'll do it later approach' and want us to deal with both interior enforcement and border security at the same time," said Rep. Matt Salmon, a House Freedom Caucus founding member.
Ultimately, though, Rep. Tom Cole, a Boehner ally, said discussions will continue next week, with the bill to be put to the floor sooner rather than later—and that members are unlikely to vote against a border-security bill.
"We've always said we're going to do this piece by piece, so you can't take that position and then turn around and try and do a comprehensive bill," Cole said. "That's not what we believe in. We believe in rifle-shot legislation."
Any lawsuit from Congress targeting White House immigration policy would not be alone in the courts. More than half of the states, led by Texas, have already sued, challenging in federal court whether Obama's directives should be allowed to go into effect. Other states and cities have filed briefs in the case defending the action.
Late last year, a federal judge threw out another, similar case, filed by Arizona's Maricopa County Sheriff Joe Arpaio and an immigration activist.
The House is already suing the administration on another issue. Last year, the chamber voted along party lines to authorize a lawsuit challenging, among other parts of the law, the legality of Obama's delay of a rule mandating that employers provide health insurance to their workers.
House Minority Leader Nancy Pelosi seized on the news Tuesday as "an admission of failure" by the GOP on immigration policy.
"Republicans' radical anti-immigrant legislation is dead on arrival," Pelosi spokesman Drew Hammill said in a statement. "Once again, House Republicans are crawling to the courts to relieve them of their responsibility to govern."
CORRECTION: An earlier version of this article misattributed a statement from House Minority Leader Nancy Pelosi's office. The statement was made by Pelosi spokesman Drew Hammill.
---
Rachel Roubein contributed to this article