Boehner Foes Get Gavels, Not Punishment
The speaker's allies are annoyed that GOP rebels are getting top subcommittee slots.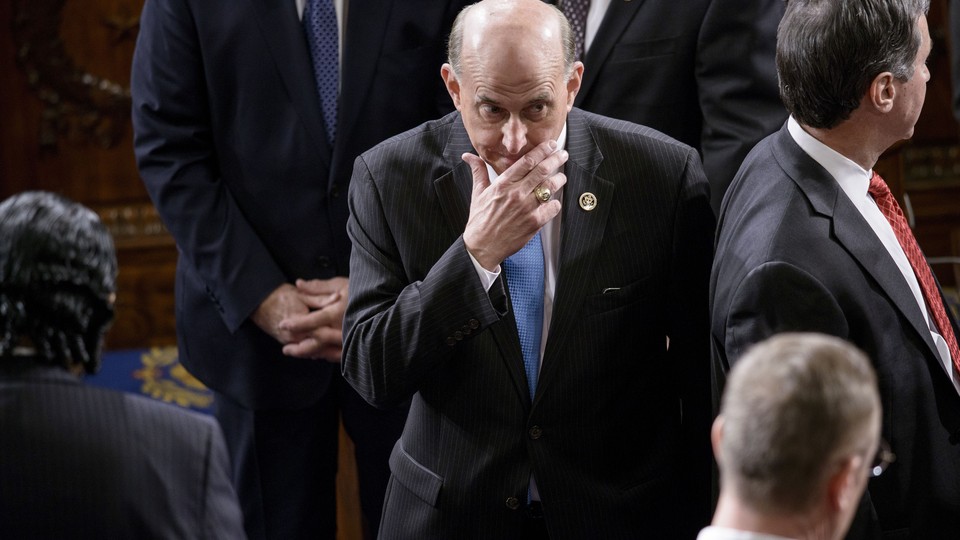 HERSHEY, Pa.—As Republicans try to foster unity at a joint retreat here, frustration is boiling over among allies of House Speaker John Boehner that his biggest detractors are being rewarded with promotions, even after trying to overthrow him in a coup earlier this month.
The latest controversy comes as Rep. Louie Gohmert, who directly challenged Boehner for the speakership, announced on Thursday that he was given the chairmanship of the Natural Resources Oversight and Investigations Subcommittee.
"This is a major slap in the face," said one Boehner-allied GOP House member, speaking anonymously to talk candidly about the conference's internal dynamics.
But a source close to the Natural Resources Committee said Boehner was aware of the decision before it was made, and that the speaker's office indicated to committee Chairman Rob Bishop that they would be comfortable with whatever decision he made.
Gohmert "is the No. 2 in seniority," said the source. "In an oversight position, his attributes can best be put to use to build the team." (Gohmert outranks Bishop in seniority, but was passed over for the full committee chairmanship, a decision made by the Republican Steering Committee, which is heavily controlled by Boehner.)
Boehner's allies have been much more eager to exact revenge against his opponents than the speaker himself has, and leadership sources have said that while Boehner is angry at his foes, he does not think public retribution is the best long-term move.
Gohmert is only the latest Boehner foe to receive a gavel. Because of that, several members described a thick air of tension within the House GOP Conference, a feeling a second Republican House member described as a blanket hanging over the GOP's three-day retreat, which ended Friday.
"There are a lot of us who are extremely pissed off," said that member, who asked to speak anonymously in order to be more candid. "The blanket over how we're going to move forward and how we're going to come together really remains."
That member said a group of congressmen confronted Boehner last week, when reports surfaced that he was meeting with Reps. Daniel Webster and Rich Nugent and that he might reinstate their positions on the Rules Committee. Webster and Nugent are so far the only members to be punished for not supporting Boehner.
" 'They are never going to like you,' " the member said, describing the message to Boehner. " 'The only thing they care about is their Heritage score.' "
Another member confronted leadership staff at the retreat. And much of the anger is directed at the chairmen of the committees where those not viewed as team players are being appointed to head panels.
Some members are furious that Rep. Randy Weber, who recently got into hot water after comparing President Obama to Adolf Hitler and who voted against Boehner, was given the gavel of the Science, Space and Technology Subcommittee on Energy. Another Boehner detractor, Rep. Jim Bridenstine, will head the Science Subcommittee on Environment.
A Science Committee aide, requesting anonymity to discuss the selection process, said the subcommittee-chair decisions were made before the vote for speaker.
Meanwhile, Rep. Mark Meadows, who voted against Boehner as well, was given Oversight and Government Reform's Government Operations Subcommittee. That selection is particularly galling for members because Rep. Blake Farenthold, who held a subcommittee chairmanship on the that panel last year, was passed over for a chairmanship this year.
Farenthold has had troubles of his own: A former staffer recently filed suit against his office, accusing him and his chief of staff of sexual harassment.
But Oversight Committee Chairman Jason Chaffetz said in an interview that Meadows's selection was made before he voted against Boehner, and that passing over Farenthold had nothing to do with his legal troubles.
"The selections were done prior to the revelation about Farenthold situation and prior to the speaker vote," Chaffetz said. "I selected these subcommittee chairmen based on interest and merit. There was no litmus test."
Now that the subcommittee gavels have been handed out, there is no way to take them back, the members said. But they are still talking about ways to punish members who voted against Boehner.
"If Boehner took them away there would be a revolution," the second member said.
Committee chairmen make the ultimate decision of who heads their subcommittees, but the members said leadership could make their feelings known that those members should not be given subcommittee chairmanships.