Boehner Beats the Rebels, But the Fight Isn't Over
Both the speaker and his critics learned lessons from Tuesday's dramatic vote, and the retaliation has begun.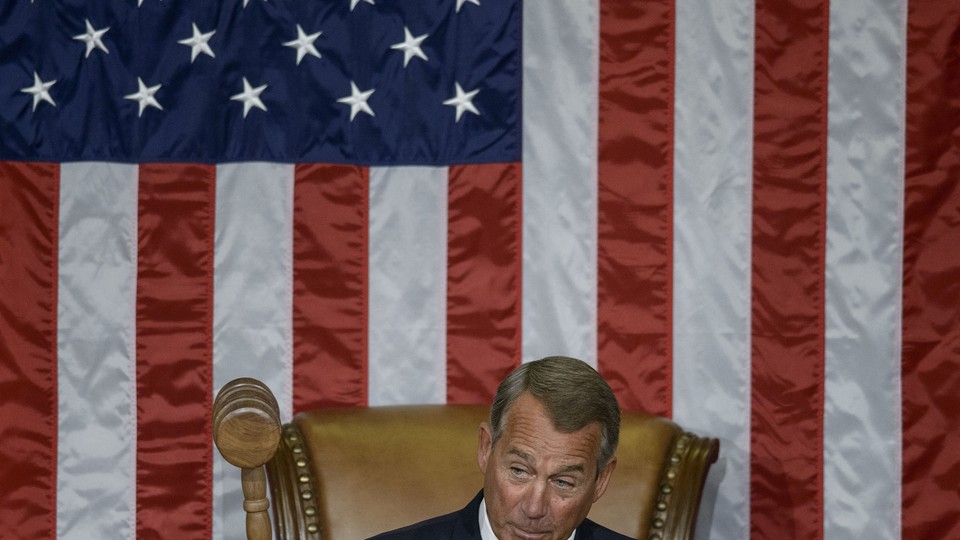 House Republican detractors looking to topple Speaker John Boehner fell short on Tuesday, showing that leadership, emboldened by a massive majority in the House and compatriots leading the Senate, may have an easier time operating amid fickle and disorganized opposition.
But that power comes with clear limits.
Though 25 Republican members declined to support Boehner in a public display of non-approval—the most to oppose any sitting speaker since 1923 and roughly twice as many as opposed Boehner at the start of last Congress—the hodgepodge nature of the coup alienated even those who were otherwise ideologically supportive.
"I really was opposed to the way that this was formed, this waiting until the last minute. Nobody even reached out to me to vote one way or the other until today," Rep. John Fleming said on Tuesday. "This is the U.S. House of Representatives. We're in charge of governing the law for the greatest nation in the world. I just don't think that's how our leadership team should be chosen."
Many of the candidates whom the dissenting members rallied around were not credible alternatives. Those who so badly wanted an alternative to Boehner didn't seriously organize a campaign against him. Rep. Scott Rigell, who voted against the speaker in a last-minute decision, said he didn't even know that Rep. Daniel Webster was willing to oppose Boehner until he saw Webster's name on the television news ticker shortly before the vote. Allies of Rep. Louie Gohmert, another candidate, were calling Texas Democratic offices asking for support. Dissenting members simply cast votes for a mix of other contenders on the floor, for themselves, even for Sens. Rand Paul and Jeff Sessions.
Still, there was no denying the episode was embarrassing, a departure from the usual show of party unity that is the ceremonial vote for speaker on the House floor. And members who voted for Boehner made clear later that it does not mean they will blindly support every policy he brings to the floor.
So while Boehner prevailed, Rules Committee Chairman Pete Sessions said the result still taught leadership a lesson.
"It's a wake-up call for everybody," said Sessions, a Boehner ally. "We need to be aware that we've got to do a better job, to effectively communicate what we stand for and why we're here."
But Boehner is also sending a clear message to his detractors. Late Tuesday, he pulled Webster and Rep. Richard Nugent, who voted for the fellow Floridian, from their seats on the Rules Committee, which is appointed entirely by the speaker. (Both men are keeping their other committee assignments.)
The speaker's allies voiced their frustration with the approach their fellow dissenting Republicans took, airing their grievances publicly rather than allowing the conference to choose its leaders behind closed doors. That, they said, could result in a loss of credibility. And it is not clear whether the retaliation will stop only at Webster and Nugent.
"The way it's supposed to work is that you run for speaker in our conference. None of these individuals did that. They didn't have the cojones to run in conference," said Rep. Mike Simpson of Idaho. "That's the way you work as a team. These guys haven't figured that out yet."
Rep. Mick Mulvaney of South Carolina, who voted against Boehner for speaker two years ago, sent out a strongly worded statement Tuesday defending his decision to back Boehner this time, ultimately making a point similar to Simpson's.
"The Floor of the House is the wrong place to have this battle. The hard truth is that we had an election for Speaker in November—just among Republicans. THAT was the time to fight," Mulvaney said.
Those looking to depose Boehner counter that the last straw came after the conference vote for speaker, when leaders brought the massive omnibus spending bill to the floor in December. Even members who are not ideological hard-liners, such as Reps. Walter Jones and Scott Rigell, said their main gripe was the repeated breach of regular order, to which Boehner had sworn to adhere when he first took the gavel.
Jones, who helped coax Webster into being a candidate for speaker, said leadership should take heed as it embarks on another year of writing appropriations bills.
"Twenty-five people were listening to the American people and their frustrations," Jones said. "If I was the speaker of the House, what I'd do is call each one individually and say, 'Why don't you meet with me for 20 minutes?'"
Even Boehner-aligned members acknowledged that leaders should try to work more within regular order. And Rep. Dennis Ross, a member of the GOP whip team, said now that the Senate is under Republican control, it should be easier to do so, or at least to put the onus for action on newly minted Senate Majority Leader Mitch McConnell.
"We agonized over trying to get a bill that would morph itself to being accepted by the Senate," Ross said. "Now we can put in our bills over here whatever we want to put in our bills, as conservative as we can make them, and then the Senate will now take them apart and send them back to us."
Yet even with a GOP Senate, House Republicans may struggle to pass bills that will find 60 in the other chamber. And President Obama still holds final say on turning a bill into a law.
House Republican leaders have routinely lost 40 to 60 votes on many large bills, and if McConnell cannot find a way to shepherd House bills past his body, that will likely remain the case. But leaders are trying to put a positive spin on the unrest. To foster unity, they will move forward on pieces of legislation already passed last year, such as a measure spurring construction of the Keystone XL pipeline and a measure redefining a full-time workweek under President Obama's health care law.
Democrats grappling to stay relevant in the body saw their own silver lining in the votes against Boehner Tuesday. The continuing discord, no matter how small, underscored to them how important it was for Boehner to work together with Democrats moving forward. It's a tactic Boehner's been forced to use more than once in the past—to push through the farm bill, the omnibus, and other must-pass legislation.
"What it means really is that the speaker needs to work in a bipartisan fashion in order to fashion a majority for policies both parties can support and the president can sign," House Minority Whip Steny Hoyer said. "There is not a hegemony of Republican thought."