A Generation of Lions, Led by Lambs: The Chickenhawk Chronicles
Reports of "a general, quiet dissonance between the younger and older officers in the military."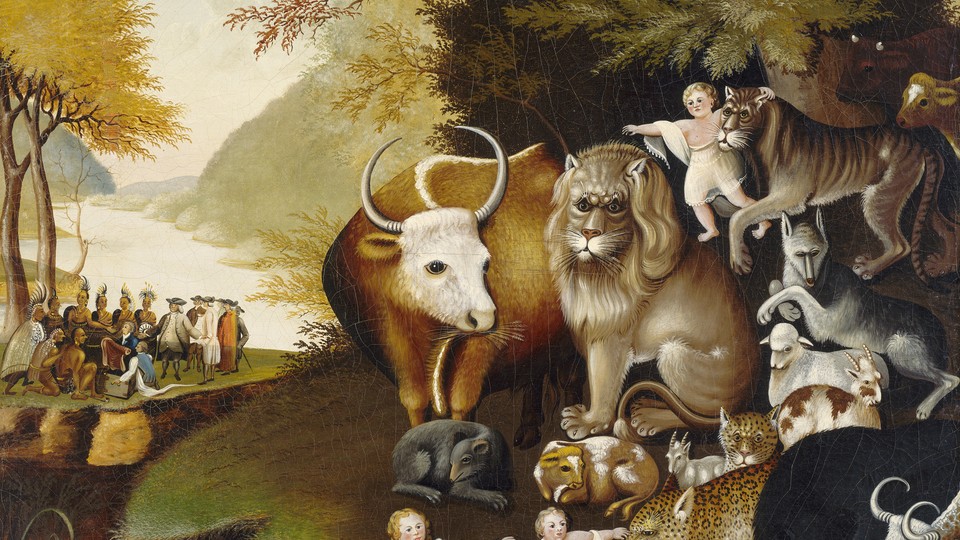 A recurring theme in responses I have received about my "Tragedy of the American Military" article involves generational rifts. Today's young officers and enlisted troops, those who came of age in the era of open-ended war, have often written to describe the distance they feel from commanders half a generation older — those who joined the military before the invasion of Iraq, and who plan to stay for the long run.
Here is an example, from a USMC veteran who asks that I not use his name. He is responding to a message yesterday from Z.K. Rosson, who left the Air Force after service as an A-10 pilot.
I was an officer in the Marine Corps from 2004 until 2012 when I resigned. I served with artillery batteries and forward observation and close air support units in that time. I deployed twice to Iraq and once to Afghanistan, and I have given a lot of thought to the issue of careerists that Mr. Rosson raised and how it came to be.

Your mentioning of Once an Eagle was particularly poignant and helpful in crystallizing my thoughts, actually. In that book Mr. Myrer rails against "box checkers." His antagonist, actually, epitomized these individuals. More concerned with their career than the success of the organization. I believe this mindset thrives between wars, in times of relative peace. Times such as the 90's when the current military's colonels and generals were coming up. As those individuals became majors and lieutenant colonels, Iraq and Afghanistan kicked off and they were ushered along by a growing military.

This has now become a larger problem and, I think, the cause of the general malaise you speak to among those in the military. Speaking frankly, there is a generation of lambs trying to lead a generation of lions. Senior captains and junior majors have done nothing but fight wars for more than a decade. So, naturally, when someone who grew up "checking boxes" tells them they are doing it all wrong, offense is taken. I don't think this is overtly recognized as a problem. Rather, I think there is a general, quiet dissonance between the younger and older officers in the military.

This, among many other reasons, some you covered and still more, is the cause of a certain malaise. It is also, I believe, the reason for an exodus of junior officers books like Bleeding Talent highlight.
The tensions between yesterday's generation and tomorrow's are of course an evergreen theme. But I have heard from enough younger veterans, still in uniform or having left, to think we should pay attention to this divide. Many of its implications are positive, in suggesting a rising generation of soldiers and citizens determined to make changes based on the real-world struggles they have lived through.
***
Here is a running index of previous installments:
"The Tragedy of the American Military," my article in the Jan-Feb issue. A C-Span interview is here; an NPR "All Things Considered" interview is here; a PBS News Hour interview and segment is here.
1) Initial responses, including an argument for the draft.
2) Whether Israel comes closer to a civil-military connection than the U.S. does.
3) "Quiet Gratitude, or Dangerous Contempt?" How veterans respond to "thank you for your service."
4) "Actually We Keep Winning." An argument that things are better than I claim.
5) "Get the Hell Back in Your Foxhole." More on the meaning of "thanks."
6) "Showing Gratitude in a Way that Matters." What civilians could do that counts.
7) "Winning Battles, Losing Wars." A response to #4.
8) "The Economic Realities of a Trillion Dollar Budget." What we could, or should, learn from the Soviet Union.
9) "Meanwhile, the Realities." Fancy weapons are sexy. Boring weapons save troops' lives.
10) "Chickenhawks in the News." The 2012 presidential campaign avoided foreign-policy and military issues. What about 2016?
11) "A Failure of Grand Strategy." Half a league, half a league, half a league onward ...
12) "Careerism and Competence," including the testimony of an A-10 pilot who decided to resign.
13) "Vandergriff as Yoda." A modest proposal for shaking things up.