A Comprehensive Guide to the Ridiculously Named PACs of 2016
In all their nonsensical, patriotic glory.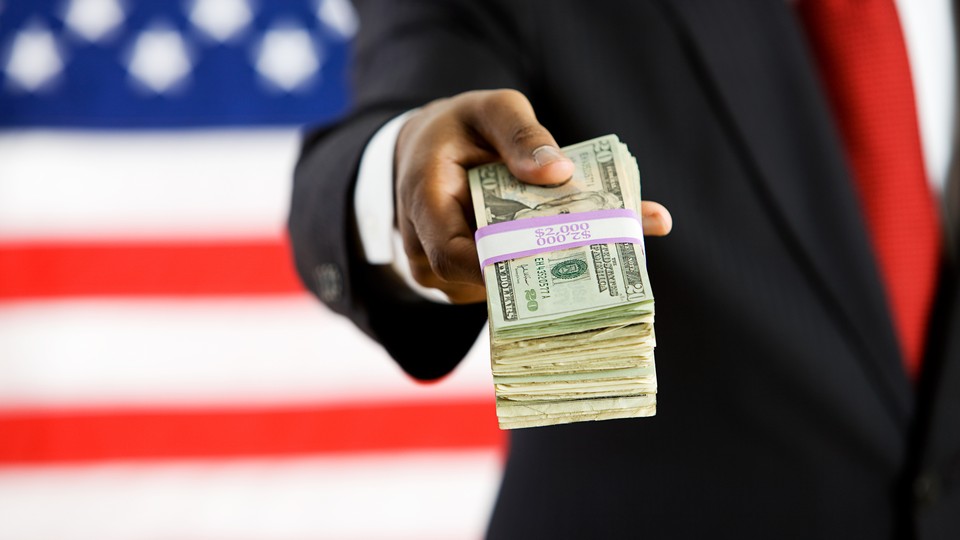 One of the surest signs a politician is looking to run for president—aside from losing weight and his wife telling reporters that she's "done done done done" with campaigning—is launching a political committee. Though they're officially used to raise money to elect or defeat candidates, these organizations (which come in a dizzying array of forms) can play another crucial role: spreading presidential hopefuls' campaign message and serving as a starting ground for building up staff. Politicians can use the funds to build their brand and political networks, laying the groundwork for an official campaign.
Arguably more important than the clout political committees can bestow? Their names. Here, a look at 2016ers' organizations—ranging from the absurdly patriotic to the blandly nonsensical.
Republicans
Our American Revival
Affiliated with: Wisconsin Gov. Scott Walker
Type of organization: a tax-exempt 527 organization
Walker's organization, which could easily be mistaken for a prog rock band, launched Tuesday and comes on the heels of the governor's successful address at the Iowa Freedom Summit and a closed-to-the-press appearance at a Koch brothers event in California. A Walker adviser told The Washington Post that the governor chose a 527 over a PAC so that he could focus on advocating for policies he's championed rather than raising money for other politicians. Tour dates TBA.
Leadership Matters for America
Affiliated with: New Jersey Gov. Chris Christie
Type of organization: Leadership political action committee
"America has been a nation that has always controlled events and yet today events control us," says the website for Christie's PAC, which he filed papers for last Friday. "Why? Because leadership matters. It matters if we want to restore America's role in the world, find the political will to take on the entrenched special interests that continually stand in the way of fundamental change, reform entitlement spending at every level of government, and ensure that every child, no matter their Zip code, has access to a quality education." And in a show of his leadership mettle, the governor spent a good chunk of Tuesday passing judgment on New Jersey residents' snowmen.
Right to Rise
Affiliated with: Former Florida Gov. Jeb Bush
Type of organization: Leadership PAC
In a show of technological savvy, Bush announced the formation of his PAC by posting two videos—one in English and another in Spanish—on Facebook, Twitter, and Instagram. More like Right to Like, ammirite?
Reclaim America
Affiliated with: Sen. Marco Rubio of Florida
Type of organization: Leadership PAC
Rubio's long-established organization—launched in 2011—puts him ahead of 2016 hopefuls who are just now getting in the PAC game. Its name is in keeping with his likely campaign theme, encapsulated in his new book, American Dreams: Restoring Economic Opportunity for Everyone.
Stand Up to Washington
Affiliated with: Louisiana Gov. Bobby Jindal
Type of organization: Leadership PAC
In last fall's midterm elections, Jindal's PAC targeted races in early presidential states, contributing $35,000 in total to congressional campaigns. His PAC's focus on Iowa and New Hampshire shows his interest in spreading his message where it counts in 2016.
USA First
Affiliated with: Neurosurgeon Ben Carson
Type of organization: Leadership PAC
Launched ahead of last fall's midterm elections, Carson's PAC "was born from Dr. Carson's belief in the 'can-do attitude' of America at its best rather than the 'what can you do for me attitude' of dependence," according to the organization's website.
Jobs, Growth, and Freedom Fund
Affiliated with: Sen. Ted Cruz of Texas
Type of organization: Leadership PAC
Cruz's PAC, launched in 2012, might be about jobs, growth, and freedom, but judging by its website, it only cares about one thing: stopping Obamacare. In advance of 2016, that's just the message the Texas lawmaker wants to spread.
RickPAC
Affiliated with: Former Texas Gov. Rick Perry
Type of organization: Leadership PAC
With a focus on the 10th Amendment—which clarifies the nation's rule by federalism—Perry's PAC has five main goals: securing the border, cutting taxes, reducing government spending, creating jobs, and belief in "the power of the individual."
Patriot Voices
Affiliated with: Former Sen. Rick Santorum of Pennsylvania
Type of organization: PAC
Santorum formed his PAC shortly after his failed 2012 presidential bid, and it's been instrumental in building a grassroots network of supporters, keeping him in touch with important conservatives and raising money—along with its nonprofit of the same name, more than $8 million since its inception.
Huck
Affiliated with: Former Arkansas Gov. Mike Huckabee
Type of organization: Leadership PAC
Launched after he dropped out of the 2008 presidential election, Huckabee's eponymous debut is focused on "fighting for conservatives," according to its website, and promoting social-conservative values such as gun rights and rallying against abortion and gay marriage.
Reinventing a New Direction (Get it? RAND!)
Affiliated with: Sen. Rand Paul of Kentucky
Type of organization: Leadership PAC
Perhaps more than any other potential 2016er's political organization, Paul's PAC, which has been around since 2011, synthesizes its mission most accurately: "RAND PAC will help Sen. Paul lead the battle for sound money, limited government, and fidelity to our Constitution." Or: his presidential campaign in a nutshell. Plus, Paul's PAC cleverly nails both strategies of the PAC-naming playbook: Ego and an overtly patriotic word-jumble.
Democrats
Born Fighting
Affiliated with: Former Sen. Jim Webb of Virginia
Type of organization: Leadership PAC
With the December launch of an exploratory committee, Webb is the only Democratic candidate to make any substantial move toward a 2016 run. He's a long shot to Hillary Clinton, but his scrappy PAC name suggests he's up to the challenge.
Progressive Voters of America
Affiliated with: Sen. Bernie Sanders of Vermont
Type of organization: Leadership PAC
Yes, socialist Sanders, who rails against the Supreme Court's 2010 Citizens United decision""which gives corporations the right to raise unlimited amounts of money to elect a candidate—like a religion, has a leadership PAC. Apparently, you've gotta play the game to change the game.
O'Say Can You See
Affiliated with: Former Maryland Gov Martin O'Malley
Type of organization: Leadership PAC
Sure, sure, it's a reference to "The Star-Spangled Banner," which Francis Scott Key wrote in Baltimore. But more important, it sounds like O'Malley!
This story was updated to reflect Sen. Graham's newly-formed political committee.
This story was updated to clarify what kind of PAC Ben Carson has.