From Castrating Hogs to the Capitol Spotlight
Senator Joni Ernst, famously the daughter of Iowa pig farmers, will deliver the GOP response to President Obama's State of the Union address next week.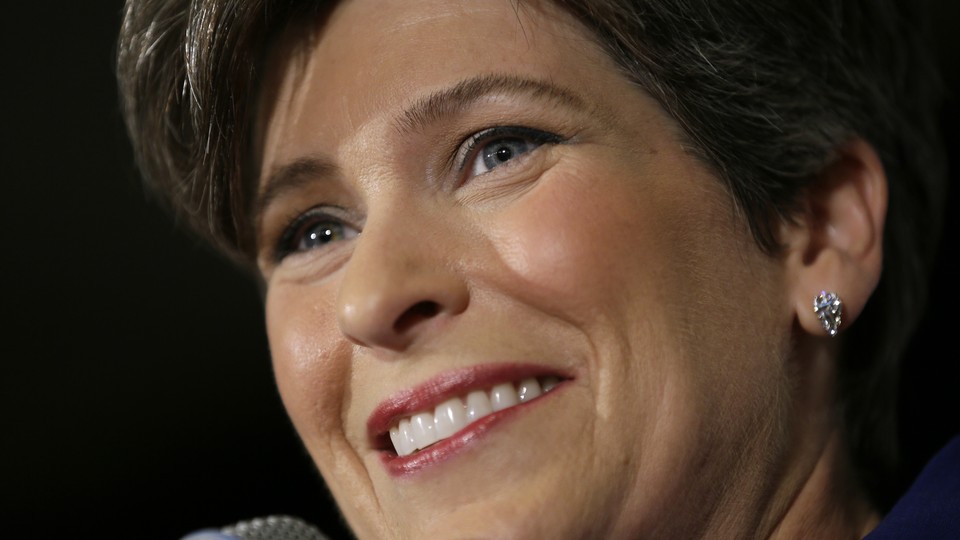 HERSHEY, Pa.—Get ready to learn about hog castration and its application to the political process, America.
Senator Joni Ernst, the daughter of Iowa pig farmers who became one of the more surprising victors in the Republican electoral sweep, will deliver the party's response to President Obama's State of the Union address on Tuesday. Her selection was made jointly by Speaker John Boehner and Senate Majority Leader Mitch McConnell, who announced their decision Thursday at the GOP congressional retreat in Pennsylvania.
Introducing Ernst to a packed room of reporters at a chocolate-themed resort, McConnell called her the "perfect choice" to represent the change voters had ushered in last fall. "It's a long way from Red Oak to Washington, D.C.," Ernst said in brief remarks, adding that she was "truly honored and humbled" by the assignment.
In November, Ernst defeated Democrat Bruce Braley, who had began the race for an open Senate seat in Iowa as the heavy favorite before stumbling in a shoddy campaign. A state senator and Army lieutenant colonel who had served overseas during the Iraq war, Ernst earned notice nationwide during the Republican primary when she aired TV ads touting her experience "castrating hogs" while growing up on a farm. "Washington's full of big spenders," she said in one ad. "Let's make 'em squeal."
She's a smart choice for a party looking to showcase the breadth of its victory in November. But the plum assignment has recently been a thankless one for rising Republican stars. In 2009, Governor Bobby Jindal of Louisiana drew unfavorable comparisons to Kenneth the Page on 30 Rock when he responded to Obama's first address to Congress. And Marco Rubio still can't escape cracks about the big gulps of water he took in 2013. Cathy McMorris Rodgers fared better a year ago, but she hasn't parlayed the speech into a national profile.
Ernst is a more charismatic speaker, and as she showed in her winning Senate race, she has quite the colorful biography to draw from. But an audience of 30 million people is something else entirely, and as she said, a long way and a far brighter spotlight than the campaign rallies in Iowa.