Will Congress Let D.C. Legalize Pot?
In November, Washington voted to allow marijuana possession, but that doesn't mean district denizens can light up just yet.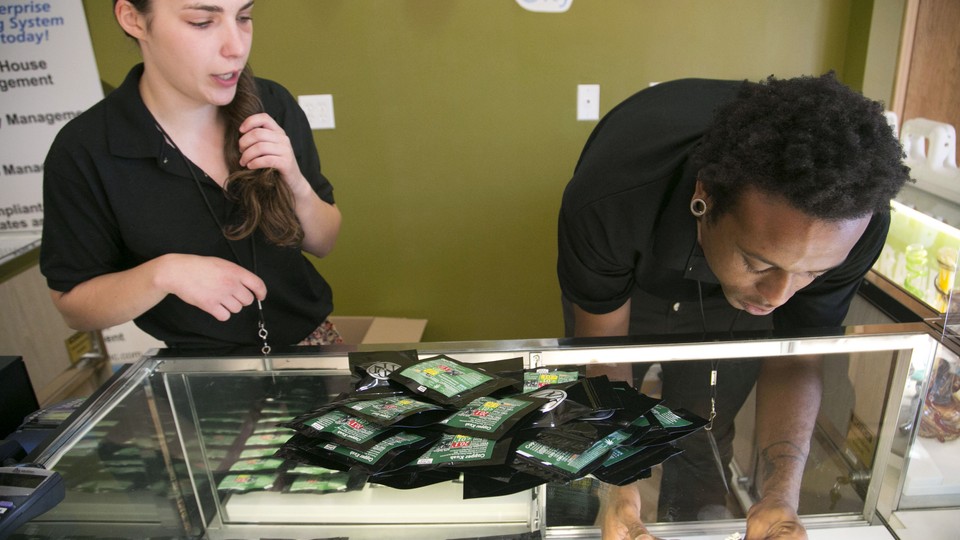 Imagine your state just passed a law legalizing marijuana in small amounts. If you are at least 21 years old, you can possess up to two ounces, give as much as one ounce to other adults, and grow as many as six marijuana plants at home. Because you enjoy consuming pot recreationally, you plant some cannabis seeds under a grow lamp in your living room, waiting for the high times it will bring.
Then, several weeks later, you learn that Congress has attempted to block your state from implementing the law. It has passed a "resolution of disapproval," or maybe sneakily attached a "rider" to the following year's appropriations bill that prevents your state from spending funds to execute said law.
Theoretically, any state's marijuana law is under threat from the federal government; Washington state and Colorado legalized marijuana last year and have enacted an uneasy truce with the feds, who have agreed not to enforce laws for now. But it's of particular concern in Washington, D.C., where the relationship between the federal and local governments poses unique jurisdictional challenges. Although D.C. gained significant independence with the Home Rule Act of 1973, all its laws and budgets still need to be sanctioned by Congress, a body in which it has no voting representative. This set-up renders the district especially vulnerable to the whims of national politicians, some of whom—historically, at least—have prioritized partisan interests over D.C.'s right to self-determination.
Legalized marijuana is the next chapter in this struggle. On Election Day, two-thirds of district voters supported Initiative 71—a ballot measure that makes limited pot possession legal. Congress will have 30 business days after the election's results are certified this month to review the initiative, as it does with all new laws in D.C. (Certain criminal laws in the district get a 60-day review period.) If Congress passes a joint resolution rejecting the ballot, President Obama could approve or veto their decision. In the latter case, the initiative would officially go into effect once the D.C. Council creates a system for regulation and sales, which was not part of the ballot.
"Any attempt to overturn this vote would be a violation of essential American principles," said James Jones, communications director of DC Vote, a non-profit organization that works to secure representation in Congress for the district. "It would be Congress acting by fiat—not by any sort of democratic principle, but by hypocrisy."
It seems unlikely that Congress will block Initiative 71, given other political priorities and top Republicans like Rand Paul stating that he's "not for having the federal government get involved." (Paul chairs a Senate subcommittee that oversees D.C.) Yet, at least one House representative, Maryland Republican Andy Harris, has indicated that he will "consider using all resources available" to stop it. Asked whether Harris plans to advocate publicly against marijuana legalization in the district and states like Colorado and Washington, Chris Meekins, Harris's chief of staff for policy, did not comment. The congressman, a physician, has cited marijuana's "devastating effects" as a reason for his position.
Previously, Congress put medical marijuana, needle exchanges, and abortion services in the district on hold by freezing or delaying funding. Now, statehood advocates and non-profit officials say they see the recent vote to legalize marijuana as a victory for the district's autonomy and racial justice.
Malik Burnett, policy manager for the New York City-based Drug Policy Alliance, believes marijuana legalization will be a boon to racial equality in the U.S. Civil-rights groups, he predicts, will advocate that the tax money derived from selling legal pot be reinvested in local communities through education and community programs, allowing D.C. to "set the standard for legalizing marijuana around the country."
"The War on Drugs has disproportionately been borne on the backs of people of color," Burnett said. "People will begin to study D.C. to see what marijuana in a racial-justice context looks like."
That context suffused the entire legalization debate in D.C. Whereas marijuana was permitted in states such as Colorado and Washington largely out of concerns over personal liberty and public expenditures, the district's fading identity as the "Chocolate City" has shed a harsh light on its inequities, especially those related to drug-law enforcement. In fact, a 2013 report by the American Civil Liberties Union found that 91 percent of D.C. marijuana arrests in 2010 were of blacks, even though the district had roughly equal populations of whites and blacks and usage rates were about the same. According to Seema Sadanandan, program director of the ACLU's D.C. branch, these numbers meant that blacks were eight times more likely to be arrested for marijuana possession than whites. She described Initiative 71 as the U.S.'s first marijuana-legalization effort "catalyzed by a movement for racial justice."
"The criminal-justice system has become a blunt instrument to deal with a whole array of social problems—addiction, truancy, mental illness," Sadanandan said. "Most police officers are ill-equipped to deal with some of these issues. We need teachers, doctors … perhaps some would even say lawyers."
Though the ballot passed overwhelmingly, district residents are unlikely to see recreational pot dispensaries until late 2015 or early 2016. As the Brookings Institution noted in an October post, "Initiative 71 does not, by itself, create a fully legal commercial marketplace or institute any taxation system, refraining from these tasks because of the limitations of the District's ballot initiative process."
Effectively, purchasing legal pot is months away. Nikolas Schiller, director of communications for the D.C. Cannabis Campaign, says a marijuana tax bill won't get transferred to Congress by the D.C. Council until mid-2015, after being approved by multiple council committees. Then, it would be treated by Congress like any other D.C. law, subject to review.*
David Grosso, an at-large councilman, submitted such a bill to the D.C. Council in September 2013. It would impose excise taxes of 15 and 6 percent on recreational and medical marijuana, respectively, and would require D.C.'s Alcohol Beverage Regulation Administration to adopt regulatory rules "within 180 days of the [act's] effective date." That would be next winter at the earliest.
Whatever the law's effective date, marijuana taxation would generate significant revenue. Colorado, which saw its first cannabis stores open on January 1, recorded $34.1 million in recreational pot sales in August alone. (This generated about $7.5 million in total tax revenues from recreational and medical marijuana that month, or about $45 million year-to-date.) As The Economist noted recently, the national market for pot is estimated to be worth a whopping $40 billion—most of which is still being produced, sold, and redistributed illegally.
Still, not everyone in the district condoned the initiative, with 30.5 percent of voters choosing against. The Washington Post urged D.C. residents not to "rush to legalize" the drug. "Marijuana, as proponents of legalization argue, may or may not be less harmful than alcohol and tobacco, both legal, but it is not harmless," the paper's editorial board wrote in September. "Questions exist, so it would be prudent for the District not to make a change that could well prove to be misguided until more is known ... why not at least give Colorado a bit more time to provide lessons?"
How and whether those lessons materialize in the district remains to be seen.
"I don't know if now is the time to be celebrating," said Wayne Turner, who launched the campaign to legalize medical marijuana in D.C. with his AIDS-stricken partner, Steve Michael, in the 1990s; Michael died in 1998. "There's a fight ahead—it might be a long one. Thank goodness I'm still alive to enjoy it."
---
* This post originally stated that a bill would have to pass through multiple committees of Congress. We regret the error.