Why Two 2014 Candidates Are Still Begging Donors for Money
There's a recount in one of Arizona's House races, which means both candidates are still raising money from a tapped-out political donor base to cover the fees.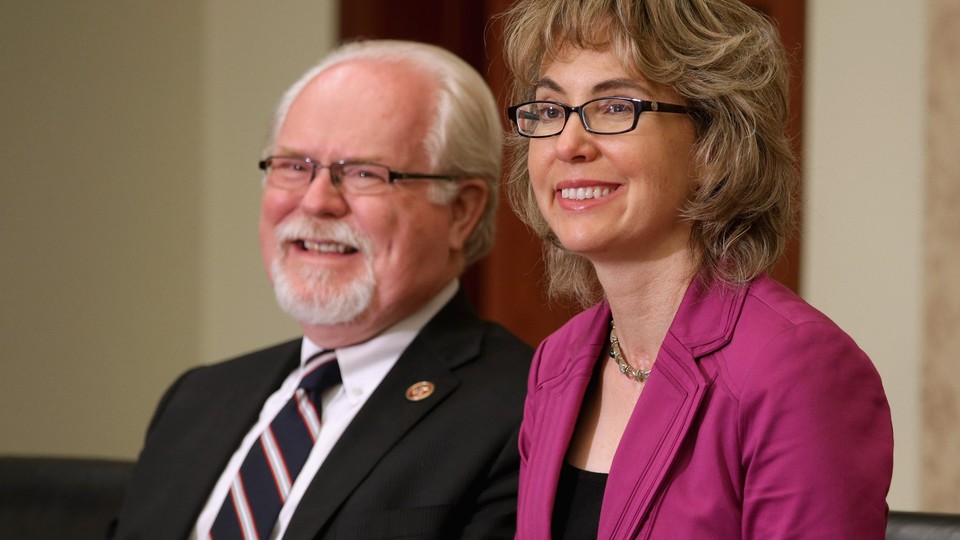 With Election Day having come and gone, politicians—and their fundraisers and donors—are taking a break from the two-year money-raising marathon that preceded it.
But two House candidates in Arizona are still checking between the country's couch cushions for a little extra cash. Thanks to an expensive recount in the country's closest congressional race, Democratic Rep. Ron Barber and Republican opponent Martha McSally are still hitting up their old donors and getting colleagues from around the country to tap their networks one last time.
McSally led Barber by only 161 votes after the initial tally in Arizona's 2nd Congressional District, a gap so small that it triggered an automatic recount under state law. That means paying staff to stay on a bit longer and, most importantly, bringing on specialized (and pricey) lawyers to monitor the retabulation of ballots, which will be resolved by Dec. 16. So Barber and McSally have looked to local donors, party leadership, and their friends on Capitol Hill in order to find political funds at a time when no one else is really trying.
There's a reason for that: Donors tend to feel tapped out after the increasingly long and expensive financial chase of congressional elections. But both Barber and McSally spent just about everything they had fighting their razor-close campaign, meaning they have no choice but to return to fundraising now that the votes are in, and some of their supporters felt they had no choice but to chip in one last time.
"I don't support the recount, but I support the integrity of the recount," said Wayne Strickler, a Tucson resident who gave McSally $300 during the election and then another $50 for the recount, according to the Federal Election Commission. "I'm not interested in seeing the same thing that happened in Minnesota," Strickler added. Democratic Sen. Al Franken's victory over Republican Norm Coleman in 2008 took an extended recount and more than half a year to resolve.
Another Tucson resident, Martin Cohen, said he went straight to Barber's campaign headquarters after reading in the Tucson Weekly that the race was still unresolved after election night. Cohen added $500 for the recount to the almost $5,000 he had already contributed to Barber in the last two years, according to the FEC. "Once I found out that there was going to be a recount ... I opened my checkbook and saw what I had left and offered it to a recount fund if it would be of any use," Cohen said. "... I feel like I did some good. I hope I did."
Barber's campaign has sent at least 20 fundraising emails to its list after election night, and both he and McSally reported raising around $150,000 since then, according to a National Journal analysis of their latest campaign finance reports. (The true figure is higher—the reports don't include donors who gave less than $200 or donations submitted after Nov. 24, the most recent disclosure deadline.)
Both parties' leaders jumped in to aid Barber and McSally, too. House Minority Whip Steny Hoyer's PAC gave $5,000 to Barber, and Democratic National Committee Chair Debbie Wasserman Schultz's gave $2,600. On the GOP side, House Speaker John Boehner's PAC gave McSally $5,000.
The Democratic Congressional Campaign Committee also bundled $7,000 to its candidate, and the group coordinated efforts by nearly a dozen other Democratic incumbents to tap their local donor bases for recount cash, too. Reps. Julia Brownley and Scott Peters of California emailed their lists to solicit recount donations to Barber, as did Rep. Brad Schneider in Illinois—weeks after he lost his own reelection race. The DCCC also emailed its supporters several times, including once with a message from Barber predecessor Gabrielle Giffords, asking for money to help Barber.
"Many of Representative Barber's colleagues jumped at the chance to help him," DCCC spokesman Josh Schwerin wrote in an email. "They've risen to the occasion and are doing everything they can to help keep a great public servant in Congress."
The National Republican Congressional Committee has been doing the same thing. People on its email list have gotten missives from the likes of Mitt Romney and Sen.-elect Joni Ernst of Iowa asking them to help McSally, who was the first female Air Force pilot to fly in combat. GOP Reps.-elect Barbara Comstock of Virginia and Mia Love of Utah, both prolific fundraisers, emailed their lists of supporters, too.
Members of Congress have also forked over cash directly from what remains in their campaign accounts. More than 30 Republican House incumbents or newly elected members gave money to McSally after Nov. 4, according to her campaign finance report. More than a dozen Democratic House campaign committees or leadership PACs have cut checks (often more than $1,000 each) to Barber since Election Day.
"Having legal teams on the ground to oversee this process is incredibly expensive and Martha needs our help to fund the process if she is going to remain victorious," Comstock wrote in her December donor email, linking to McSally's website.
There are still a few other fundraising efforts ongoing. Franken, who just won reelection in Minnesota, emailed his list at the end of November to remind supporters, with a touch of humor, that there were "only 2,165 days left" until his next race and they could "click here to contribute before it's too late." But Barber and McSally, the last two House candidates standing, have the once-crowded landscape almost entirely to themselves right now.