Why a Crooked Staten Island Republican Abandoned Congress
It wasn't the government that forced Michael Grimm out after he pleaded guilty for tax fraud, but House rules that would have stripped him of his power if he stayed.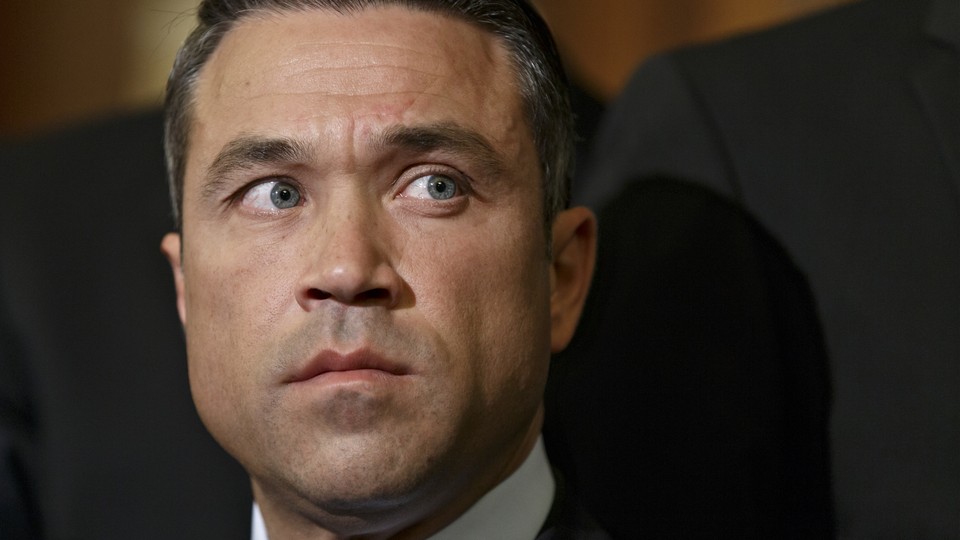 It's not often that a member of Congress gets indicted on a raft of felony corruption charges, proclaims his innocence for months, wins re-election to another term from a sympathetic electorate, and then promptly pleads guilty and resigns from office.
Michael Grimm, however, didn't have much of a choice.
The Staten Island Republican late Monday gave up the House seat he had just secured for another two years, bowing to pressure from a party leadership that wanted him gone. Grimm, 44, had pleaded guilty last week to a single count of federal tax fraud, a crime that prosecutors said could send him to prison for up to three years. Initially, he had hoped to hang on, pointing to the will of the New York voters who had rehired him knowing full well that the government was accusing him of wrongdoing on an even greater scale.
Then on Monday he spoke to Speaker John Boehner, who urged him to resign. The Speaker's office would not detail their conversation, but Grimm's statement afterward contained a clue as to what might have come up. "The events which led to this day did not break my spirit, nor the will of the voters," Grimm said. "However, I do not believe that I can continue to be 100 percent effective in the next Congress, and therefore, out of respect for the office and the people I so proudly represent, it is time for me to start the next chapter of my life."
When Grimm said he couldn't be "100 percent effective," he could have said "50 percent" or even "25 percent." Under House rules, a member convicted of a crime punishable by more than two years in prison is instructed not to participate in committee work or even to vote on the House floor "until the member is re-elected to the House after the date of such conviction." In other words, Grimm would have been neutered for the next two years, a congressman in name only with his constituents drawing even less representation than the disenfranchised residents of the District of Columbia.
The situation is not normal, but neither is it unprecedented. Just two years ago, Representative Jesse Jackson, Jr., a Democrat, resigned from the House weeks after winning re-election (although unlike Grimm, he had not really campaigned). His departure was part of a plea deal with prosecutors in which he admitted to using campaign funds for personal expenses. Grimm's plea agreement included no mention of his service in Congress, according to a copy provided by the Brooklyn U.S. attorney's office on Tuesday.
Yet for Boehner, a leader who promised to have no tolerance for ethical lapses as speaker, Grimm's continued presence in the House was unacceptable. A Marine and former FBI agent elected in 2010, Grimm was a political liability for Republicans for most of his House tenure. He became the butt of jokes when he threatened to throw a television reporter off a balcony and break him "in half like a boy." The federal indictment alleged that Grimm employed undocumented immigrants and paid them off the books at his Manhattan restaurant, Healthalicious.
As part of the plea agreement, Grimm admitted to lying under oath as a member of Congress, and the Speaker now has the additional headache of a Republican whip who once spoke to a white supremacist group. "Rep. Grimm made the honorable decision to step down from his seat in Congress," Boehner said in a written statement Tuesday. "I know it was made with the best interests of his constituents and the institution in mind, and I appreciate his years of service in the House." His resignation will become effective on January 5, just before the 114th Congress begins, and he will be sentenced in June. Republicans will enter the special-election campaign to replace Grimm with an advantage, and Boehner can take some solace that he'll begin the new year with one less scandalized member to worry about.