Why Jeb Bush Is No Mitt Romney
Bush's biggest perceived vulnerabilities also pose one of Democrats' biggest opposition-research challenges in 2016.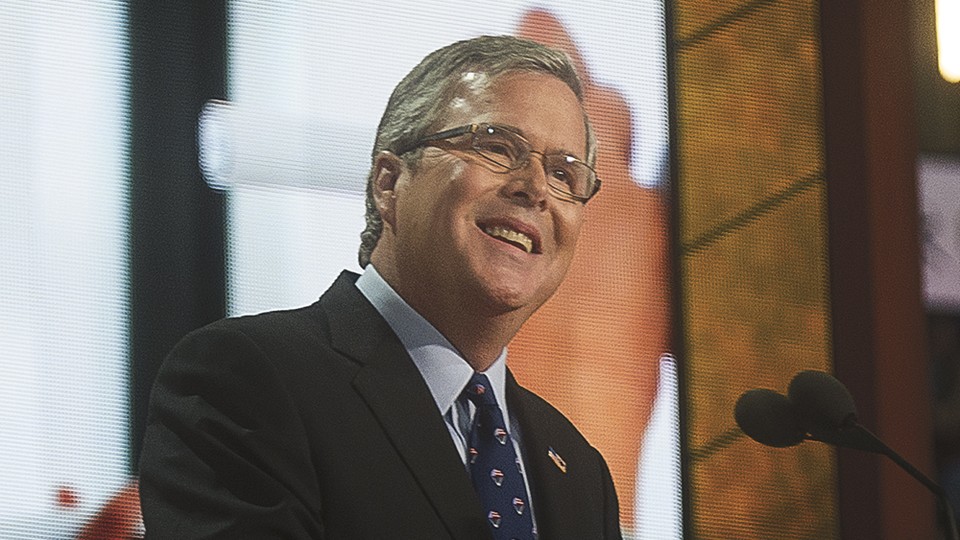 Democrats would love to do to Jeb Bush what Team Obama did to Mitt Romney: force the Republican to spend his campaign defending a business record that he had originally hoped to trumpet. But in order to pull off the track with Bush, Hillary Clinton and her allies have a higher hill to climb than Obama's reelection machine ever did.
Elements of Romney's business background had been the subject of attack ads dating back to his first Senate run in 1994, as Romney's time at Bain & Company and Bain Capital predated his days as governor. But Bush's involvement with banks like Lehman Brothers and Barclays is comparatively recent and relatively unexplored. Romney also spent years as the presumptive GOP nominee ahead of 2012, giving Democrats more than enough time to find the answers to any questions that remained. Bush's re-emergence after years of private life is forcing Democrats to play catch-up.
They're certainly trying: Last Monday, Democratic research shop American Bridge released a 194-page "Scouting Report" on the entire Republican field. The report gives Bush less focus than other top-tier candidates, with seven pages are devoted to him, compared with 13 pages on New Jersey Gov. Chris Christie and 10 on Wisconsin Gov. Scott Walker. Brad Woodhouse, American Bridge's current executive director, said the length of each chapter was partially determined how much recent information was publicly available.
Shauna Daly, a veteran Democratic strategist who spearheaded President Obama's 2008 opposition research efforts and served as a senior adviser to American Bridge during the 2012 election, outlined the difficulty Bush poses for opposition researchers. "The last time I was at Bridge two years ago, the Jeb Bush file hadn't been updated in a really long time," Daly said, noting that private-sector records like those most sought out for Romney, and possibly Bush, are more cumbersome to unearth and sort than records from time spent in public office.
"I would say that Jeb is a pretty big challenge because all of his stuff is [Securities and Exchange Commission] filings and I would hope that people had begun to request that stuff a while ago, because once you get into [Freedom of Information Act requests], it takes a long time for those to come around," Daly said. "With Romney, people had been requesting that stuff for years. If you don't have a head start on that it would be difficult."
In 2012, American Bridge built off prior Romney attacks and produced a 950-page book for the pro-Obama super PAC Priorities USA detailing "every business deal of Mitt Romney's career," which Priorities adviser Paul Begala said served as the basis for most of the $65 million worth of ads the group ran against him. Woodhouse said a report like that can take "many, many months" to put together, but said those concerned they won't be up to speed on Bush can rest assured. "We're looking at everything," Woodhouse said.
"At least to some people's mind there was a time that it seemed like Jeb Bush would put his name on any company as long as he got a paycheck," Woodhouse said. "Maybe he should have had someone do due diligence on them, I know we are."
Bush, in what many are reading as a sign of a planned 2016 candidacy, said Saturday that he would release approximately 250,000 emails from his time as governor, but it could still be difficult accessing other public records from his time as Florida governor.
Barbara Peterson, the president of the First Amendment Foundation, said Florida actually has fairly good public-records laws compared with other states, but there are issues when it comes to the cost of obtaining records and getting them in a timely manner. "A lot of agencies charge for extensive use of personnel time, but 'extensive' is not defined by the law," Peterson said.
Peterson said one case she's currently working on serves as an extreme example. A reporter wanted four months' worth of emails from all the deputy sheriffs in a large Florida county, and was looking for six specific words within those emails. "The sheriff's office said it was going to cost $399,000 and it was going to take them seven years to comply," a response Peterson called "ludicrous," but not totally unheard of in Florida or elsewhere.
Just last week the AP reported that one records request on Hillary Clinton's time at the State Department has gone unanswered for four years.
Peterson said the Rick Scott administration is also notoriously slugglish in responding to requests, and can sometimes take up to six months to inform people that the records they seek aren't available. His team has also been caught defying records requests, like when they not only deleted but laser-scrubbed documents from his first transition that were supposed to be archived. "I can't tell you how many times the Scott administration has said 'Oops,' " Peterson said.
Because so many potential candidates are reruns of 2012 or were recently up for reelection, Bridge already has thorough and up-to-date files on most included in last week's report. Others have been the subjects of controversies that generated a lot documentation of their time in office, including Christie's Bridgegate and the John Doe investigations into Walker's various campaigns, which have produced hundreds, if not thousands of pages of documents through which to dig.
Part of the utility gained in releasing a report like Bridge's early is to "get that conversation going," as Woodhouse said, and prod news organizations to do some of the heavy lifting to fill in the blanks, offering them more news clips from which to later cite. One Bloomberg story published last Thursday described a handful of recent SEC filings detailing Bush's role in a new offshore private equity fund. The story's tagline described Bush as a guy "with lots of deals for the press to untangle."
"Kick-starting that conversation now is a big help because we're in the business of collection," Woodhouse said, and ended his summation of the group's efforts on a confident note: "We will have the goods on whoever the nominee is, just like American Bridge did with Mitt Romney."