When Toy Guns Look Real
Walmart, Amazon, and three other retailers have been pressured to stop selling highly-realistic fake firearms.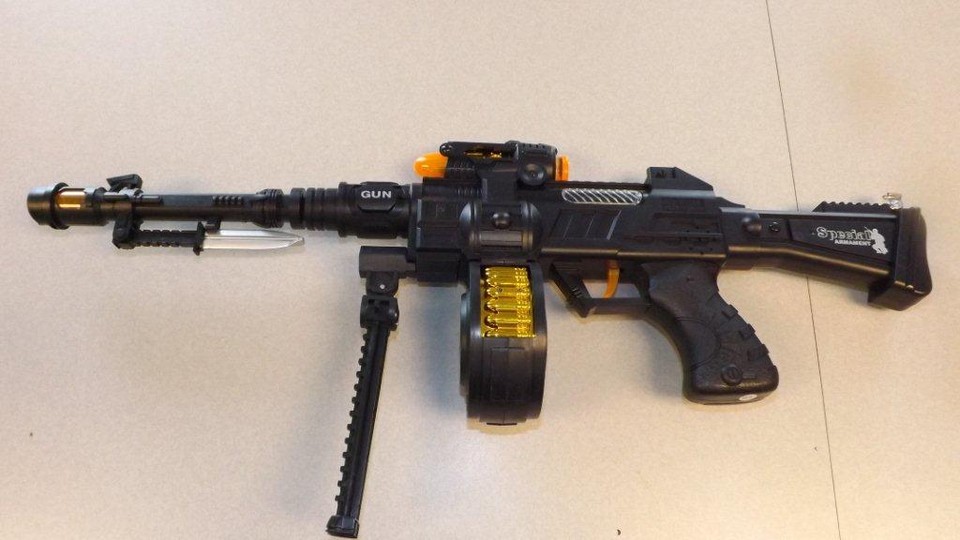 Updated December 18, 4:20 p.m.
In the minutes before a police officer shot 12-year-old Tamir Rice in Cleveland on the Saturday before Thanksgiving, a 911 caller said the boy was scaring people as he sat on a swing and pulled a gun in and out of his waistband.
The weapon was "probably fake," but the caller couldn't tell for sure. "I don't know if it's real or not, you know?" the caller told the emergency dispatcher. Of course, it turned out that the gun was a replica, a pellet gun that lacked an orange safety tip required to make it distinguishable from a semiautomatic pistol.
It was in that context that New York Attorney General Eric Schneiderman on Thursday sent a cease-and-desist letter to five retailers—Walmart, Amazon.com, Kmart, Sears, and ToyArsenal.com—demanding that they stop selling toy guns in violation of the state's ban on "imitation weapons." Toy guns sold in New York must have bright orange stripes on either side to distinguish them from the real thing, and Schneiderman's investigators bought replicas from each of the companies, either online or in store, that lacked those marks and in some cases were advertised as "realistic looking" and "full size."
"When toy guns are mistaken for real guns, there can be tragic consequences," Schneiderman said in a statement. "New York State law is clear: Retailers cannot put children and law enforcement at risk by selling toy guns that are virtually indistinguishable from the real thing."
The state attorney general's office, which previous occupants Eliot Spitzer and Andrew Cuomo have used as a stepping stone to the governor's mansion, has a long history of tangling with Walmart on this issue. A Schneiderman spokesman sent along a court order from 2003 that Spitzer obtained to block the retail giant from selling imitation weapons. Walmart responded by saying that once the sales were brought to its attention on Thursday, the company "placed a shipping block on our website to prevent the mentioned items from being sent to the state of New York. We're also confident that measures are in place to prevent these items from being sold at our New York stores."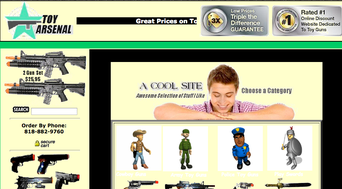 Toy Arsenal in particular specializes in fake guns that could easily pass for the real thing. Amid big photos of authentic-looking rifles, automatic weapons, pistols, SWAT, and military gear on its website, there is a small-font disclaimer directing customers to "a section devoted to Child Safe Toy Guns For those who want the fun of toy guns but don't want them mistaken for 'real guns.'" A link on a sister site, MoreToyGuns.com, directs customers from New York State to a separate page that features only guns in bright fluorescent colors as opposed to the more realistic black and brown. (The website did not reply to an email seeking a response to Schneiderman's letter, and a phone number on the site was not working.)
Sears Holdings, the parent company of Kmart, said in a statement Thursday that it would cooperate fully with Schneiderman's investigation and was "in the process of immediately removing any non-compliant toy guns that are offered for sale by Sears or Kmart to New York consumers."
Schneiderman's office said that since 1997, four people in New York have been killed when law enforcement officers mistook the toy guns they were carrying for real weapons. There is no such similar ban on the sale of "imitation weapons" in Ohio, but in the wake of Rice's death, state Representative Alicia Reece is pushing a proposal to require that toy guns be brightly-colored or have special markings.
Whether the laws are actually effective is a matter of debate. Gun rights supporters in Ohio say customers could always paint or tape over a toy gun to make it look more realistic, and indeed, the bright orange cap on the toy pistol that Tamir Rice was carrying had been removed when he was shot by the police.