Vladimir Putin: The 10th Most Admired Man in America
The widely denounced Russian leader received more positive votes than Mitt Romney, Joe Biden, or Bono in an annual Gallup survey.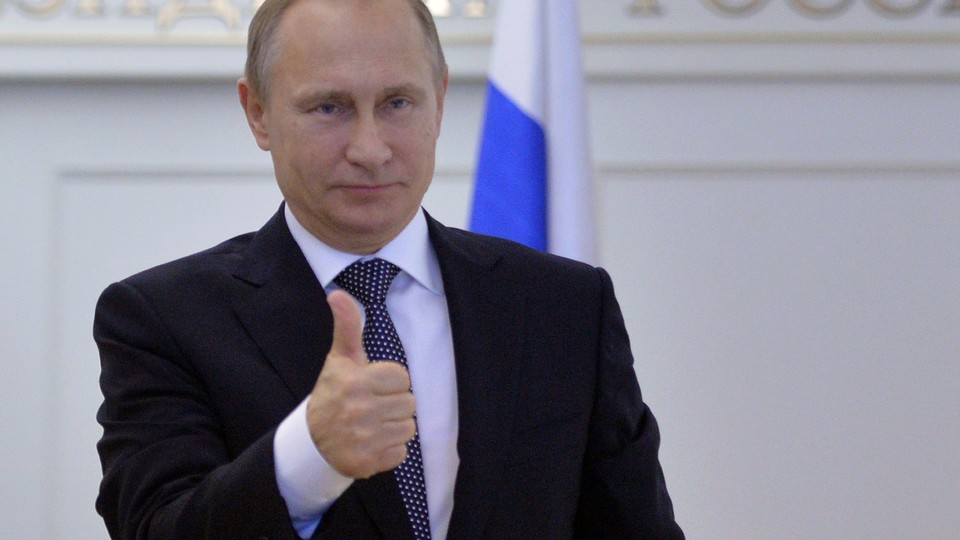 Each year since 1946, Gallup has asked Americans to name the living man or woman they most admire. The top vote-getters for 2014, announced on Monday, were no surprise: Barack Obama claimed victory in the male category for the seventh straight year, while Hillary Clinton extended her even more impressive run as "most admired woman" for the 17th time in the last 18 years, a record for the survey.
The most eyebrow-raising entrant on either list, however, was Vladimir Putin, who slipped into a tie for 10th place (with Israeli's Benjamin Netanyahu) after being named by 1 percent of respondents. In cracking the top 10, the widely condemned invader of Ukraine earned more votes than Vice President Joe Biden, the last two Republican and Democratic presidential nominees (before Obama), two ex-presidents (Jimmy Carter and George H. W. Bush), George Clooney, and the Dalai Lama. He even beat out Bono.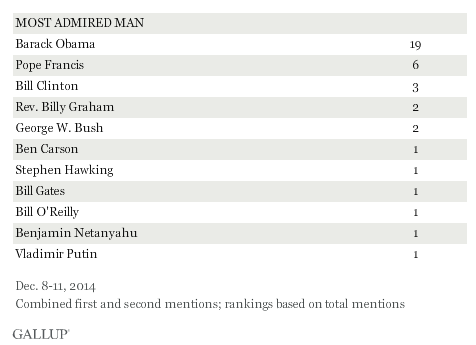 Now before we continue, a couple of caveats: In a sample size of 805 people, earning 1 percent of the vote does not amount to that many people, and the difference between Putin and, say, Mitt Romney or the first President Bush, who finished just below him, was probably just a single vote. Yet the question was open-ended, meaning that at least a half dozen people, without being prompted with a list, responded with Putin when asked, "What man that you have heard or read about, living today in any part of the world, do you admire most?"
And it's not as if Putin is a fixture on the annual list. He hasn't received a single vote since 2010, and nobody cited him as their "most admired man" in seven of the last 10 years. His stronger showing in 2014 comes during a year in which he drew near-universal scorn for ordering the annexation of Crimea and sending troops into eastern Ukraine. At the time the survey was conducted earlier this month, the Russian ruble was collapsing.
"It is kind of puzzling that he's in there," said Jeffrey Jones, the managing editor of Gallup. He said that his team couldn't see any demographic pattern in the respondents who named Putin, and they didn't know for sure if people were listing him as a joke. While the longer list of more than 50 names that respondents volunteered included politically polarizing figures like Rush Limbaugh, Ted Cruz, and Jesse Jackson, Putin had the worst standing in the U.S. of any of them (though Donald Trump also received a vote). In an NBC News/Wall Street Journal poll in August, just four percent of respondents rated Putin positively.
Jones said by phone on Monday that there is a precedent for public figures making the top 10 despite a run of bad press. In 2009, the survey was conducted just after the personal foibles of Tiger Woods exploded into view after he crashed his car outside his house. Both Woods and his scorned wife, Elin Nordegren Woods, earned 1 percent of the vote that year. Putin's oddly strong showing, therefore, may simply be a case of bad publicity trumping no publicity. "He's in the news a lot, so he's top-of-the-mind," Jones said.