The Right Wing's Facebook Army
How ForAmerica became a force to be reckoned with in politics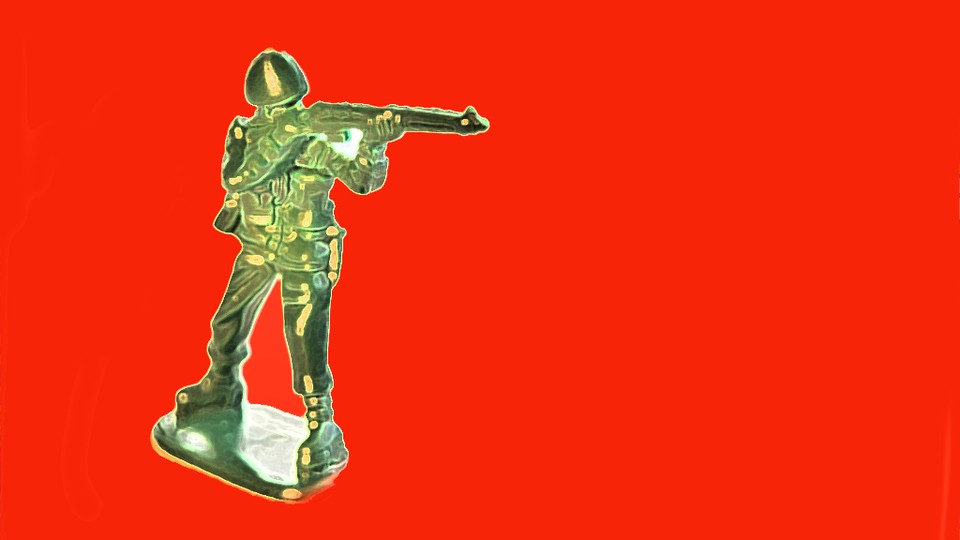 The digital army sprung to life with a click of a mouse in a nondescript office park in Alexandria. Less than 10 miles away, at the White House, the phones began to light up. One call came into the switchboard and then another. Thousands of people flooded the phone lines.
It was early August 2014, and the callers were conservatives lambasting President Obama for promising what they described as "executive amnesty." The deluge of angry activists was not the work of a heavily coordinated national campaign, a pricey phone-banking operation, or really an exhaustive effort of any kind.
It resulted from a single post on Facebook.
The volume of calls was so high that, within hours, the White House complained it was a "security issue," according to an email from the phone vendor hired to connect callers to the switchboard. More than 9,000 calls had been made before they pulled the plug. At the headquarters of ForAmerica, the conservative group that had launched the telephone broadside, the White House's reaction was seen more as victory than defeat.
"We got our point across," said David Bozell, ForAmerica's executive director.
In the last four years, ForAmerica has quietly amassed what it likes to call a "digital army" on Facebook—a force that that now numbers more than 7 million. The group's spectacular growth can be explained in part by the paid acquisition of its members through targeted advertising. But thanks to a daily stream of savvy and snackable red-meat messaging, these mercenaries have become loyal conservative digital soldiers whose engagement is attracting new recruits. These days, a routine post on ForAmerica's page reaches more than 2 million people, achieves more than 100,000 "likes," and has tens of thousands of people repost and comment.
But shutting down the White House switchboard this summer was just a warm-up act. Bozell and his father, Brent Bozell, the group's chairman and a fixture in the hard-liner wing of GOP politics, have been positioning their troops for a bigger battle: policing the 2016 Republican presidential race.
"Anybody who runs as a conservative," Brent Bozell declared, "is going to have to satisfy our army."
Already, the Bozells have proved willing—if not eager—to direct their army's rage against fellow Republicans. They jammed the lines of Mitch McConnell's campaign office in the final days of his crucial reelection contest, accusing the senator of sounding wobbly on repealing Obamacare. Just last week ForAmerica urged its members to dial up House Majority Whip Steve Scalise and demand he toe the conservative line on immigration. These pressure campaigns are orchestrated by the Bozells, but executed by their group's excitable, activist base.
"Facebook tells us quite often that we're among their most engaged operations on its entire platform, and definitely No. 1 in the political sphere," David Bozell said. Indeed, an official with Facebook confirmed that ForAmerica's flock is among "the largest and most active presences on Facebook" in the political realm.
That presence was felt last month as Obama prepared his big immigration plan to shield millions from deportation. ForAmerica posted a preemptive attack two days earlier: "LIKE if you are opposed to President Obama's plan to grant executive amnesty to illegal immigrants!" The post earned nearly 300,000 likes.
When Obama posted a video, exclusively on Facebook, announcing his unilateral action, it drew national headlines and attention. It was cross-posted to the White House page and Obama's page, which together boast nearly 47 million fans—almost seven times the sum of ForAmerica. The combined viewership stat line: 108,000 "likes," 61,000 shares, about 30,000 comments, and 4.3 million views.
The next day, ForAmerica posted a rebuttal speech in which Republican Senator Ted Cruz quoted Cicero on the Senate floor. Despite being of almost no news value, it had 1.3 million views.
"This is not a fake, make-believe army. This is 7 million people who are active in the political conversation, who are conservatives," said the elder Bozell. "And without them, you ain't gonna win the primary."
Brent Bozell, the nephew of National Review founder William F. Buckley, has right-wing politics in his blood.
Known for his booming laughter and rust-and-white-colored beard, Bozell, 59, has over the past quarter-century grown into something of a godfather to the conservative movement. He founded the Media Research Center in 1987 as a watchdog to the liberal media, and in decades since has parlayed that success into spinoff advocacy organizations and even news websites, including CNSNews.com and Newsbusters. Conservative politicians have long lined up to kiss his ring.
But it wasn't until late 2010 that he discovered the power of social media. Talk radio had long been dominated by the conservative movement, but David Bozell, 36, was convinced they could tap into a new medium and create a grassroots powerhouse driven by online activity. The elder Bozell wasn't buying it at first—"I was a Doubting Thomas," he recalled—but eventually succumbed to pressure from his son.
The Bozells launched ForAmerica's Facebook page in September 2010. The goal was to use paid acquisition to secure 300,000 Facebook "fans" by the end of 2010. "We got it in a month and a half," David said. The explosive growth continued over the next several years. Each new membership benchmark they set was eclipsed faster—and less expensively—than they had projected.
The Bozells wouldn't say who underwrites ForAmerica, but tax records show that $2.4 million of the $2.52 million the organization raised in 2013 came from a single donor. Nonprofits aren't required to disclose their financiers. The multimillion-dollar budget has allowed them to steadily add new fans on Facebook for four years.
With 2016 looming, ForAmerica is targeting its outreach in key states—those home to early primary contests and general-election battlegrounds—to maximize the group's influence over the upcoming presidential campaign. Their membership benchmarks are lofty—10 million members by the Iowa caucuses in January 2016, and 11.5 million by the November 2016 election. Perhaps most audaciously, David said they want at least "five percent of registered voters in every state" to be members of their movement.
The growth, of course, is a means to an end: having the Republican presidential hopefuls cater to the concerns of the conservative base. "Do the right thing and we're going to be behind you," Brent said. "Do the wrong thing and we're going to be your worst nightmare."
Some in the prospective 2016 field are already preparing accordingly. Cruz, for example, has a previous relationship with the Bozells and communicates with them often. According to a source close to the Texas senator, there is even preliminary talk of Cruz joining a digital "town hall" meeting with ForAmerica members next year.
The elder Bozell said as many as a dozen potential presidential contenders could pass muster with the army, quickly rattling off the names of Cruz, Marco Rubio, Scott Walker, Mike Pence, Bobby Jindal, and Rand Paul. Others are more likely to be targets of digital ridicule.
"If I see one more moderate I'm going to slam my head against the wall. Jeb Bush cannot win. Chris Christie cannot win. Mitt Romney cannot win," he said. "How many times must the Republicans prove that to themselves?"
If the Bozells are the generals dictating troop movement, Mike Thompson is on the front lines leading the charge.
Thompson is a scruffy, 45-year-old tech wiz whose digital prowess is celebrated in conservative circles. He's also a senior vice president at CRC Public Relations in Alexandria, Virginia. That firm, run by super-consultants Greg Mueller and Keith Appell, has deep ties to the conservative movement, making it a natural engine for the Bozell's new online venture. ForAmerica paid CRC $1.15 million in 2012 and 2013, tax records show.
ForAmerica's battle plan is mapped out on a massive whiteboard in CRC's Alexandria headquarters. The board features a calendar with each day's box filled in with topics to post about: "Stupidity of the American People" on a Tuesday, "10-point Amnesty Plan" on a Thursday, "Patriotic/Positive" on a Sunday. (Paeans to Americana are among the group's most popular posts are. A video tribute to 9/11 this year has been viewed by a remarkable 13 million people, and shared by more than half a million.)
The board also shows a detailed analysis of ForAmerica's impact, cataloguing traffic numbers by day and time, part of Thompson's ongoing experiment to maximize engagement. "We'll do similar posts at different times of day over several weeks to see how they compare to each other," Thompson said. "We compare which day and which day parts have the most success. What kind of post works in the evening versus the morning versus on the weekend versus on a weekday."
The results, according to the board: Wednesdays are responsible for 22 percent of weekly engagement, by far the busiest day. Fridays see the least amount of action. Mondays through Wednesdays see a majority of overall engagement in the morning, while Thursdays through Sundays see activity spike at night.
Though conservative politics are largely dominated by men, ForAmerica boasts more women fans than men. And, according to Thompson, 57 percent of the people who engage with the group's content are women. "Nine out every ten self-identified soccer moms are on Facebook every single day. So go talk to them!" David Bozell said. "This is something I don't think the GOP realized until maybe this cycle, if they did at all."
Still, gender is not central to the composition of ForAmerica's base—nor is age, ethnicity, or other standard demographics. The glue of the group is ideology. ForAmerica is ultraconservative and unapologetically so, frequently devoting more time to decrying Republican moderation than Democratic opposition. It's friendly confines for the grassroots activists; it's home to the true believers.
"This is really a pure conservative base. They chose to join ForAmerica based on principles of limited government, principles of freedom. We don't have a litmus test saying if you want to be a member you must do X-Y-Z. That's not the way we operate," said Brent Bozell. "So if you want to have a sense of what grassroots conservatives believe in, ForAmerica is a good source."
What these members crave is red meat—be it attacking liberal Democrats or holding seemingly squishy Republicans to account. "Like if you agree Hillary Clinton should NEVER be president," read one such recent post that has 347,000 "likes" and counting. When posts are policy-oriented, the issues that most rile up the crowd are immigration, Obamacare, and Common Core, the Bozells said.
The formula is pretty simple: Pick an eye-catching photo and embed it with a bite-sized and appealing conservative message. "What we were trying to do was tie pop culture to the conservative message day-in and day-out. Make it funny, witty," David Bozell said. "This ain't the Federalist Papers we were trying to sell online."
But the strategy of appealing to the lowest common denominator invites an unpredictable dialogue on ForAmerica's posts that occasionally veers into racially charged and nasty territory. The two final comments on the post that spurred calls to the White House back in August are "GET A ROPE..." and "Buy some tar and feathers...". There is, however, some internal push back against hateful elements. "We do not hate the President and we as Christians need to be praying for him and our country!" wrote one person, objecting to comments on the Ted Cruz immigration video.
One of the boldest forays against a Republican came in late October, when ForAmerica urged its members to jam the phone lines of McConnell's campaign office days before the general election. McConnell's sin? An appearance with Neil Cavuto on Fox News in which he appeared to back away from promising to use "reconciliation," a parliamentary tactic, to repeal Obamacare in a GOP-controlled Senate.
McConnell's team quickly issued a public statement reiterating he supported reconciliation. But Brent said he was only satisfied enough to stop the calls when he received a private communication "from the top of the ladder" in McConnell's camp. (As for the White House citing security to demand an end to their phone calls last August, the Obama administration did not respond to requests for comment.)
That ForAmerica, and other tea-party-influenced groups such as Heritage Action, FreedomWorks, and the Senate Conservatives Fund spend nearly as much time targeting Republicans as they do Democrats rankles many in the GOP establishment. "It's disappointing that these grassroots resources aren't generally targeted against Democrats who are the real problem for advancing conservative values," said Brian Walsh, a GOP strategist and outspoken critics of these groups.
More specifically, the complaint is that the Bozells are part of a professionalized "purity for profit" movement in D.C., in which some conservatives make a living riling up the grassroots. Brent earned $960,000 in total compensation from conservative nonprofits related to ForAmerica in 2012 and 2013; David was paid $114,000 for his work.
Brent is unapologetic about engaging in intraparty warfare when Republicans aren't faithful to the cause. "Look," he said, "up until this point, it's been primarily negative because there's been nothing good going on in Washington in this God-forsaken city."
That said, ForAmerica's founders insist they hope to lift up strong Republicans in 2016—not just tear down weak ones. "If Jeb Bush gets religion on deficit spending and champions a real deficit reduction program, we're going to promote Jeb Bush," the elder Bozell said.
He quickly caught himself, and added with a smile: "Not for the presidency, but we're going to promote what he's doing."