Ted Cruz Pushes the House to Have All-Out Spending Fight on Obama Immigration Action
Conservatives in the House look to Cruz once again for solutions to stop Obama.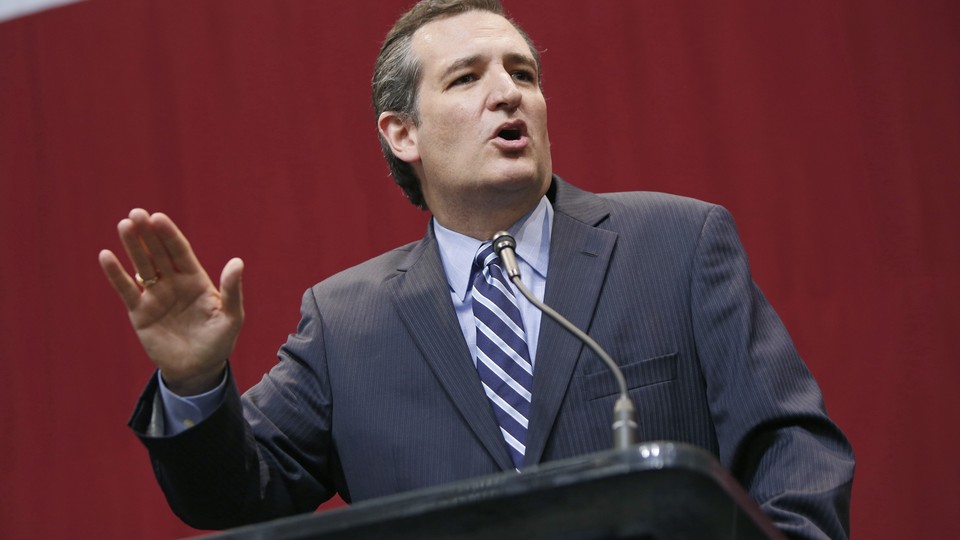 Sen. Ted Cruz is playing de facto House conservatives leader once again.
Taking the podium Wednesday at an outdoor presser beside the House's most vocal border security hawks, Reps. Steve King and Michele Bachmann, Cruz slid comfortably back into a familiar place: being a thorn in the side of elected House leaders.
While House Speaker John Boehner has been trying to rally Republicans around a plan to fund the government before the Dec. 11 deadline, the most-conservative members in the chamber want to confront President Obama's executive action on immigration more aggressively.
At Wednesday's press conference, it appeared that some of the House's hardliners are rallying around Cruz's strategy""gut Obama's effort on immigration by defunding it in the must-pass spending bill, now. Cruz is calling for a rider stripping funding for the executive action.
"We fought a bloody revolution to free ourselves from monarchs," Cruz said.
Cruz also accused members of Congress of not being honest with those who elected them a month ago.
"Do what you said you would do," he said.
Cruz then had a message for Democrats. He argued that Obama's actions set a precedent where any future president can discard congressional wishes on everything from immigration to taxes.
"What the president is doing is dangerous," Cruz said. "If the president doesn't have to follow the law, what is the point of electing Congress?"
Bachmann argued that voters had reelected a Republican majority in the House to stop Obama, not to allow him to move forward alone.
"Will we be a people who decide that we are going to go with the freight train of what Washington, D.C., wants or will we listen and harken to the voice of the American people that was stated unmistakingly on Nov. 4?" Bachmann said at the event.
House appropriators have futilely tried to make the case that Obama's action cannot even be defunded by Congress. And Boehner floated a plan to the conference Tuesday that would fund most of the government through the fiscal year but enable House Republicans to keep the Homeland Security Department on a tighter leash by  keeping money flowing to it only for a few months.
Still, rank-and-file members on the right don't seem to be completely listening, and time is running out for the House leadership team to cobble together a coalition to pass the funding bill by late next week.
Some GOP leaders say now is not the time for a funding fight when Democrats still control the Senate. Cruz says that is not a reason not to stop Obama's action.
"The same folks who are saying, 'Gosh, we cannot do anything now,' are the same folks who in January are going to say, 'Gosh, we don't have 60 votes in the Senate,' " Cruz said Wednesday. "It's like Charlie Brown and Lucy where consistently the same voices pull the football aside and say, 'You know what, you can never ever ever do anything to stop a lawless president.' "
Cruz had already entered the House fray in recent weeks. Since Obama announced his executive action, Cruz has been in communication with some of the House's conservative members, including Rep. Mo Brooks. On Wednesday morning, he convened with many of them to stake out a game plan at a Conservative Opportunity Society meeting.
While Cruz has sometimes butted heads with his Senate colleagues, this is not the first time he's found traction on the other side of the Capitol.
The Texas senator is seen by many as the agitator who encouraged House Republicans to defund Obamacare through the funding process in October 2013, which led to a government shutdown. Earlier this year, according to the Houston Chronicle, Cruz met with conservative members in his office to discuss immigration and the House leadership election.
Fellow senators are used to Cruz's close relationships and strategy sessions with House Republicans, but they still would like to see a funding fight avoided.
Sen. John McCain, R-Ariz., says Cruz is free to meet with whomever he wants to, but he worries about the potential of Cruz leading conservative House members toward a strategy that could result in a shutdown.
"There is no appetite except for very few to shut down the government," McCain said. "We've seen that movie before."
Sen. Jeff Flake, R-Ariz., who also worked on the Senate's comprehensive immigration bill that passed in 2013, said he hopes Republicans work toward an alternative to Obama's executive action rather than a funding showdown.
"Our response on the immigration thing ought to be to put legislation on the president's desk," Flake said.