Finally, a New Surgeon General
One year, one month, and two days after his selection, the Senate confirmed Vivek Murthy to a post that had been vacant since July.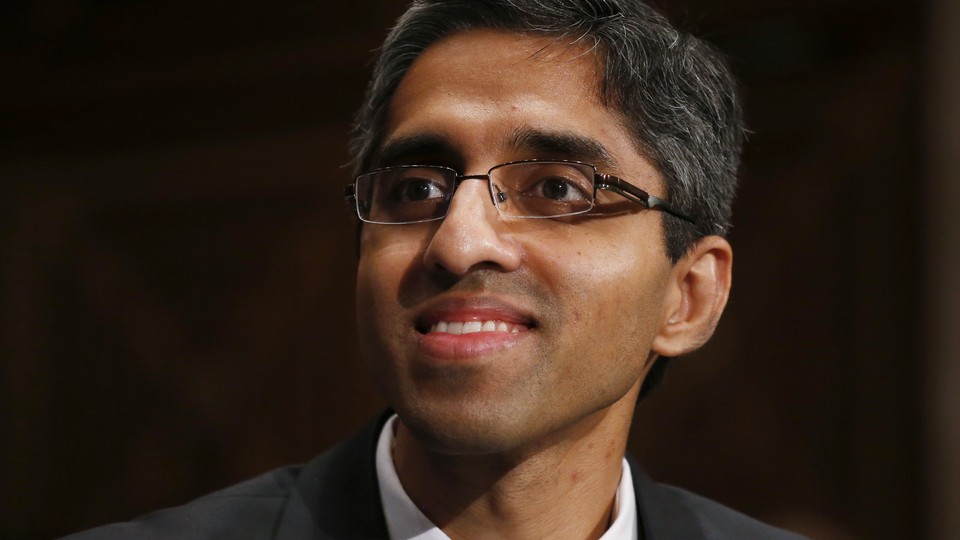 Updated December 15, 7:08 p.m.
President Obama nominated Vivek Murthy to be U.S. surgeon general on November 13, 2013. The Senate health committee signed off on him in February. On Monday, one year, one month, and two days after his selection, the Senate voted to confirm him to a post that had been vacant since July.
Like so many of Obama's nominees, Murthy had fallen into a political vortex, subject to an opposition campaign by the NRA over his support for gun-control policies that are far from central to the job informally known as the nation's top doctor. But the absence of a surgeon general had become more conspicuous in recent months, as the Obama administration confronted an Ebola epidemic in West Africa that nearly sparked a public panic when it briefly reached U.S. shores.
"Can anyone think of a public health issue that we've had to face since February?" Senator Dick Durbin asked rhetorically in a floor speech on Monday. Without a surgeon general, the CDC's Thomas Frieden took the lead in responding to the Ebola crisis, but the administration's initially inconsistent public response—and the spread of the disease from a misdiagnosed Liberian man to two Dallas nurses—prompted criticism and eventually led Obama to name an "Ebola czar," Ron Klain, to coordinate the government's efforts.
All that might not have been necessary had the Senate confirmed Murthy earlier. But with Republicans opposed and Democrats nervous about a fight on gun rights in the months before the midterm election, his nomination languished. Senate Majority Leader Harry Reid called for the vote Monday as he sought to install some two dozen of the president's executive and judicial nominees before Democrats hand over control of the chamber to Republicans in January. (Reid may end up being able to confirm more nominees than he would have otherwise because of a procedural flub over the weekend by Senator Ted Cruz, of all people.)
A physician with degrees from Harvard and Yale, Murthy, 37, is the co-founder and former president of Visions Worldwide, a non-profit formed in 1995 to boost HIV/AIDS education in India and the U.S. The NRA and its allies in the Senate has focused on his political work for Doctors for America, a group formed to support Obama's candidacy in 2008 and through which he has voiced support for gun restrictions. "Unfortunately, Murthy's record of political activism in support of radical gun control measures raises significant concerns about the likelihood he would use the office of surgeon general to further his preexisting campaign against gun ownership," the NRA wrote in February. They have also taken issue with his assertions that gun violence is a public health issue.
In a floor speech Monday, Senator John Barrasso of Wyoming alluded to the political opposition but focused his criticism of Murthy on his lack of experience. "Americans deserve a surgeon general who has substantial experience in managing complex crises and delivering patient care," Barrasso said. Murthy, he said, might be qualified someday. "But that day is not today."
Durbin rose to Murthy's defense, praising his "experience, training, and tenacity" while noting support for his nomination from an array of public health and medical organizations. He denounced the opposition to Murthy's views on gun control, pointing to the example of the surgeon general in the Reagan administration, C. Everett Koop, who faced condemnation from Democrats for his anti-abortion stance but went on to make laudable efforts to combat AIDS while in office. "It is true that he has engaged in political activity, as any American citizen is entitled to," Durbin said. "I hope that does not disqualify him."
The delay in confirming Murthy, Durbin said, was "an indication of everything that can go wrong in the Senate." With the Ebola outbreak still raging in West Africa, he argued, "now we need him more than ever."