Obama's Pick to Head Immigration Agency Caught in Executive-Order Crossfire
Nominee to run ICE has cleared two Senate committees, but it's unclear if Democrats will get her approved before they lose the majority.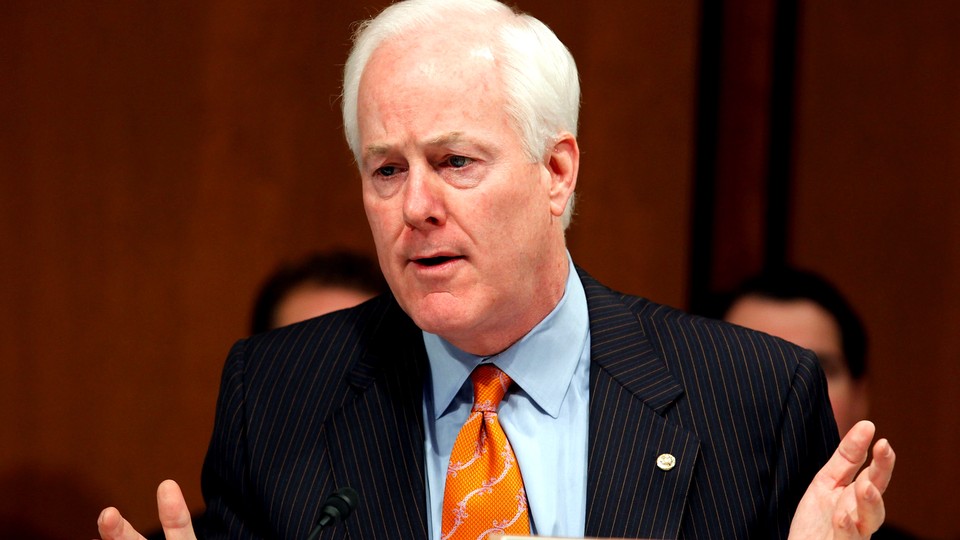 President Obama's executive action on immigration may have cost him his pick to enforce the nation's border laws.
Sarah Saldaña, nominated by the president to lead the Immigration and Customs Enforcement agency, once looked to be on a glide path to confirmation. She had earned praise for her work as the U.S. attorney for the Northern District of Texas and had the support of a key member of the Senate Republican leadership.
Then Obama made his unilateral move on immigration. And Saldaña's fate—like that of so many other issues that require bipartisan cooperation—suddenly became much more complicated.
On Wednesday, the Senate Judiciary Committee approved Saldaña by a slim margin. The 10-8 vote, split along party lines, does not bode well for the nominee's chances in a Republican-led Senate.
So Senate Majority Leader Harry Reid got to work Wednesday afternoon to lay the groundwork to bring the nomination to the floor and quickly approve Saldaña before the upper chamber gives way to a GOP majority in January. But with so much left on the legislative calendar for 2014, including nearly 130 other nominations, Democrats may not have room for a protracted fight for floor time in the majority's final days.
Saldaña was approved by the Senate Homeland Security and Governmental Affairs Committee by unanimous consent last month, and she seemingly had the support of Senate Minority Whip John Cornyn, who also sits on the Judiciary Committee.
Saldaña has served Texas well, the Republican senator said when introducing her at a committee meeting in September.
"In her role as U.S. attorney and prosecutor over the past decade, Ms. Saldaña has served our state with honor—fighting corrupt public officials, organized crime, sex traffickers, and other dangerous criminals," Cornyn told the committee. "Throughout her career, Ms. Saldaña has developed a reputation for her decisive and fair temperament and her commitment to excellence."
But in the wake of Obama's executive action on immigration, Cornyn and other Republicans have changed their tune, foreshadowing a difficult floor fight for Saldaña in the next Congress. Cornyn called for a chance to quiz Saldaña about her position on the executive action before he would support her nomination. Announced late last month, Obama's order could provide temporary relief from deportation and work permits to more than 4 million undocumented immigrants—and it has been met with scathing opposition from Republicans.
In response, Cornyn joined his Republican colleagues on the Judiciary Committee in voting against Saldaña's nomination on Wednesday. "What the president's done has made this job and the person who holds it very controversial," Cornyn told National Journal, "and this is purely a product of the president's overreach on his executive action on immigration."
That doesn't mean Cornyn won't change his mind again. If the Senate doesn't approve the nomination before January, Cornyn said the Judiciary Committee should hold a hearing to garner Saldaña's thoughts regarding Obama's unilateral action on immigration.
"What we really need," Cornyn said, "and what she needs and what we would all benefit from is an opportunity to have an open and honest discussion about all of these very controversial and sensitive issues in the Judiciary Committee."
But a hearing likely wouldn't sway all Judiciary Committee Republicans, many of whom expressed disappointment that Saldaña seemed to embrace the president's executive action on immigration in her written testimony for the committee. Cornyn's fellow Texan, Republican Sen. Ted Cruz, issued a statement Tuesday arguing that Saldaña has made it clear "she would enable President Obama's unconstitutional amnesty."
"I do not support the president's unconstitutional amnesty," Cruz said in the press release, "and therefore, cannot vote for a nominee who will be another rubber stamp for illegal amnesty. I encourage my colleagues, especially those who oppose Obama's amnesty, to oppose this nomination."