New York State Moves to Ban Fracking
Gov. Andrew Cuomo announced that the state's moratorium on the drilling practice will remain in place.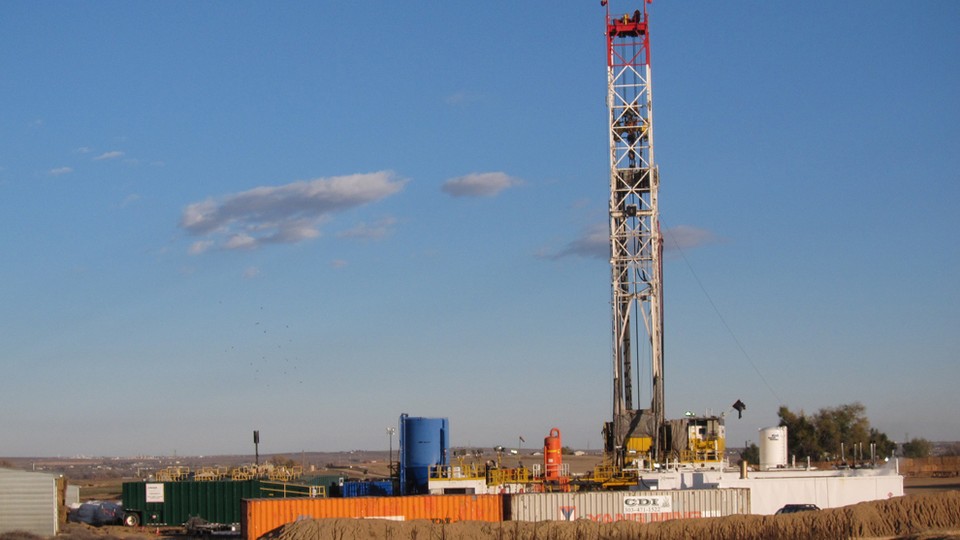 New York Gov. Andrew Cuomo announced on Wednesday that the state will not lift its ban on fracking.
The long-awaited decision marks a decisive turn in the years-long battle over fracking in New York State. Energy companies are eager to unlock potentially vast reserves of natural gas in rock underlying the state in the Marcellus Shale. But environmentalists have put strong pressure on the Democratic governor to keep fracking out of the state.
The Democratic governor's decision followed the release of a highly-anticipated health and environmental study on the impacts of fracking. The study, conducted by the Cuomo administration, concluded that while data is limited and risks surrounding fracking are not fully known, the potential adverse impacts appear significant enough for the Health Department to recommend that fracking should not be allowed.
"There are many negative health effects [of fracking]," New York State Health Commissioner Howard Zucker said, while also acknowledging that uncertainty remains: "We don't have definitive evidence to prove or disprove the health effects."
But Zucker said that, based on the science, he wouldn't want his own children living near a fracking site, a fact Cuomo said resonated with him. "If you don't believe your children should live there, I agree "¦ no child should live there," the governor said.
New York State has had a de facto ban on the controversial drilling practice, which involves high-pressure injections of water and chemicals into shale rock formations to unleash natural gas, dating back to 2008.
Neighboring states such as Pennsylvania and Ohio have reaped millions of dollars by drilling into Marcellus, the largest shale rock formation in the U.S., prompting business groups and the energy industry to argue that New York has lost out on jobs and investment.
But Joseph Martens, New York state's Department of Environmental Conservation commissioner, threw cold water on optimistic assessments of fracking's economic potential. "The economic benefits are clearly far lower than originally forecast," Martens said.
Environmentalists and energy companies alike have pushed the state to weigh in on whether the moratorium should be lifted, but Gov. Cuomo has delayed a decision on the hot-button issue pending the release of the health and environmental review.
Environmental groups such as 350.org adamantly oppose fracking in the state, saying that it will wreak environmental havoc and pose a threat to public health. New York State's fracking ban has become a flash point in a larger debate over the potential dangers of natural-gas drilling across the U.S.
Green groups cheered the decision Wednesday. "New Yorkers have made it loud and clear that we want to keep this reckless industry at bay. With this announcement, the governor has listened—and he has demonstrated both courage and national leadership on this critical issue," said Kate Sinding, the deputy director for Natural Resources Defense Council's New York program.
The oil and gas industry, meanwhile, criticized the announcement. "Today's action by Governor Cuomo shows that New York families, teachers, roads and good-paying jobs have lost out to political gamesmanship. This is the wrong direction for New York," said Karen Moreau, New York State petroleum council executive director for the American Petroleum Institute, the largest trade association for the oil and gas industry.
Opinion polls have long showed a divided public. A 2014 Quinnipiac University poll found that opposition to fracking in the Marcellus shale had risen to a high of 48 percent of voters, compared with 43 percent who supported drilling.
While the state has delayed a decision, however, towns across New York have already acted on their own to ban fracking. In 2011, Dryden and Middlefield, two towns in upstate New York, enacted a ban on fracking, which was then challenged by oil and gas companies. In 2014, however, the state Court of Appeals upheld the bans in a precedent-setting case. Currently, more than 150 towns and cities across the state have passed local fracking moratoriums.
This story has been updated. 
---
Jason Plautz contributed to this article