Marco Rubio's Cuban Conundrum
The son of immigrants who was once the GOP's future tries to elbow his way back into the 2016 conversation.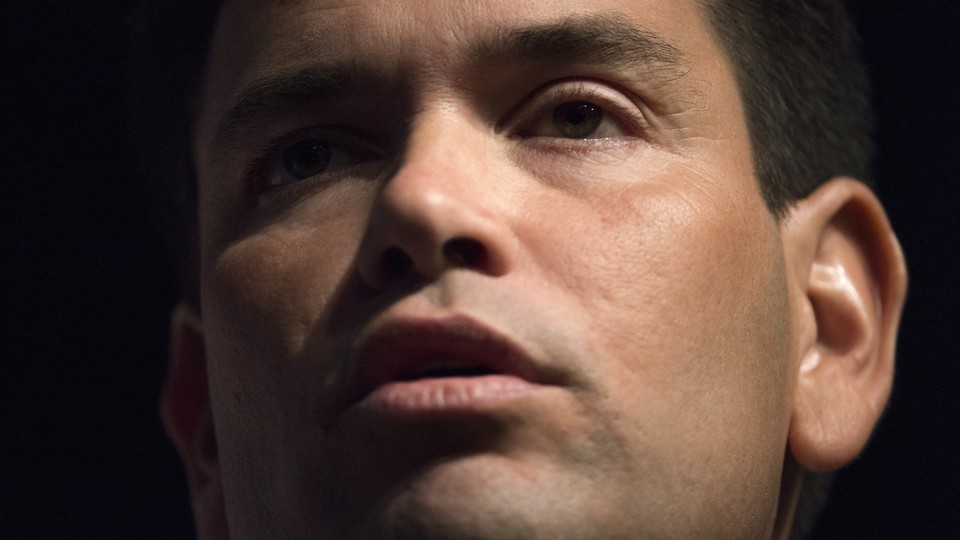 If you were watching the television coverage Wednesday of President Obama's historic shift on Cuba policy, the face you were most likely to see—even more than the president's—was that of Marco Rubio.
There he was in an interview on Fox News, and on CNN, and holding a press conference in the Capitol, all to denounce what he saw as a catastrophic capitulation to "the oppressors" in Havana. For a man who Time hailed on its cover as "The Republican Savior" just 22 months ago, it has been a good long while since he so assertively commanded the spotlight. The first-term Florida senator spent 2013 joining the push for comprehensive immigration reform, but a conservative backlash led him to adopt a lower profile in the last year.
Rubio's lesser status was never more evident than on Tuesday, when the hubbub over Jeb Bush's announcement that would he "actively explore" a presidential run reduced Rubio to an afterthought in the 2016 conversation. How could a junior senator run against a popular former two-term governor of his own state, much less one with the surname of Bush? Rubio's spokesman, Alex Conant, insisted that he just might do it. While dutifully citing Rubio's respect for Bush, Conant said "Marco's decision on whether to run for president or re-election will be based on where he can best achieve his agenda to restore the American Dream—not on who else might be running." Still, it seemed that at least for a day, a Republican Party that once saw the 43-year-old as its version of Obama was now turning back to a dynasty.
Then came Cuba. Obama's surprise decision to normalize relations with the Communist regime offered an unmistakable opportunity for Rubio, whose parents left the island for the U.S. a few years before Fidel Castro took power in 1959. He railed against the president throughout the day, calling Obama the "single worst negotiator we have had in the White House in my lifetime." He argued that by agreeing to the prisoner swap and the policy shift, the administration was "conceding to the oppressors."
"I know the nature of this regime better than the president does," Rubio declared. He drew backing from the incoming Senate majority leader, Mitch McConnell, who deferred to Rubio's judgment rather than offer up a critique of his own to the Associated Press. As a member of the Foreign Relations Committee, Rubio will gain additional sway over Cuba policy in the Senate next year, and he suggested that Obama would have a tough time getting an ambassador confirmed or securing funding to reopen a U.S. embassy in Havana. As for the president's push to end the embargo entirely, Rubio was direct: "This Congress is not going to lift the embargo," he replied before leaving the podium.
Rubio's harsh rhetoric against Obama should please conservatives, and the Cuba debate will give him a chance to show off his considerable knowledge of foreign policy. But it may not help him much with voters: Polls show more and more Americans support normalizing relations with Cuba, and the trend even extends to Rubio's cohort of Cuban-Americans.
Rubio dismissed talk of the 2016 race on Wednesday, "out of respect for the gravity of the issue," he said. And he didn't have much to say about the polling, either. "This is not a political thing," he said. "I don't care if polls say the 99 percent of the people support normalizing relations with Cuba." It's a principled stand, sure, but it probably won't make his increasingly arduous journey to the White House any easier.