How The New Republic Lost Its Place
The magazine is a victim of the rightward shift in politics, not of changes in the media landscape.
The strangest thing about the calamity that last week struck my old magazine, The New Republic, is this: It wasn't about politics. When I was coming of age in the 1980s and 1990s, TNR was known for its intramural ideological brawls. "There was a singular lack of office politics," wrote Hendrik Hertzberg, who edited the magazine for part of that time, in TNR's 100th-anniversary issue. "What we had instead was politics politics"—ongoing feuds about the Cold War, race, the Middle East, and liberalism itself.
Yet the struggle that last week resulted in the ouster of its editor Frank Foer and literary editor Leon Wieseltier and the resignation of most of the magazine's senior staff wasn't about political differences. To be sure, it stemmed from a profound difference about how to practice journalism. But ideologically, owner Chris Hughes and the editorial staff largely saw eye-to-eye, something that was often not the case between 1974 and 2010, when Marty Peretz wrote most of the checks.
Ironically, that may have been part of the problem. Under Marty, TNR's role as a liberal magazine that was frequently at odds with other liberals made it ideologically contentious and ideologically distinct. Inside the magazine, these heresies often sparked conflict. In retrospect, some of them—TNR's crusade for military intervention in Bosnia—look laudable. Others—the magazine's support for war with Iraq and its decision to publish an excerpt of The Bell Curve—look awful. But like TNR's brand of liberalism or loathe it, it was idiosyncratic. And that idiosyncrasy played a big role in Marty's willingness to lose money on the magazine year after year. If TNR went down, there would still be lots of great political journalism. But nothing would replace its peculiar ideological voice.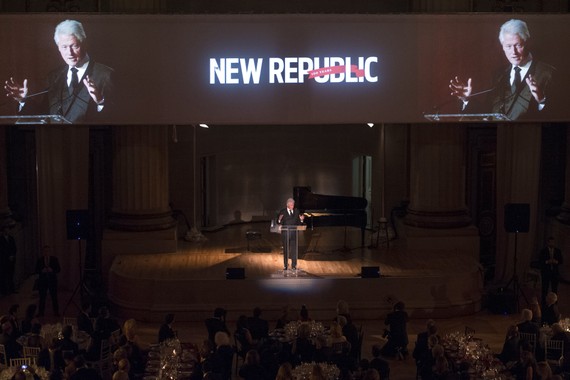 In recent years, that became less true because TNR became less ideologically distinct. And I suspect that helps explain what happened last week. Chris Hughes has more money than Marty ever did. But he was less willing to lose it because he views TNR not as a collection of causes but as a media property. If you see TNR as a crusading publication in the tradition of Partisan Review and Dissent, it makes sense to subsidize its losses. If you see it as a less successful BuzzFeed, it does not.
The fact that in recent years TNR lost much of its ideological distinctiveness is not the fault of Frank Foer or the other talented editors and writers who followed him out the door. By the time Marty sold the magazine, the kind of contrarian liberalism it had espoused in previous decades was out of date. Frank responded by eliminating unsigned editorials and trying to turn TNR into "The New Yorker of Washington"—a magazine defined less by the singularity of its political vision than by the quality of its reporting and writing. He executed that transition well. But the interesting question is why he had to. What is it about today's political climate that has made TNR's brand of left-baiting liberalism obsolete?
The key factor, I think, has been the shift of American public-policy discourse to the right. As mainstream Democrats have grown more centrist and mainstream Republicans have grown more radical, it has become virtually impossible to craft a provocative, credible form of liberalism that lies somewhere between the two.
The clearest example lies in foreign policy. In the 1980s, TNR positioned itself between a Reagan administration whose anti-communism it considered dangerous and a Democratic Party it didn't consider anti-communist enough.
That search for a third way had deep historical roots. Although too young to have witnessed the heyday of the Old Left in the 1930s, Marty still nursed a grudge against those progressives who had apologized for Stalin. Long after anyone except for a few octogenarian anti-anti-communists on the Upper West Side still cared, TNR kept trying to prove that Julius and Ethel Rosenberg had been Soviet spies.
TNR's historical indignation toward the Old Left was nourished in the 1980s by battles with the remnants of the New Left born during Vietnam. The magazine avoided the crackpot revisionism of Norman Podhoretz and other neoconservatives who insisted that, absent a failure of American will, Vietnam could have been won. But neither did TNR believe Vietnam had discredited the Cold War. While critical of Ronald Reagan, the magazine still believed he was right to seek ways of pressuring the Soviet empire. That led TNR to editorialize against the nuclear freeze and in favor of Reagan's missile deployments in Western Europe and aid to the Nicaraguan Contras—all stances that placed it at odds with most of the intellectual left, and with some of the magazine's own writers.
Even when the Cold War ended, TNR's battle with the left over the legacy of Vietnam continued. In 1990, most respectable liberals, and most Democratic politicians, opposed the Gulf War. TNR, by contrast, joined with George H.W. Bush and the GOP to support it. That decision owed something to the magazine's passionate (or obsessive, depending on your perspective) support for Israel. But TNR's hawkishness was about more than Zion. In the mid-1990s, when many liberals saw the Balkans as another Vietnam, TNR was maniacal—and eloquent—in its support for humanitarian war there. As in the Reagan era, TNR's hawkishness did not make it a clone of the right. (Many conservatives opposed the interventions in Bosnia and Kosovo, and even those who supported them offered national-interest rationales rather than humanitarian ones.) But in insisting that there were foreign enemies—be they Leonid Brezhnev or Slobodan Milosevic—who posed a greater threat to global decency than did the 101st Airborne, TNR was doffing its cap to a core argument of the American right.
The problem came under George W. Bush. After 9/11, TNR again positioned itself between a hawkish Republican president and his liberal opponents, as it had during the 1980s. But because in the intervening decades the entire terms of foreign-policy debate had grown much more hawkish, the analogy proved horribly misguided. By 2003, the magazine's image of Democrats as Vietnam-scarred pseudo-pacifists was long out of date. The Gulf War and the Balkan interventions had birthed a Democratic foreign-policy class far more comfortable with the morality of war, and far more fearful of the political costs of opposing it. For their part, George W. Bush and Dick Cheney were proposing an invasion far riskier than anything Reagan or George H.W. Bush had contemplated. Attacking Democrats as insufficiently interventionist may have made TNR creative and vital in the 1980s and 1990s, when the kinds of militarily interventions being proposed were more modest. But by 2003, during the Iraq debate, it made the magazine reckless. (My book, The Icarus Syndrome, which I wrote in part to expiate my guilt for having supported the Iraq War as TNR's editor, discusses this in detail).
On foreign policy, TNR never recovered from Iraq, which is a good thing. Unlike the Bill Kristol and John McCain types who pretended that the "success" of the Iraq surge vindicated the initial decision to invade, TNR was genuinely changed by the war. It stopped defining itself as the liberal magazine that urged other liberals to be more pro-war. But since jettisoning that foreign-policy identity, TNR has not found a new one. On Russia, TNR—led by Julia Ioffe—took a strongly anti-Putin line. On Syria, Leon Wieseltier advocated humanitarian intervention, as he had in the Balkans. But on many of the key debates of the Obama era—troop withdrawals in Iraq and Afghanistan, drone attacks, Iran—TNR took no clear position at all. Even the magazine's traditional hawkishness on Israel receded.
By the Obama era, The Nation—which for decades had critiqued Democrats for being insufficiently dovish—retained a distinct foreign-policy voice. TNR—which had made its name critiquing Democrats for being insufficiently hawkish—no longer did.
Over the same period, TNR's domestic-policy voice also grew less distinct. In the 1980s and 1990s, while the magazine was pushing Democrats to the right on foreign policy, it was doing something similar on domestic issues: demanding that they reform welfare, use markets rather than government bureaucracy to solve social problems and get tougher on crime.
In the era of Walter Mondale, this felt edgy. But during the 1990s—for good and for ill—TNR's New Democratic agenda triumphed. Clinton eliminated the budget deficit, reformed welfare, deregulated the financial-services industry and, along with governors across the country, locked vast numbers of people up. Meanwhile, a new generation of conservative radicals led by Newt Gingrich began challenging the welfare state in ways Reagan had never dared. By 2009, Gingrich and his heirs were calling Obama a socialist for proposing a version of health-care reform that many leading Republicans had once embraced.
As the domestic-policy debate—like the foreign-policy debate—shifted right, it eliminated the need for a liberal magazine that criticized other liberals for being too far left. It had been one thing to triangulate between Ted Kennedy and Bob Dole. It was quite another to triangulate between Obama and Ted Cruz. In 2011, the Democratic Leadership Council, TNR's old ally in pushing Democrats to the center, closed its doors because its agenda had been largely achieved. For its part, TNR stopped positioning itself to the right of the Democratic mainstream and threw itself into the battle against conservative radicalism. Led by exceptional policy analysts like Jonathan Cohn and Noam Scheiber, it played that role well. But TNR no longer occupied a distinctive ideological niche. On the major domestic-policy battles of recent years, TNR's perspective was virtually identical to the one espoused by Ezra Klein, The New York Times, and MSNBC. That's not a criticism. Had the magazine tried to remain a half-step to the Democratic Party's right in an era when the entire policy debate had shifted right, it would have repeated the mistake it made on Iraq.
Different political eras create openings for different kinds of arguments. The role TNR played in the Reagan era—when it demanded that liberals grapple more seriously with insights from the political right—is now being played by reform conservatives like David Frum, Reihan Salam, and Yuval Levin, who are demanding that their side grapple with insights from the political left.
In fact, in this era of wage stagnation, crumbling infrastructure, and mind-numbing inequality, even today's Democratic Party could use an intellectual challenge from the left. Just as TNR helped develop the centrist critique of the Democratic Party that Bill Clinton ran on in 1992, there's a need for writers able to help develop the progressive critique of the Democratic Party on which Elizabeth Warren, or someone else, can one day run. That critique could include a challenge to the bipartisan hawkishness that a decade after Iraq still permeates Beltway discourse. It's remarkable how rarely prominent liberals argue that America can deter a nuclear Iran, or that ISIS isn't a grave threat. If TNR made itself vital in the 1980s and 1990s by standing to the right of the Democratic Party elite, the open and interesting space today is to that elite's left.
Whoever fills these open spaces with a contentious, crusading journalism will be The New Republic's true heir.