House GOP Wants Omnibus to Block D.C. Pot Law
Republicans push a provision to prevent the city from using its own money to legalize marijuana, but Democrats are opposed.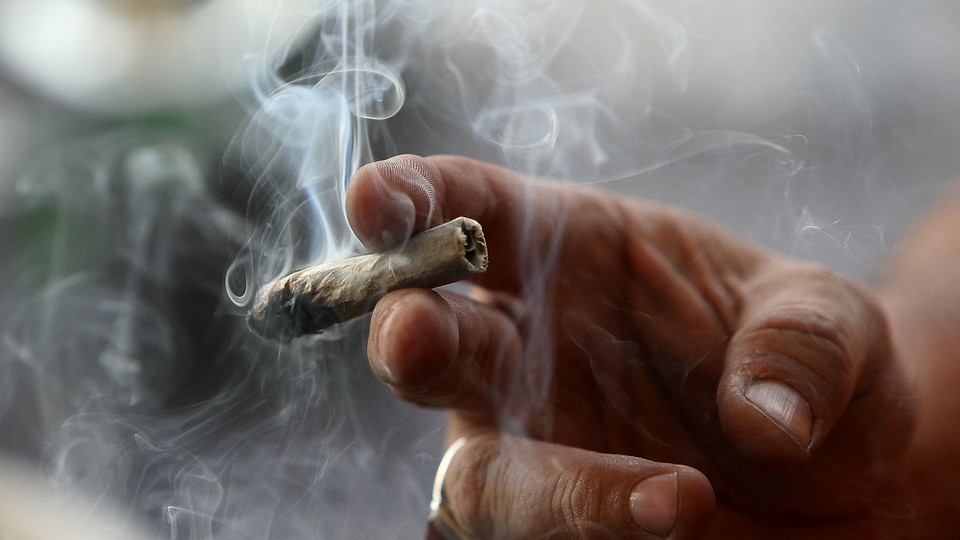 House Republicans are fighting to roll back the District of Columbia's recently passed marijuana legalization initiative in the midst of high-level negotiations over the national budget, according to several Democratic and Republican sources.
Republicans are insisting on including a provision in an omnibus spending bill that would ban the District from using local funds to carry out the legalization measure, which was passed overwhelmingly by ballot initiative in November.
A proposal to disallow the city from using local funds to carry out the decriminalization of marijuana was attached to the House Financial Services and General Government appropriations bill when it passed the full Appropriations Committee this summer, and this latest measure being discussed would carry a similar ban.
House Appropriations Committee Chairman Harold Rogers has been a vehement opponent of relaxing drug laws, animated by the spread of methamphetamine and prescription-drug use in his home state of Kentucky. Both he and Speaker John Boehner favor limiting the city's ability to carry out the initiative, according to sources in both parties.
"The speaker obviously supports the provisions in the House-passed bills, but we are not directly engaging with Democrats on this issue," said Boehner's spokesman, Michael Steel.
Rogers's office declined to discuss any specific riders being negotiated, but noted that he supports the bills passed by the House.
"We are fighting for all House policy provisions," Rogers spokeswoman Jennifer Hing said.
Republican Rep. Andy Harris of Maryland, the author of the amendment passed this summer, has been pushing hard to disallow the ballot initiative to go into effect, but District of Columbia leaders and activists will be infuriated if Congress passes such a funding ban. Local authorities have little say in the matter, however: Congress is able to override local law because it has final say in how the District can spend its money.
The White House said in a policy statement released after the House passed the Financial Services and General Government bill that it "strongly opposes" any efforts to direct how the District enforces its laws. Congressional Democrats, including Senate Appropriations Committee Chairwoman Barbara Mikulski, are opposed to the marijuana rider as well, but if Republicans make the proposal central to their demands, it remains uncertain how hard Democrats will fight to keep it from becoming law.
That is because the issue is just one of hundreds of potential appropriations amendments being negotiated, as Congress is less than two weeks away from a lapse in government funding. It is unclear if the marijuana amendment will be in the final bill that appropriators have said they will unveil no later than Tuesday.
But in the past, Congress has allowed riders into bills that override locally passed D.C. law. Some current riders, ones that will almost certainly be in the final legislation, limit the District from spending local funds on abortion and federal funds on needle-exchange programs.
There would likely be at least some bipartisan opposition to the rider. This past year, the House passed a few pro-marijuana bills, indicating that the chamber may be disinclined to block the District from carrying out its law. In May, the House passed an amendment that would ban the Justice Department from using funds to hinder states from carrying out medical marijuana laws. Another amendment passed by the House would keep the federal government from impeding state industrial hemp laws.
But it is not clear that the opposition would be strong enough that members would vote against a sweeping bill funding every aspect of the federal government and face a government shutdown if it fails.
House and Senate appropriators have been meeting every day to whittle down the list of potential riders, with other legislation targeting everything from Environmental Protection Agency regulations, the Affordable Care Act, and the Internal Revenue Service to whether the government will fund high-speed rail in California.
Even these national issues have been overshadowed in the public discussion over spending negotiations, as some Republicans have insisted the appropriations process be used to stymie President Obama's recent executive action granting work visas to millions of undocumented immigrants living in the United States.
Congress must pass appropriations legislation by Dec. 12.
Since the D.C. Financial Control Board ended its activities in 2001, Congress has mostly left the District to govern its own affairs. But Congress still has the authority to tell the city how to spend its money and occasionally does so, with abortion being the most common battleground issue.