GOP Governors Eyeing the White House Have Plenty to Lose at Home
The road to the White House comes riddled with potholes for four Republican governors as they prepare for 2015's legislative sessions.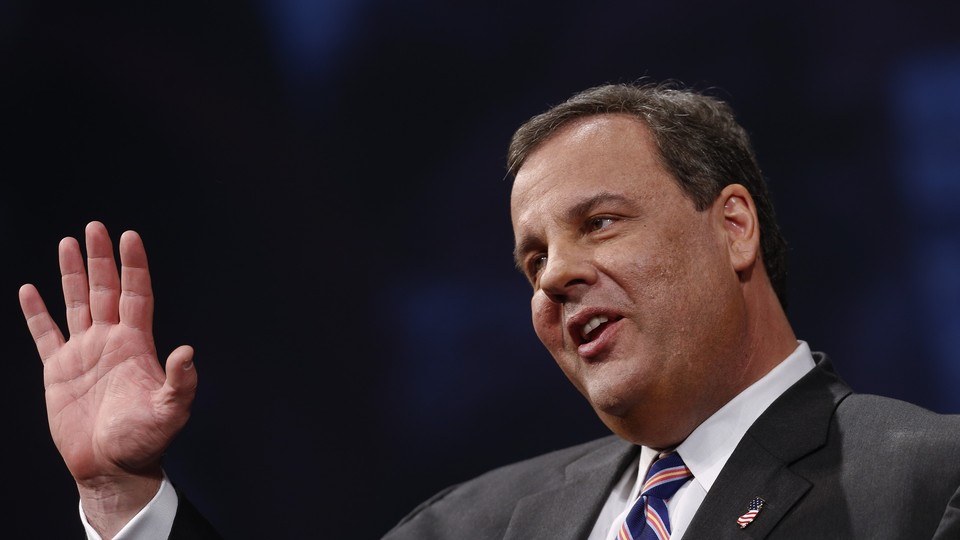 Wielded well, the power of a governor can serve as a massive advantage in the prelude to a presidential run. It's a chance to cement a set of legislative achievements to tout on the campaign trail, and it provides a high-profile platform for espousing one's vision of how a government ought to be run. But the perch also comes with a risk: If the home-state environment sours—via a protracted partisan struggle, the stalling of a signature initiative, or even a poorly phrased statement—a governor's final bit of legislative business can be damaging for a candidate, or even rule out a run entirely.
That's the dilemma facing New Jersey Gov. Chris Christie, Wisconsin Gov. Scott Walker, Ohio Gov. John Kasich, and Indiana Gov. Mike Pence. All four are potential 2016 contenders, but all four have to get through 2015 first. And each member of the quartet faces challenges: Christie must tend to New Jersey's ongoing fiscal problems, while Walker will try to avoid prolonged partisan battles that could delay his timeline in Wisconsin. Meanwhile, Pence and Kasich will be defending their signature achievements.
Here's a look at what's on tap in each of the four states:
NEW JERSEY
Christie has a fiscal mess on his hands in 2015, as he'll grapple with transportation-funding struggles and the state's pension system. But unlike the other other three governors, he'll have to handle them while working through a state legislature controlled by Democrats.
New Jersey's transportation trust fund will run out of money by June 30. Democratic lawmakers want to increase the gas tax to address the funding disparity, and while Christie hasn't ruled out that possibility, raising taxes just before running for the GOP nomination is not a desirable option for the governor. During his monthly appearance on WKXW-FM this week, Christie reiterated that "everything is on the table for discussion, but that there has to be fairness to the people of New Jersey and how we do this."
Additionally, the fight over the state's pension system will continue to spill over into the New Year. Back in May, Christie cut the payments that were scheduled to be made to public employees' pension funds over the following 14 months by roughly $2.4 billion, to deal with a budget shortfall. The trustees for the state's largest pension funds sued Christie last week, demanding he make the payments. However the legal battles turn out, Christie and the state legislature must decide how to fund the pension system in the new budget, which is due by the end of June. The pension-reform deal Christie struck with state lawmakers back in 2011 was once seen as one of his signature achievements (he even touted it during his speech at the 2012 Republican National Convention), but now the issue is looking like more of a vulnerability.
Christie is expected to outline more specific plans during his state of the state speech in January and budget address in February.
WISCONSIN
In Wisconsin, Scott Walker is hoping to use the upcoming legislative session to advance a conservative agenda that he could use as a framework for a presidential run. His stated goals include reducing property taxes, expanding private-school vouchers, and requiring drug tests for welfare recipients, some of which will be part of his budget plan scheduled to be unveiled in late January.
But he is also walking a thin line over a pair of initiatives popular among his conservative base but unpopular among the broader electorate—including right-to-work and the repeal of Common Core standards. These issues come on top of a projected $2.2 billion state budget deficit. Walker has repeatedly called right-to-work a "distraction" and this week he walked back prior calls to fully replace Common Core with local standards, saying he instead wants schools to have more choice and remove any rules mandating use of the national standards.
The governor has said he wants to move quickly on his agenda, presumably so he can start spending more time laying the groundwork for a presidential bid. For this reason, Walker doesn't appear particularly eager to engage in big, drawn-out partisan fights. Another round of protests from Democrats like those staged in 2011 over labor laws could slow things down even more than any disagreement among state Republicans over whether or when right-to-work or Common Core should be approached. State labor leaders are already prepared to fight right-to-work, and they certainly won't be accommodating Walker's presidential schedule as they do it.
OHIO
Gov. John Kasich's team is also keeping his legislative priorities relatively hush-hush until February, when he'll roll out a two-year budget proposal, but one of the hottest topics within the budget will be the renewal of federal funding for Medicaid expansion, which was first obtained by Kasich in 2013 and will expire on June 30 of next year.
Kasich bucked his party last year to win approval for the $2.5 billion in federal funds by using the bipartisan state Controlling Board to circumvent the legislature, which rejected expansion. In 2015, Kasich will have to persuade previously uncooperative lawmakers to continue the funding, or risk pulling the plug on the 475,000 Ohioans expected to be enrolled by June.
Even some of the program's biggest opponents are predicting the next-level fight over Medicaid expansion won't be as contentious as the last. Maurice Thompson, the executive director of the Columbus-based 1851 Center for Constitutional Law, led the lawsuit that was filed against Kasich for the workaround involving the Controlling Board. Kasich's actions were upheld by the Ohio Supreme Court late last year, and in the wake of that decision Thompson concedes there's little motivation for Republican legislators to fight for a total scrapping of the program since Kasich already demonstrated he can act independently of them and win.
"I don't think there's any political will to stop it," Thompson said.
Ohio is one of nine states with full-time legislatures that meet year-round—along with New Jersey and Wisconsin—but legislators will break for a long summer recess after the budget is passed, potentially freeing up time for Kasich to wade into the presidential primary.
Still, Thompson's attitude toward Kasich's presidential ambitions encapsulates the trouble the governor could face with a conservative GOP base unimpressed by his centrist policy pursuits. "If he runs, we at least hope he could win, or if not, that he'd get picked as vice president," Thompson said. "At least then he'd get out of Ohio so he could do less damage here."
INDIANA
Indiana already has the largest school-voucher program in the country and became the first state to opt out of the controversial Common Core standards earlier this year. But Pence isn't done leaving his mark on the state's education system.
When the GOP-controlled legislature convenes at the beginning of 2015, Pence plans to push lawmakers to boost funding for the state's charter schools and lift the cap on the value of private-school vouchers in hopes of expanding the program to lower-income families.
While some legislators have expressed concern over how to pay for the plan, Pence's proposals give the Republican an opportunity to shore up his support with the conservative base of the party on a hot-button issue and show that he is serious about governing.
"These are the type of issues that can set you apart," said Indiana GOP consultant Pete Seat, who previously served as the state party's communications director. "To say that, 'I'm not just here, throwing rhetorical bombs, getting myself on cable news—I'm serious about policy, I'm serious about results.' "
After cutting inheritance, personal income, and corporate income taxes last year, Pence said he's open to additional tax reductions in the next budget, but GOP leaders in the legislature haven't shown a desire to cut taxes further. Pence has said that he will decide whether to enter the presidential race sometime after the legislative session ends in April, and if all goes according to plan, he may have a few more lines on his resume to boast.