Face Time
How do members of Congress become TV fixtures? It helps to follow a few basic rules.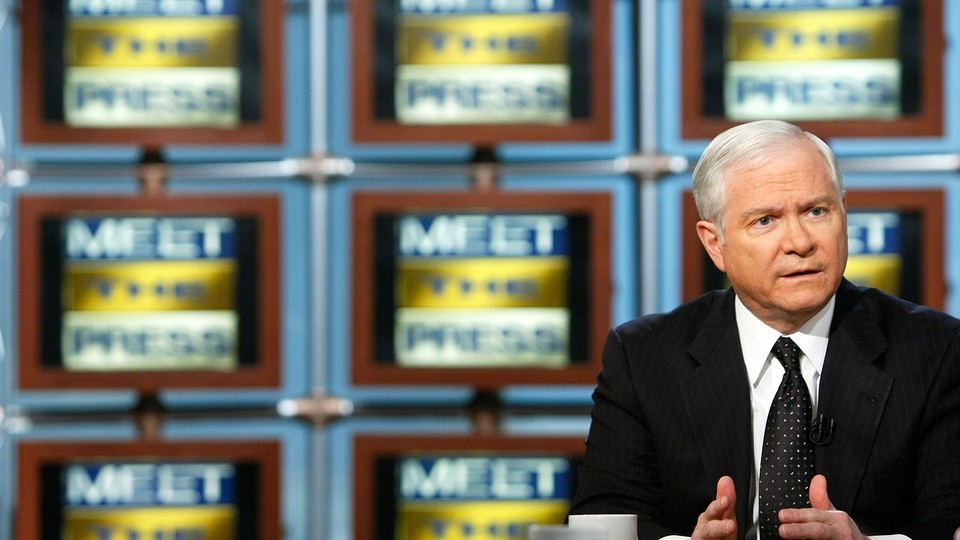 On May 20, 2013, Sarah Corley watched television helplessly as a tornado more than a mile wide barreled down on Moore, Oklahoma, the hometown of her boss, Republican Rep. Tom Cole. Corley, who's Cole's communications director, watched the ball of debris grow bigger and bigger as it approached and then laid waste to the Oklahoma City suburb, killing 24 people. It was a tragedy. And any time a tragedy happens, media outlets want to hear from officials who have a personal connection.
Defense Secretary Robert Gates during a taping of NBC's Meet the Press. (Alex Wong/Getty Images)"As soon as it went through Moore, the phone just started ringing off the hook," Corley recalls. "I don't think I left the office until midnight that night. Requests kept coming. We were scheduling as much TV as we could. It was a long night."
For a communications director, this was a trial by fire. Everybody, it seemed, wanted Cole on air: ABC, CNN, MSNBC, Fox, local stations, radio shows, you name it. But Corley didn't ignore a single contact—and to this day, she still doesn't. It's an approach she recommends to any congressional staffer who's charged with press relations. "Since then, my motto has always been to acknowledge every request," she says. "If it doesn't work out, I always encourage the booker or the producer to stay in touch with me and keep the congressman in mind for the future. There is never any unimportant request or person."
Since the tornado, Cole has become a regular panel member on ABC's This Week With George Stephanopoulos, and a frequent cable-news guest. Corley credits those media opportunities to strong relationships with bookers and producers; she also cites Cole's "reasonable voice" on issues of the day.
Many members of Congress would love to become regulars on national programs, but no one gets to the exposure level of a John McCain or a Chuck Schumer overnight. Congressional aides who have succeeded in putting their bosses forward have found a few keys to making it happen. First, it helps to package the member as "an expert on something," and to really focus on what makes him or her relevant to the news cycle, says a former cable-news producer who's now a Republican staffer. "The biggest thing that press aides often miss is an opportunity to connect their boss to the news of the day and the news cycle itself." That's the media strategy that Rep. Adam Kinzinger, a young veteran of the Iraq and Afghanistan wars, successfully followed to become one of the more prominent hawks on Capitol Hill—a McCain of the lower chamber, battling what he sees as the GOP's isolationist drift. The Illinois Republican gained national attention from news outlets on both the right and the left for his knowledgeable and tempered performance when then-Secretary of State Hillary Clinton testified at a House hearing on the terrorist attack in Benghazi, Libya—and Kinzinger's staff built on that. Since the hearing, he has made the rounds of the Sunday shows, including This Week, State of the Union, Meet the Press, and Face the Nation. Pretty good for a member with no seniority, and no committee (or subcommittee) chairmanship.
"When foreign policy issues come up, it's not a difficult pitch to say, 'Representative Kinzinger would be a great voice on this," says Zach Hunter, his communications director. "And he's going to do it in a reasonable, respectful way. He's not going to throw bombs to chase the sugar high of the next television hit. It's going to be a substantive push to move the needle on foreign policy."
Hunter has a long list of do's and don'ts for dealing with the press: For starters, make the extra effort to write pleasant emails to reporters, producers, and bookers—but don't pitch your boss 300 times a day. "You want to be friendly, you want to be accommodating, but you never, ever want to come off as desperate," Hunter says. "Coming across as desperate is a turnoff to bookers, to reporters. They can smell when a flack needs to get their boss out there." When you do make a pitch, he says, give it to 'em on a silver platter, including background and talking points, and always make clear why it's relevant to the current news cycle. And once you have a booking, get your member of Congress to the studio 20 minutes early so producers won't panic.
The common thread to successful press operations is a recognition that members of the press are not adversaries. Look at it as a mutually beneficial relationship, Hunter and the others advise. Communications directors need to get their bosses on TV, after all, and producers need to fill their shows. Being responsive and receptive count for a lot. While shows like to feature guests who can help them make news, the former producer says, it often comes down to something more basic: "We look for somebody who also is just available."
Correction: A previous version had the incorrect date of the Moore tornado.