Elizabeth Warren's Star Is Rising, and Republicans Are Delighted
The battle over the spending bill showcased the Massachusetts senator's role—and handed the GOP a talking point.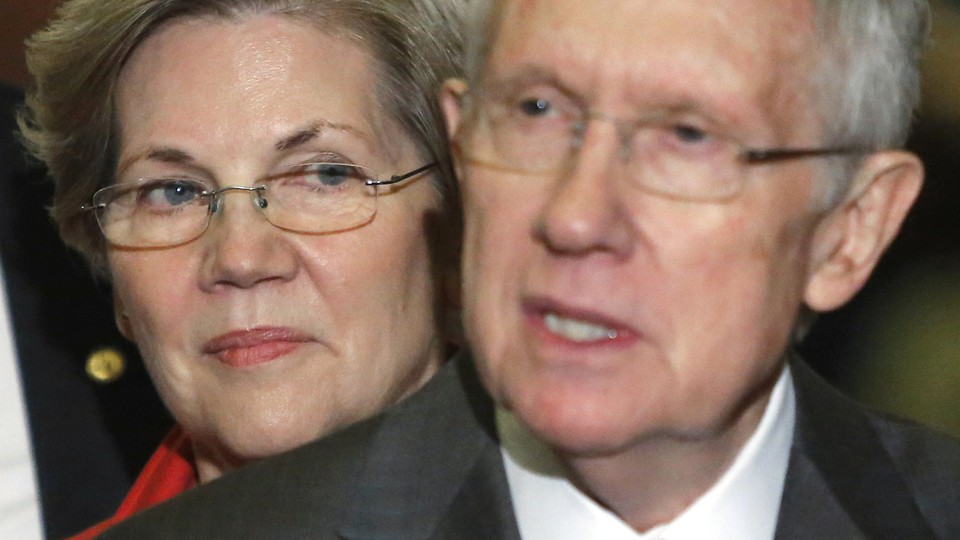 With congressional compromises collapsing all around them and facing a pending government shutdown, Republicans are testing a new message: Blame it all on Elizabeth Warren.
In less than 24 hours this week, two bicameral deals over must-pass legislation appeared near collapse. Congress needs to extend federal funding if it wants to keep the government running, and it is also facing the expiration of a terrorism insurance program that lawmakers from both parties are set on extending. But both deals hit turmoil in their final hours, in part over planned additions to the legislative packages that would pull back parts of the Dodd-Frank Wall Street-regulation law.
As stalemates loom, Republicans aren't putting blame for the impasse on Harry Reid, or on Nancy Pelosi, or even on President Obama. They're targeting Warren: One Republican aide griped anonymously to Politico that if the deals collapsed, it was because of Warren's influence over the rest of the party.
How much power the Massachusetts Democrat has over negotiations, however, is an open question. Staffers on both sides of the aisle involved in the discussions over the omnibus spending bill and Terrorism Risk Insurance Act say Warren was not party to any of those talks. Instead, Senators Barbara Mikulski and Chuck Schumer lead those negotiations, respectively. And given Warren's frantic reaction to the provisions when they became public this week, it appears she was just as shocked by last-minute changes to Dodd-Frank as everyone else.
Republicans say Warren is responsible nonetheless. "Being present in the room is not necessary to have your presence felt," Republican National Committee spokesman Sean Spicer explained. "Every leading Democrat feels like Elizabeth Warren is looking over their shoulder to go further to the left."
The swiftness with which Republicans blamed Warren signals that they see her as both a threat and an easy target. And as Warren's star rises within the Democratic Party, it's a tactic that promises to see much more airtime.
Warren was recently named to Democratic leadership (she won't actually take her seat in soon-to-be Minority Leader Reid's office until January) and while she's repeatedly said she won't run for president, she's often mentioned as a potential contender in the race—though not unless Hillary Clinton takes a pass. But she has no committee chairmanships and, for now, little real power in the Senate. Warren is the least-senior senior senator in Congress, having served for less than two years.
Republicans see Warren as a way to paint the Democratic Party as increasingly beholden to its liberal wing and removed from moderates. (Democrats take the same tact with Republican Senator Ted Cruz, often referring to the Texan as "Speaker Cruz" to imply that his wishes hold sway in the House.)
Warren is hardly the only Dodd-Frank champion among congressional Democrats. And she's far from alone in opposing the changes pushed by Republicans this week. Liberal icons like Senator Sherrod Brown and even Wall Street-aligned Democrats like Schumer oppose the Dodd-Frank reforms. "It's not unique to her," one senior Democratic aide said, adding that many Democrats see using the deals to reopen Dodd-Frank as a nonstarter. "I don't think her being outspoken on it has made other people outspoken."
But other members of the Democratic Conference in the Senate aren't seen as rising stars the way Warren is. Few are considered potential presidential candidates. And none serves as well in the role of liberal specter over the next two years as Warren will, particularly now that she is a member of leadership. "The more exposure she gets, the better for us," Spicer said. Warren could easily become a poster-woman for the Democratic Party over the next two years, he argued, serving the same purpose as Pelosi and Reid have in Republican advertising and strategy.
Of course, Warren isn't as well known as Pelosi or Reid—and certainly not Hillary Clinton—and the Republican focus on her will only serve to increase her national profile as she contemplates moving up in the political sphere. But Republicans argue that Warren's popularity is limited to a specific constituency; sure, she could do well among Democrats, but she'd have a hard time appealing to the center. In highlighting her, Republicans are betting that the negatives will outweigh the positives.
"You're building them up, but in the process of building them up you're making them so unviable," Spicer said. "If you told me today that Hillary Clinton had announced that she isn't running [for president] and Elizabeth Warren is, I would be doing the biggest jig in my office."
But the senior Democratic aide simply pointed to the 2014 elections, when Warren traveled the country on behalf of Democratic candidates, drawing huge crowds. "Look at how many people show up when she goes and campaigns, even in red states," the aide said. "She has the pulse of what people are anxious about ... that there's a system that is working against growing wages and better-paying jobs. And that's exactly why people are crying out for. And that's why she resonates in Massachusetts, that's why she gets invited to places like West Virginia, Kentucky. She has a message for all audiences. It's a universal message."
Republicans plan to use that very message against Warren. Republican pollster David Winston notes that in 2008, exit polls showed that Americans felt that government should do more by an 8-point margin. In the wake of the 2014 midterm elections, that number flipped significantly; Americans now prefer that government do less by a 13-point margin.
"[Warren's] whole focus is government being the solution. What she's saying and what the public is saying are two different things," Winston said.
Democrats disagree. In a speech last month at the National Press Club, Schumer mounted a strong defense of a pro-government Democratic Party, pointing to Gallup polling that has shown that about a third of Americans prefer a more active government, a third prefer less government intervention, and a third want something in the middle. Those numbers have hardly changed since 2010. Warren, who will work under Schumer when she joins the leadership team, is a key part of spreading that message.
Warren's promotion to leadership only reinforces the idea that she speaks for the party as a whole, Winston and Spicer said. And as she gains influence within the conference, they say, it only helps Republicans. "I understand why Harry Reid and Democrats put her in leadership, but I wouldn't be surprised if a year or more from now they regret that," Spicer said.
But Warren's influence isn't limited to just the Senate. Pelosi forwarded a copy of Warren's entire floor speech on her objections to the Dodd-Frank provision in the omnibus to reporters Wednesday. And the grassroots effort lead by MoveOn.org, Ready for Warren, and other liberal groups to draft Warren to run for president is only raising her profile even higher.
Warren is hardly walking away from that position. She spoke at length on the Senate floor Wednesday, saying she would vote against the omnibus spending bill that will keep the government's doors open over the Dodd-Frank provision. She has worked tirelessly over the past few days to unite Democrats in the House and Senate around the issue, even holding a press conference with colleagues in the House urging Democrats in the lower chamber to pull their support from the bill until the Dodd-Frank language is removed.
And House Democrats did just that, forcing Republican leadership to pull the omnibus at the last minute and huddle with their members over how to pass the bill with just hours remaining before a scheduled government shutdown.
Warren wasn't alone in her opposition to the Dodd-Frank changes, but she was among the most vocal. For Republicans, that's good enough.