Clinton Will Need to Win Over the Black Voters That Landrieu Couldn't
The likely Democratic presidential nominee needs to duplicate, or at least come close to duplicating, Obama's performance among African-Americans. It's a tall task.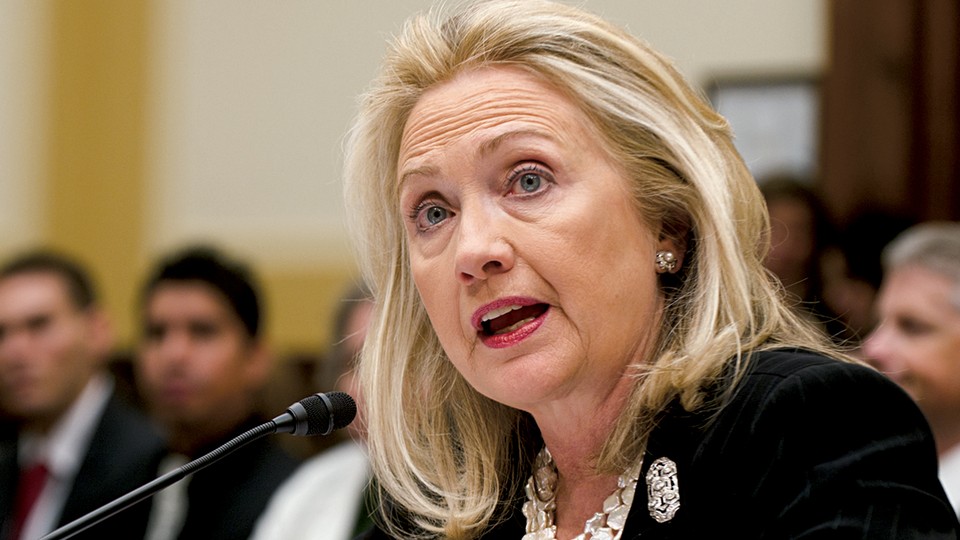 Mary Landrieu lost her runoff race Saturday because President Obama isn't well-liked, national Democrats abandoned her, and, statewide, Louisiana pretty much only elects Republicans. But Democrats and their likely presidential nominee, Hillary Clinton, might squirm the most over her defeat for a different reason: The longtime senator couldn't get enough support from African-Americans.
Like Landrieu, Clinton (or whoever becomes the party's standard-bearer) will try to win over black voters at the same rate Obama did in both of his presidential campaigns—only in 2016, she will have to do so without the benefit of the nation's first black president on the ballot. The challenge proved too daunting for the Louisiana lawmaker, whose 10-point defeat was in part because of a likely decline in black turnout from her November all-party primary.
Clinton's task will be easier because black voters (along with Latinos and young people) traditionally vote at higher rates in presidential races than midterms. And it's assured that when they vote, she'll win the overwhelming support of the party's most loyal constituency. At the same time, it's close to a given that her candidacy, while historically significant in its own right, won't generate the same enthusiasm in the black community that Obama's did.
The question, then, isn't whether a post-Obama Democrat will do well with black voters; it's whether the nominee can do as well with African-Americans as Obama did during his campaigns, when blacks supported him at record rates. In a close race, with Democrats already struggling to hold on other parts of their coalition, even a small decline could prove fatal.
"Just a little bit of a pull back for a Democratic candidate will make winning a lot more dicey," said William Frey, a demographer at the Brookings Institute.
Democrats have to keep two metrics in mind when considering black votes in 2016: blacks' turnout rate and what share of them would vote for Clinton. An examination of the duo in recent elections sends mixed signals about Clinton's hopes for matching Obama's performance.
It's true that turnout—a measure of how many people voted relative to how many are eligible to vote—among blacks in 2012 was the highest it's ever been since the Census Bureau started tracking turnout rates in 1978. According to a 2013 Current Population Survey from the Bureau, 66.2 percent of blacks voted in the last presidential election. (It was also the first presidential race in which the black turnout rate exceeded the white turnout rate.) That broke the previous record, set in 2008, when 64.7 percent voted.
But black turnout was increasing every presidential election long before Obama arrived. It hit a low of 53 percent in 1996 before rising to 56.8 percent in 2000. Four years later, it jumped to 60 percent. It's difficult to imagine that Obama's popularity didn't push turnout higher in each of his election, but it's possible that it could have continued rising on its own even without him.
Obama also won an unusually high share of the black vote—but not by much. He won 95 percent in 2008 and 93 percent in 2012. Both are marginally higher than the 88 percent of support John Kerry won in 2004, or the 90 percent Al Gore won in 2000.
Helping Clinton will be the fact, according to the demographer Frey, that the African-American community continues to grow as a share of the country's total population. So even at lower turnout rates, blacks could continue to make up the same share of the overall electorate.
Nonetheless, he adds, it will be hard to Clinton to match or exceed Obama's performance.
"Obama is an incredibly charismatic candidate," said Frey. "He came out of nowhere largely because of his charisma and what he stood for. I think any candidate would have a hard time repeating his performance in that kind of situation."
Clinton does have some things going for her as she begins courting the black voting bloc. African-American women, for one, could identify with the first female presidential nominee of a major party. The Republican presidential nominee might alienate black voters during a heated presidential primary, either rhetorically or with part of his platform. And while her husband, former President Bill Clinton, strained relations with the black community during the 2008 Democratic presidential primary, he possesses a revoir of goodwill leftover from his two terms in office.
Former advisers to Hillary Clinton say she doesn't start from scratch with blacks, but she does need to craft a message and agenda that appeal to the community.
"They have a built-in level of credibility," said Silas Lee, a Democratic pollster who has worked for the Clintons before. "But you can never take that granted. She has to reintroduce herself."
But the difficulty Landrieu faced in her own race this year demonstrates how Clinton's attempts to appeal to the black community can backfire on her candidacy. The senator earned an incredibly high share of Louisiana's black vote on Election Day last month, according to exit polls. Ninety-four percent of blacks voted for her—higher even than what Obama received in his last election.
What hurt Landrieu was her performance among white voters—just 18 percent of them backed her. And that's not a coincidence, some of the state's political experts say, because the diligent effort she made to attract African-Americans had an equal reaction of pushing away white voters.
Landrieu backed expanding background checks on some gun sales and refused to denounce her vote for Obamacare—ostensibly because doing so would harm her support within the black community. And before the election, she said racism contributed to Obama's unpopularity in the state.
"If you do what Mary Landrieu did and you make so much of your campaign about turning out the black vote, then you get in big trouble with the white vote," said Elliott Stonecipher, a nonpartisan political analyst in Louisiana. "And that is exactly what happened here."
He added that he already sees evidence of Clinton making the same mistake. Following the decision of a Staten Island grand jury not to indict the police officers after the death of Eric Garner, the former secretary of State delivered a speech in which she talked about the "hard truths" that African-American men are disproportionately targeted by the criminal justice system.
"I think many people watched her comments last night and she was over the line," Stonecipher said. "I think that's the kind of thing she's not going to be able to do."
It's debatable whether Stonecipher is right: Garner's case has not elicited a racially polarized reaction, certainly not the same degree that Michael Brown's death in Ferguson, Mo., did.
EDITOR'S NOTE: A version of this article published Sunday night with the Dec. 8 email edition of National Journal Daily was incomplete. This updated version includes the full text of the article.