Obama Wants Congress to Let Him Hunt ISIS Anywhere
Secretary of State John Kerry asked lawmakers not to constrain the president as they debated a new authorization of force against the Islamic State.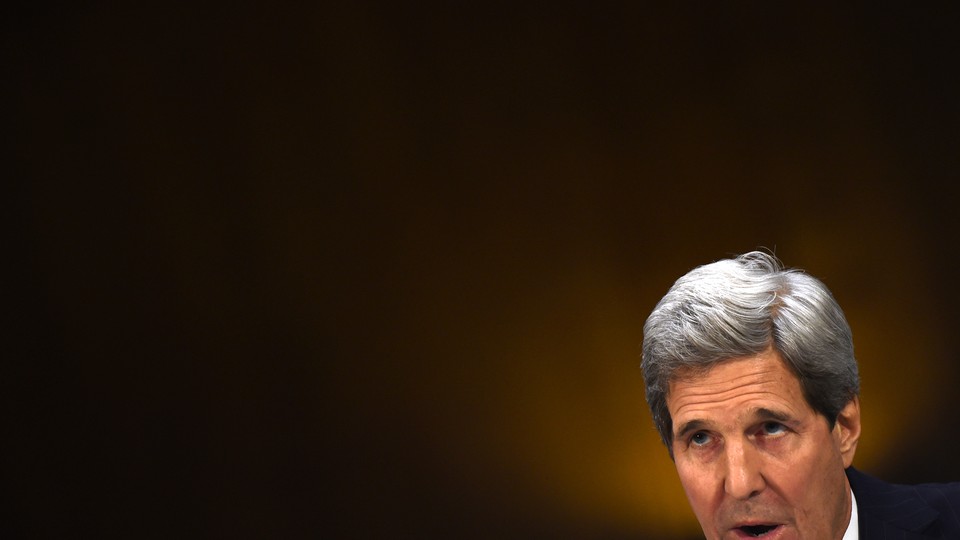 As the release of a report on the CIA's use of torture in a previous war against terrorists consumed Capitol Hill on Tuesday, a key Senate committee began debate on a resolution authorizing a much newer counter-terror campaign: President Obama's military offensive against the Islamic State.
Secretary of State John Kerry testified before the Senate panel he once led—the Foreign Relations Committee—to urge lawmakers not to constrain the president as he wages war against ISIS terrorists in Iraq, Syria, and wherever he needs to follow them. Though Obama has stressed repeatedly that the new conflict will be limited, and the U.S. would not be "dragged back" into another quagmire in the Middle East, the authorization his administration is seeking could allow for a much broader war.
Specifically, Kerry asked his former colleagues not to limit the use of military force to those two countries where Obama already has launched airstrikes, nor to bar the president from deploying combat troops on the ground, despite his repeated assurances that he will not do so. "In our view, it would be a mistake to advertise to ISIL that there are safe havens for them outside of Iraq and Syria," Kerry said. On the use of ground troops, the secretary reiterated Obama's policy that "U.S. military forces will not be deployed to conduct ground combat operations against ISIL." But he doesn't want Congress to put that in writing. "That does not mean," Kerry said, "we should pre-emptively bind the hands of the commander-in-chief—or our commanders in the field—in responding to scenarios and contingencies that are impossible to foresee." As examples, he said the administration needed flexibility to execute hostage rescues or respond if ISIS acquired chemical weapons outside the region.
Kerry was testifying about an authorization proposal drafted by his Democratic successor as chairman of the committee, Senator Robert Menendez, which includes no geographic limitation but precludes the deployment of ground combat troops. It would last for three years, with the possibility for extensions. Kerry said the plan was "very close" to something Obama could accept, but he objected to the limitation on forces and other, more minor, provisions. In a moment of unusual friction between the two Democrats, Menendez bristled at Kerry's critique and said his authorization would allow "everything [the military] is doing now and then some."
"I reject the characterization of my text as something that is constraining to the president," Menendez said. "My text precludes America from being dragged into another unlimited, unending war in the Middle East." He suggested that if the Obama administration wanted an unlimited authorization, "it should ask for it."
The exchange underscored simmering tensions between the administration and members of both parties on Capitol Hill over its prosecution of the war against ISIS and the need for a new resolution authorizing military force. While Obama has said he would welcome congressional action as a sign of bipartisan unity and legislative support for the mission, he doesn't think he needs it: The administration maintains that the George W. Bush-era authorizations from 2001 and 2003 against al-Qaeda give the president just about all the power he needs to go after ISIS. Top Republicans, including House Speaker John Boehner, have pushed Obama to draft specific language and send it to Congress for approval early in the next Congress. "I told him that if he does, House Republicans will be ready to work with him to get it approved, and thus far, we've seen no urgency on the part of this White House," Boehner complained last week.
On Tuesday, Kerry outlined what the administration wants and said he'd be more than happy to work with Congress on an authorization, but he wouldn't commit to sending up a proposal. "You don't have anybody over there who can type that up real quick?" rejoined Senator Marco Rubio.
The House has no plans to act before adjourning for the year, but some Democrats in the Senate, on the verge of losing their majority, are pushing to have a vote on Menendez's proposal this week, whether or not Obama supports it. Senator Rand Paul, prepping for a likely presidential bid, has introduced his own resolution that contains a formal declaration of war. "This is a threat to humanity that I don't think humankind has ever seen before," Senator Barbara Boxer said after reading accounts of the Islamic State's brutal treatment of women. "I need to be on record because of what I am learning."