Barack Obama, Comic Anchor?
The president appeared on The Colbert Report on Monday night and kicked the host out of his chair.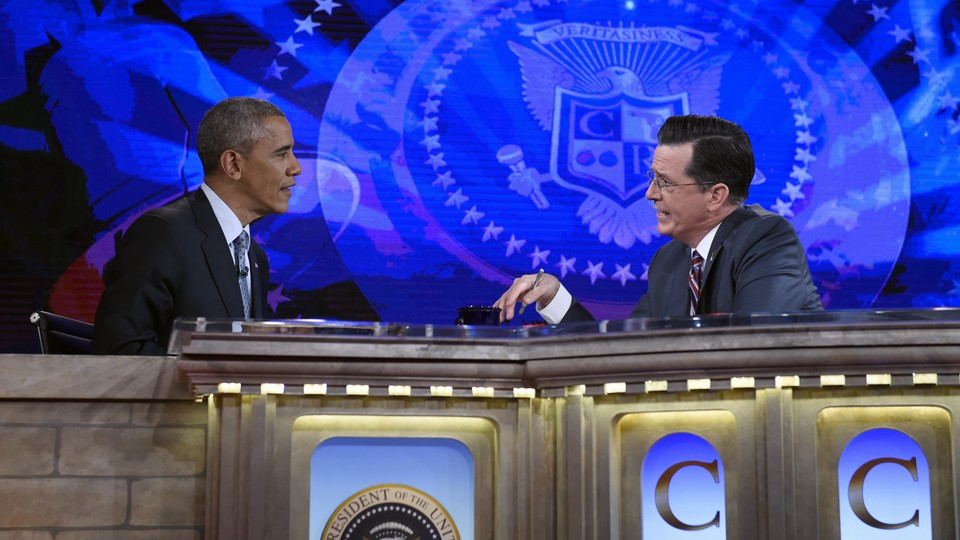 The nation got a taste of what Barack Obama would look like as a satirical cable star on Monday night, as the president demanded that Stephen Colbert briefly give up his anchor chair to the leader of the free world.
It was an amusing, scripted bit to open Obama's appearance in the final days of The Colbert Report, which will end next week as its host prepares to take over for David Letterman in 2015. Just as Colbert was about to begin his regular segment, "The Word," Obama stepped on stage to cheers from the crowd and told the fake conservative blowhard that he'd like to give it a try.
"You've been taking a lot of shots at my job," the president said. "I decided I'd like to go ahead and take a shot at yours." After changing the title of his segment to something more "presidential" ("The Decree"), Obama proceeded to deliver a barely-veiled pitch for his healthcare law as if he were Colbert. "Nation, as you know, I, Stephen Colbert, have never cared for our president," Obama began. "That guy is so arrogant." He lampooned congressional Republicans intent on repealing the law, even if it results in a presidential veto. "Once they touch it, they own it," he warned about a GOP replacement for the program. "And if anything goes wrong, suddenly everybody will be complaining about Mitch McConnellCare."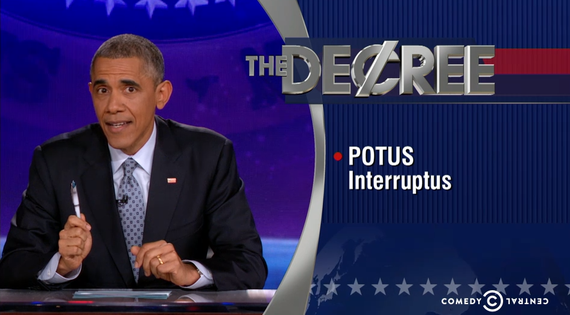 The president's timing and delivery were solid, if too-often interrupted by loud applause by the fawning college-age audience at George Washington University in D.C., where Colbert is taping for the week. Overall, the sketch made for better television than the Colbert-Obama interview later in the show, which provided a mix of mild humor and mild grilling that has become the standard for Obama's occasional appearances on late-night comedy shows over the years.
The president lamented the Democrats' midterm election defeat, joked about the "hard time" Michelle and his daughters gave him at home, and insisted that he loved his job. The one issue on which Colbert pressed him was on the Keystone oil pipeline, a top Republican priority that Obama has yet to approve after a years-long process. There Colbert got no further than White House reporters, as Obama dodged the question. When the comedian suggested his own idea of turning the pipeline into a tunnel that would take immigrants from Mexico to Canada, the president replied to laughs: "That sounds like a ridiculous idea, but that's why you are where you are and I am where I am."
At one point, Obama seemed to slip by referring to Colbert as "Bill" rather than Stephen. Was it a mistake, or a sly reference to the host character's well-known hero, "Papa Bear" Bill O'Reilly? If it was the latter, the president may have more of a future in comedy than we thought.