Alan Gross Is So, So Glad to Be Home
The former USAID contractor, who was held in Cuba for five years, returned home today to corned beef sandwiches and potato latkes.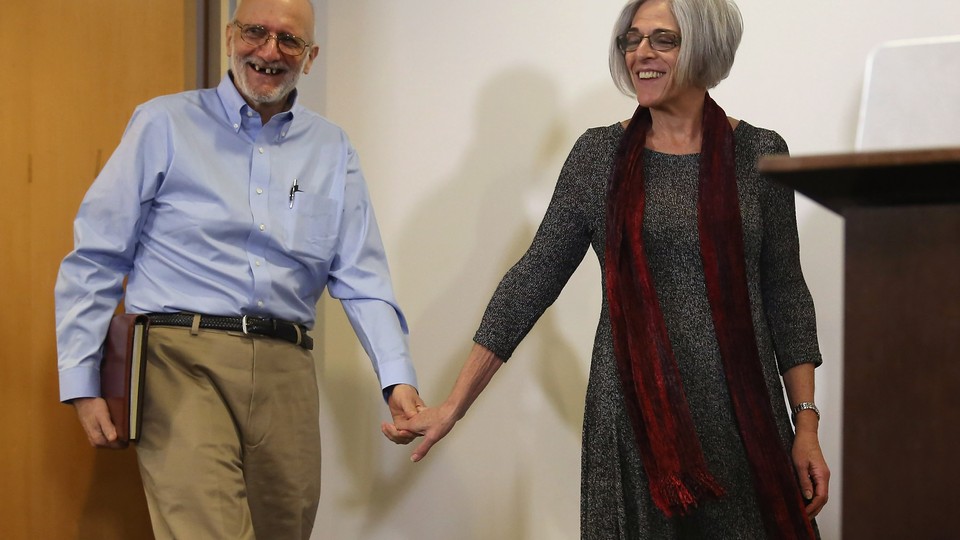 In August, his health failing, Alan Gross told his attorney that "life in prison is not a life worth living." He said good-bye to his wife and his youngest daughter in July, presumably for the last time. He had been imprisoned in Cuba for more than four years for his work in widening Internet access in the country.
Today, he is free. Gross, who is Jewish, began his statement by saying "Chag sameach," or "Happy holidays."
"Today is the first day of Hanukkah, and I guess so far it's the best Hanukkah that I'll be celebrating for a long time," he said.
Gross endorsed the actions of the Obama administration, easing diplomatic relations between the two countries. "This is a game-changer which I fully support," he said. He also showed no bitterness to the Cuban people. "To me, Cubanos—or at least most of them—are incredibly kind, generous, and talented," he said.
A spokesperson for the Gross family said there were corned beef sandwiches and potato latkes waiting for Alan when he boarded the plane that would take him to the U.S.
Gross took most of his time thanking those who aided in his release—U.S. lawmakers, the Washington,D.C. Jewish community, and "my lawyer and personal Moses, Scott Gilbert." He needs time to recover and medical care—he's missing some teeth—but appeared optimistic. He offered to reach out with personal gratitude and to give back, but not until he regains his bearings in the U.S. "I'm at your service as soon as I get some new teeth," Gross said.