Republican House Leaders Stand by Their Whip
Speaker John Boehner and Majority Leader Kevin McCarthy offer Steve Scalise their support despite his 2002 speech to a white supremacist group. Will it be enough?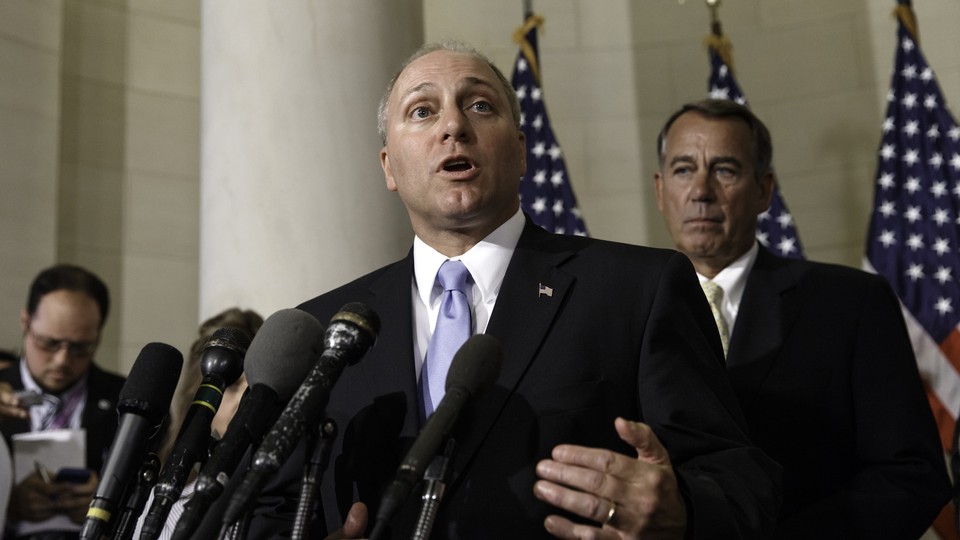 For Steve Scalise to keep his job as the third-ranking House Republican, the speech he delivered 12 years ago to a white supremacist group better have been a one-time thing.
The majority whip on Tuesday secured the first must-have for a politician in crisis mode: support from his political leadership. What he'll need now is a lack of new revelations that suggest his talk to an organization led by David Duke was anything other than an isolated appearance by a naive political climber.
Speaker John Boehner and Majority Leader Kevin McCarthy seem to believe that's all it was. In quick succession, the top two House Republicans put out statements of support for Scalise, who issued his own, more extensive mea culpa on Tuesday and was reaching out to colleagues to assure them that the man they elected as a leader six months ago was not, in fact, a racist. "More than a decade ago, Representative Scalise made an error in judgment, and he was right to acknowledge it was wrong and inappropriate," Boehner said.
"Like many of my colleagues on both sides of the aisle, I know Steve to be a man of high integrity and good character. He has my full confidence as our whip, and he will continue to do great and important work for all Americans."
McCarthy also cited Scalise's "mistake" before vouching for him. "I've known him as a friend for many years," he said, "and I know that he does not share the beliefs of that organization." The leaders' statements came as calls began to come in for Scalise to relinquish his post a day after he acknowledged speaking to the European-American Unity and Rights Organization (EURO), a nationalist group led by Duke, the infamous Louisiana politician and former KKK leader.
Scalise was a state legislator when he appeared at the group's conference in 2002. Yet his suggestion that he didn't know about EURO or its affiliation with Duke drew skepticism, and not just from Democrats. Erick Erickson, the conservative activist and Redstate editor, was incredulous. "How do you show up at a David Duke event and not know what it is?" he wrote in the headline of a post. In comments of the unhelpful variety, Duke told the Huffington Post that Scalise was friendly with his campaign manager, Kenny Knight, who organized the EURO conference. "It would seem to me, it would be likely [Scalise] would know" about his group, Duke said. "But I don't know."
To complicate the accounts even further, Knight told the Daily Beast that he invited Scalise to speak at an entirely separate forum held in the same location as the EURO conference, a Best Western in Metarie, Louisiana. Knight said he would apologize to Scalise for the "bad rap" he was getting, adding that he doubted Scalise "would come anywhere near a white hate group."
In his statement on Tuesday, Scalise dropped the claim that he was unaware of EURO's nationalist views, opting for a more contrite message. "It was a mistake I regret, and I emphatically oppose the divisive racial and religious views groups like these hold," he said.
"I am very disappointed that anyone would try to infer otherwise for political gain. As a Catholic, these groups hold views that are vehemently opposed to my own personal faith, and I reject that kind of hateful bigotry."
Democrats added in their criticisms on Tuesday, but the party leadership stopped short—for now—of calling for Scalise to step down as GOP whip. He drew support from Representative Cedric Richmond, a Democrat and African American who is friends with Scalise in the Louisiana delegation. "I don't think he's in any danger of losing his job," Representative Tom Cole, an Oklahoma Republican close to the leadership and generally attuned to the politics of the House GOP, said in a phone interview Tuesday. Noting that Scalise is well-regarded in Congress, he said the situation sounded like "a young politician who was in the wrong place at the wrong time."
"I don't see a pattern here," Cole added. And if that changes? "If there's more to the story than we know, then obviously people will re-look at the situation," he said. "But it would be so at odds with everything I know about Steve Scalise in the six years I've known him."