The Audacity of Scolding Sony
President Obama's surprising denunciation of a major American corporation is just the latest evidence that he plans to make the most of his last two years in office.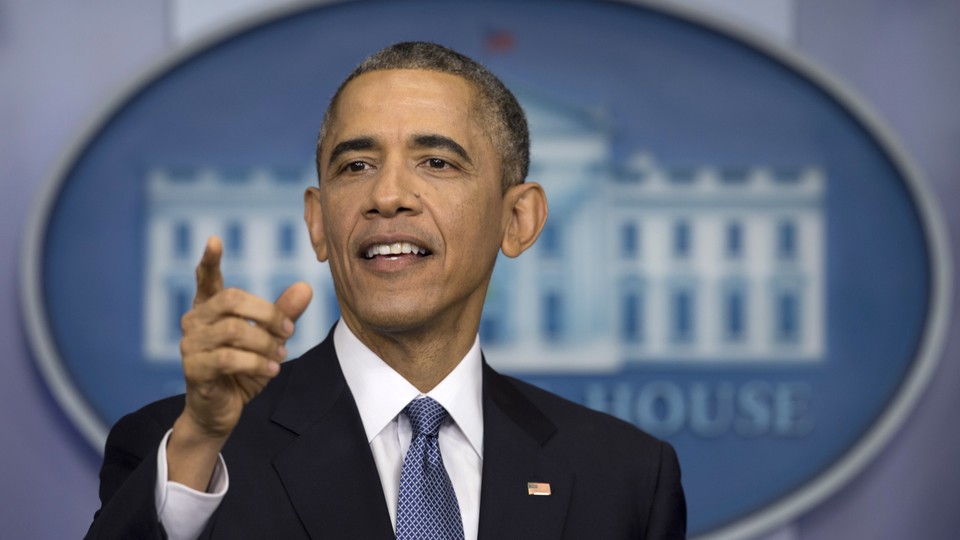 The accepted story of President Obama in the six weeks since the November elections is that he's been liberated. No longer tied down by the political prospects of Democrats in Congress, he has upended the low expectations placed on a lame-duck president and moved in rapid succession on immigration, climate change, net neutrality, and just this week, to normalize relations with Cuba after a 50-year freeze.
Yet Friday's year-end press conference yielded a remarkable presidential moment of another kind: Obama called out a major American corporation for acting like a coward.
"Yes, I think they made a mistake," the president said of Sony's widely-criticized decision to cancel the release of its satirical movie, The Interview, following a cyberattack from North Korea and threats of violence from the hackers who orchestrated it.
Coming from a cautious president who carefully selects his battles, that statement was newsy enough. But Obama went much further. Sony's retreat, he suggested, was as silly as a football fan who wouldn't go to an NFL game because of the vague, post-9/11 threat of a terrorist attack on a stadium. Or, he mused, what if the organizers of the Boston Marathon had cancelled this year's race after last year's bombing?
"We cannot have a society where some dictator someplace can start imposing censorship here in the United States," Obama said. "That's not who we are. That's not what America is about." He said he understood that Sony had "suffered significant damage" from the leaking of internal company emails. But, he continued, "I wish they had spoken to me first. I would have told them, 'Don't get into a pattern where you are intimidated by these kind of criminal attacks.'" (Sony Pictures Entertainment issued a statement later Friday afternoon blaming theater owners who refused to show the film. "It is still our hope that anyone who wants to see this movie will get the opportunity to do so," read the statement, which did not mention Obama's words.)
As for the perpetrators of the hack, the president pointed to the FBI's confirmation earlier in the day that North Korea was behind it, and he said the government had "no indication" it was working with any other country, such as China. "We will respond proportionally, and we'll respond at a time and place and manner that we choose," he said, declining to comment on whether that might be additional sanctions or a counter cyberattack on Kim Jong Un's regime. (Obama also managed to mention the co-stars of the shelved film, Seth Rogen and James Franco, whose name he mispronounced as "Flacco.")
Crowing about the recent economic gains and scolding Sony, Obama was clearly in a jaunty mood during Friday's hour-long press conference. He also notably called on only women reporters—almost certainly a White House first. But he was not completely unshackled: The president was still cagey answering some domestic policy questions. He avoided a direct response on whether he would veto a Keystone oil pipeline bill that Republicans are sure to send him early in the new year. And he passed on making a bolder declaration on the state of race relations six years into his presidency. Going after Sony was a departure for Obama, but it was also politically safe: Even Mitt Romney, that famous friend of corporate America, blasted the studio.
Yet if this is what a more liberated Obama sounds like, the final two years of his presidency may not be as dreary and teeth-grinding and inconsequential as seemed likely six weeks ago.