The Expanded Definition of Racial Profiling
In addition to race and ethnicity, the Justice Department will now forbid federal law enforcement officials from using gender, religion, national origin, sexual orientation, and sexual identity as cause for suspicion.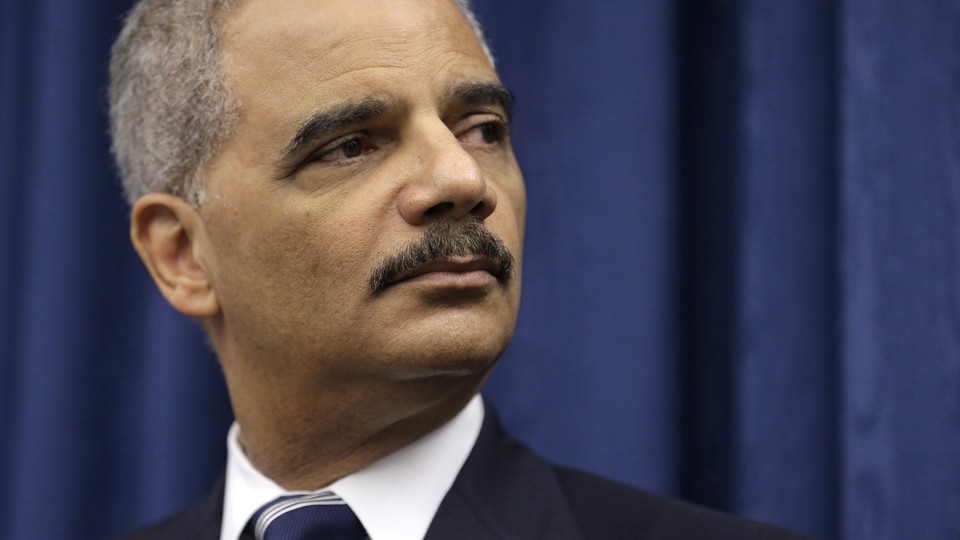 The U.S. has for more than a decade forbid federal law enforcement officers from profiling on the basis of "race or ethnicity." Under new guidelines issued Monday by Attorney General Eric Holder, that ban will now include gender, religion, national origin, sexual orientation, sexual identity as well.
Holder released the long-awaited directive just weeks before he will leave office and amidst a fresh round of tensions between police and urban communities following the decisions of two grand juries not to indict officers who killed unarmed black men. While the guidelines have been in the works for years, Holder alluded to the recent protests over the deaths of Michael Brown in Ferguson and Eric Garner in New York. "Particularly in light of certain recent incidents we've seen at the local level, and the widespread concerns about trust in the criminal justice process, it's imperative that we take every possible action to institute strong and sound policing practices," the attorney general said in a statement. "With this new guidance, we take a major and important step forward to ensure effective policing by federal law enforcement officials and state and local law enforcement participating in federal task forces throughout the nation."
The Justice Department hopes local police departments will adopt the guidelines, but they are not binding on state and municipal officials unless they are participating in a joint task force with the feds. It was this omission, along with continued exceptions under certain conditions for national security and at airports that prompted criticism from civil libertarians. "It's better than the Ashcroft guidance, but it doesn't go far enough," said the ACLU's Laura Murphy, referring to the directives issued during the Bush administration in 2003 by Attorney General John Ashcroft. Murphy said in a phone interview she had been hopeful the Obama administration would go further in cracking down on profiling of Latino and Muslim travelers (among other groups) by the TSA at airports.
In making "routine or spontaneous law enforcement decisions," federal authorities may not use profiling "to any degree," except if they are given a specific suspect description. In all other activities, however, the guidelines say that federal authorities may use race and other characteristics as factors "only to the extent that there is trustworthy information, relevant to the locality or time frame, that links persons possessing a particular listed characteristic to an identified criminal incident, scheme, or organization, a threat to national or homeland security, a violation of federal immigration law, or an authorized intelligence activity." The Department of Homeland Security argued for these exemptions, which civil libertarians say are too broad. "We would want the TSA to be bound by the same guidelines that every other federal law enforcement agency is bound by," Murphy said. "Either racial profiling is unconstitutional or it isn't."
Wade Henderson, president of the Leadership Conference on Civil and Human Rights, praised the expanded profiling ban but said the changes "fall short" because they do not cover local authorities and "does not ban the offensive practice of 'mapping' American communities based on stereotypes." Spokesmen for two major police unions had little immediate reaction, noting they had not seen the new guidelines nor had officers been included in their drafting.